Home
Cities
Zurich Airport Transfers and Private Transportation
When you're embarking on a journey to Zurich, the gateway to Switzerland's picturesque landscapes and cultural wonders, seamless transportation from the airport becomes paramount. Zurich Airport Transfers and Private Taxi Services offer the perfect blend of convenience, comfort, and reliability to kick-start your visit to this enchanting city.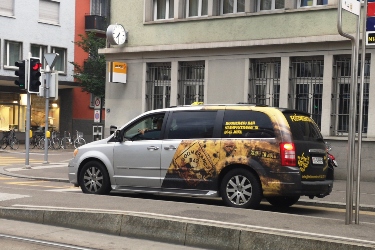 Chrysler Voyager Taxi, Airport Transfer

|

Click by

Crash71100

from

Flickr
Zurich Airport Transfer Excellence
Navigating an unfamiliar city can be a daunting task, especially after a long flight. Zurich Airport Transfers provide a stress-free solution. With a pre-arranged transfer, you can enjoy the ease of being greeted at the airport by a professional driver, ready to whisk you away to your destination. Whether it's a hotel, business meeting, or a leisurely exploration of Zurich's charm, your journey commences without delay.
Airport Transfers in Zurich – Your Way
The beauty of Zurich Airport Transfers lies in their flexibility. Regardless of your travel style or group size, you can find the perfect transportation option. Whether you're traveling solo, with family, or in a larger group, there's a vehicle to suit your needs. From sleek sedans to spacious minivans, the choice is yours to make.
Zurich Transfer from Airport in Comfort
The moment you step off the plane, your comfort takes precedence. Zurich Airport Transfers ensure a smooth transition from the airport to your chosen destination. No need to grapple with public transportation or wait in taxi lines. Instead, step into your private vehicle and experience a relaxing ride as you acquaint yourself with Zurich's surroundings.
Zurich Airport Taxi at Your Service
The Zurich Airport Taxi service is a prime example of efficiency and convenience. With a simple booking process, you can secure your taxi in advance, eradicating any uncertainty upon arrival. The experienced drivers are well-versed in the city's layout, ensuring a swift and direct route to your accommodation or preferred location.
Book Taxi Zurich – Your Arrival Awaits
Booking your Zurich Airport Transfer is a proactive step towards a seamless journey. No matter the time of day or night, a reliable taxi will be ready to meet you. The ease of stepping into your booked taxi eliminates any apprehensions, leaving you to anticipate the experiences that Zurich has in store for you.
In conclusion, Zurich Airport Transfers and Private Taxi Services encapsulate the essence of convenience and comfort for your arrival in this captivating city. By securing your transfer in advance, you are giving yourself a smooth beginning to your visit, allowing you to immerse yourself in Zurich's beauty without the hassle of logistics. From Zurich Airport Taxi services to tailored private transfers, each option serves as your welcome to the wonders that await in Zurich.
Why Book Rydeu for Airport Transfers in Zurich
If you're searching for a dependable and budget-friendly Zurich airport transfer service, your search ends with Rydeu! We present a variety of options for Zurich airport transfer services, serving as an excellent alternative to potentially expensive and subpar airport taxi services. Whether your preference leans towards a private transfer or a Zurich sightseeing tour, Rydeu has your needs met.
We understand the anxiety that can accompany airport transfers, which is why we offer competitive rates for private transfers to and from Zurich International airport. Our services are conveniently accessible at the Zurich airport, so you can effortlessly navigate the city while managing your luggage.
Within the Rydeu fleet, a diverse selection of vehicles awaits, encompassing SUVs, minivans, and premium models, allowing you to choose in accordance with your requirements. Our experienced and well-informed drivers are committed to your safety and punctuality, ensuring you reach your destination without any concerns.
Booking a transfer with Rydeu is a streamlined and stress-free process. Our private transfer option caters to those seeking a journey characterized by comfort and elegance. Additionally, we offer sightseeing tours of Zurich, offering you the chance to delve into the city's captivating attractions.
At Rydeu, we take pride in delivering top-tier taxi services in Zurich. Our primary goal is to transform your airport transfer into a seamless experience, permitting you to relax while we handle the logistics. Reserve your Zurich airport transfer through Rydeu today and discover the distinctive advantage!
So, whether your requirement entails a private taxi service or an airport transfer service in Zurich, Rydeu is the optimal choice. Our Zurich airport transfer services stand as paragons of excellence, guaranteeing you a journey marked by ease and tranquility. Do not hesitate; secure your Zurich transfer through Rydeu today and encounter the ultimate in transportation solutions!
If the question of how to secure a taxi in Zurich lingers, Rydeu is your answer. We provide effortless and convenient booking facilities for your Zurich transfers, including Zurich airport transfers. Our airport taxi transfer service is ideal for those seeking a swift and uncomplicated means of reaching and departing from the airport.
In summary, for those in pursuit of a private taxi or airport transfer service in Zurich, Rydeu is your ultimate companion. With competitive pricing, an array of vehicle choices, and skilled and knowledgeable drivers, we offer nothing but the best. Do not hesitate; reserve your Zurich airport transfer via Rydeu today and experience the remarkable difference!
One of our better-known qualities is that we are always at your service. It's true. We provide our services 24/7, whenever you need us, wherever you want us! So, do not bother about the timings. We are here to make your dream vacation possible at any time. With that, we also provide an easy cancellation policy. Well, life is unpredictable so we consider the customer's change of plans. One can cancel a ride within the city until 3 hours before the trip. An intercity ride can be cancelled 24 hours before the trip. This sums up the feasible forum of our cancellation policy.
Click by Francis Storr from Flickr
Zurich Airport
Zurich Airport, also known as Flughafen Zürich, stands as Switzerland's primary international gateway, conveniently located 13 kilometers north of Zurich's city center in Kloten. It serves as a vital hub for both domestic and international flights, offering a seamless network of connections to destinations worldwide. Zurich Airport Transfers provide efficient and reliable transportation options, including Zurich Airport Taxi services and private transfers, ensuring a hassle-free journey to and from the airport. The airport offers a wide range of amenities, shopping, dining, and efficient online booking for transfers. Its strategic location facilitates easy access to Zurich's attractions, making it more than just an entry point—it's a symbol of Switzerland's commitment to excellence.