Home
Cities
The history of Washington, D.C. is complex, rich, and symbolic. Washington, D.C. became the nation's capital as a result of a compromise reached in 1790 by Founding Fathers Alexander Hamilton and Thomas Jefferson. Since then, the current site has served as the federal government's permanent home, and George Washington personally chose it. The location was chosen to unite northern and southern states at the time.
Clearwater hotel, Washington
|
Click by
Michael Dunn
from
Flickr
President George Washington chose the location and dimensions, which were a square with sides 16 kilometers long and corners directly north, east, south, and west of the center. Maryland and Virginia ceded the land to the new city, but the Virginia section was returned in 1847, so what is now the modern District was once part of Maryland.
If you expect a solemn and uptight metropolis, the United States' capital will surprise you. The residence of the President, Congress, and the Supreme Court, as well as many other state-related, bureaucratic, and official buildings, is notable for its extraordinary ethnic diversity, vast parklands, and pleasant walking scale of the streets. In Washington, you can easily lose track of time: there are numerous free museums with incredible collections where you can easily lose track of time.
Catherderals, Washington
|
Click by
emeraldschell
from
Flickr
History is also ever-present: significant monuments and memorials depict the county's most important events. It would be a mistake, however, to view Washington solely as a rigid museum of American history. Apart from political events, vibrant cultural institutions are showcasing wonderful performances, lively shopping and partying streets, and colorful ethnic neighborhoods with their own culture and celebrations - Washington of the twenty-first century is a place to be!
Money exchange is simple in banks and exchange bureaus. It is important to note that banks typically charge a high service fee, and bureaus may have lower rates. The simplest way to withdraw money from ATMs. Paying with a credit card is also commonplace - almost everywhere, for almost anything. Check the compatibility of your cards ahead of time, and keep in mind that some may have better rates. All major credit cards are widely accepted. In Washington, it is simple to connect to the Internet. There are numerous Wi-Fi hotspots, the vast majority of which are free. You can also go to your local library or café, as the majority of them are connected.
Hotels and hostels usually have some sort of connection as well. The Washington, D.C. Wi-Fi HotSpot Map provides a map of Wi-Fi hotspots in the city. Unsurprisingly, American English is the most widely spoken language. Spanish is widely spoken as well. If you have at least a communicative command of English, you should be fine.
Click by Sam Amil from Flickr
Renwick Gallery
The Renwick Gallery is a small branch of the Smithsonian American Art Museum that is located just steps away from the White House. This museum, which features a squad full of excellent exhibits, is a great option to beat the heat and avoid crowds.
Click by Sam Amil from Flickr
National Portrait Gallery
It is a component of the Smithsonian Institute and has several exhibits, the most well-known of which is the Portrait exhibition. Day in and day out from 11:30 a.m. to 7 p.m., admission is free, and docent tours are available. Curator tours are available Monday through Friday at 12 p.m. and 2:30 p.m., as well as on Saturday and Sunday at 11:45 a.m., 1:30, 3:15, and 4:30 p.m.
Click by Ken Lund from Flickr
Penn Quarter
Penn Quarter is the hub of activity around the Arena. Penn Quarter is located between Chinatown and the National Mall. You're bound to cross through here on your travels because it's filled with restaurants and museums.
Click by Tim Evanson from Flickr
Ford's Theatre Museum
Admittance to the theater and Peterson House varies by date and time; purchase in advance online. Ford's Theatre, the spot of President Abraham Lincoln's assassination, is a memorial to the late president and a working concert hall where shows are still performed.
Click by David from Flickr
Heurich House Museum
Hour Long guided tours are offered 3 days per week (Thursdays, Fridays, and Saturdays). Reservations are recommended, and a $10 donation is suggested. Most of the original furnishings remain in the land of Washington's first brewer, transporting visitors to Age Washington.
Click by Scott McLeod from Flickr
Chinatown
A day-trip in Philadelphia would be called incomplete if you were unable to visit Chinatown. Chinatown's history dates back to 1871 and is currently seen as a major tourist site in Philadelphia. This place has some amazing Asian restaurants which are known for their Asian specialities. Some of the best restaurants that you can visit in Chinatown are the Sang Kee Peking Duck House, the Dim Sum Garden and the Nan Zhou Hand Drawn Noodle House.
Click by Shashi Bellamkonda from Flickr
National Geographic Museum
The Museum hosts several traveling exhibits. You can come and see the "Queens of Egypt" exhibit, which features artifacts of Egyptian queens and take a three-dimensional virtual tour of the Valley and best-preserved tomb. Admission is $15 for adults and $10 for children between the hours of 10 a.m. and 6 p.m. daily.
Click by James Case from Flickr
Anderson House
This early-twentieth-century mansion is considered now the head office of the Society of the Cincinnati, an inherited organization founded by officers from the American Revolutionary War who lived in the United States and France. Visit this lovely iconic townhouse and search about this captivating frat house.
Click by Daniel Lobo from Flickr
Wharf
The Wharf, the latest newly redeveloped area on the D.C. waterfront, is a spacious stroll lined with exhilarating restaurant chains and refreshing cocktail bars where you can kick back and enjoy the views. Captain White's Seafood is a seafood market. The Wharf is located in southwest D.C., beside the Washington Marina, and has many restaurants offering riverfront dining.
Click by Levon Avdoyan from Flickr
Rock Creek Park
Rock Creek Park has 32 miles of trails, and the Nature Center, which is accessible by taxi or car, is the starting point for many of them. The Milkhouse Ford Hike, which is just under 2 miles long, provides a glimpse into D.C.'s Civil War past. The 3.1-mile Boulder Bridge Hike, which passes through areas frequented by President Theodore Roosevelt, is a more difficult walk.
Click by WorldIslandInfo.com from Flickr
Theodore Roosevelt Island
It will take some effort to reach by Metro, but this densely forested island is a gathering place in the city. Navigate the island on the 1.5-mile Swamp Trek, or walk across it on the 0.75-mile Upland Trail.
Click by DC Gardens from Flickr
Dumbarton Oaks
Dumbarton Oaks' owners commissioned visual artist Beatrix Farrand to establish an "illusion of country life" around the estate. Her reputation is preserved in the gardens and parks, which are now accessible to the general public. In May, flower enthusiasts should look for the Bearded iris and the Siberian iris to bloom.
Click by Wendy Harma from Flickr
Adams Morgan/Woodley Park
The Adams Morgan neighborhood, about 1.5 kilometers north of the White House, is well known for its vibrant nightlife and diverse residents. Adams Morgan is frequently regarded as a gateway community for newcomers to the area, with dozens of restaurants serving cuisine from around the world. Try taking the Duke Ellington Memorial Bridge south from the Metro station to reach the many restaurants on 18th Street NW. Woodley Park is a more tranquil neighborhood nearby Adams Morgan. The National Zoo is the neighborhood's main attraction.
Click by NoMa from Flickr
Cleveland Park
Cleveland Park is a neighborhood located approximately three miles north of the Mayflower Hotel. The Washington National Cathedral sits on 5 acres of lushly landscaped grounds, which include "The Bishop's Garden" and "The Olmstead Woods." It is the world's sixth-largest cathedral and the second-tallest building in the State. It is located on Mount Saint Alban and has hosted state funerals and commemorations for many American leaders, regardless of religious affiliation.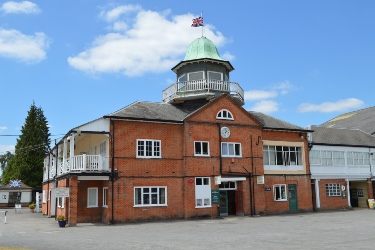 Click by Matt Brown from Flickr
Brookland
Brookland is a residential neighborhood with lots of attractions a four-mile ride from downtown. Brookland is sometimes known as "Little Rome" due to the concentration of Catholic churches and monasteries. It is home to the largest Catholic church in the U.S., the Basilica of the National Shrine, and the beautiful Franciscan Monastery. This 42-acre site has replicas of several shrines in the Holy Land and cloister walks.
Click by Daniel Lobo from Flickr
Alexandria
Alexandria, Virginia, is one of the region's oldest settlements, positioned throughout the River. Alexandria has several authentic cobbled streets and a slim grace that makes for a fantastic day of window shopping. After traveling to Mount Vernon, Old Town is an exceptional area to visit. Mount Vernon, placed numerous miles south of Old Town Alexandria and accessed by car, used to be the plantation and beloved home of America's first president, George Washington. Mount Vernon's several interactive famous train site visitors about eighteenth-century American homes, political systems, and ideas. Don't leave out the stately domestic tour, which requires a timed ticket, and seems to be out over the serene Potomac River, which seems a lot as it did at some stage in Washington's time.
Click by Ken Lund from Flickr
Annapolis
The state capital of Maryland is a beautiful historical seaport situated along the Chesapeake Bay. an easy day trip just 32 miles from Washington. The city boasts more 18th-century buildings than anywhere else in the United States, including the homes of all four Maryland signers of the Declaration of Independence quaint harbor tours, interesting shops home to the US Naval Academy.