Route Summary - Venice to Milan
Milan is known to be a paradise for all the shopaholics out there and along with it, are linked some of the most tourist attracting places in the country and Venice is one of them. Serving entirely different purposes, both of these cities are considered to be prestigious places in the country and deserves a visit from every traveller wanting to explore the country at its best. Milan to Venice private transfers will give you the liberty to be yourself without caring about others, unlike in public transportation.
Venice to Milan by road will bless its travellers with some of the most scenic views to capture and will sway every eye that witnesses it. Rydeu provides direct transfers from Venice airport to Milan. So fellas, what are you waiting for? Venice to Milan car rental is just a tap away.
Distance from Venice To Milan - 267 km
Journey Time- 3 hr
VENICE
Squatting on more than 100 mini islands, oozing out from the mouth of the serene Adriatic sea, Venice is known to be the capital of Veneto region, located in the northern part of Italy. With romance dangling in the air, this place has managed to be a dream for newly wedded couples due to its iconic atmosphere. Venice is all about canals and boat rides, soaking the serenity of the atmosphere, Grand Canal thoroughfare features multiple Renaissance and quaint gothic palaces.Some places lure you with its beauty and picturesque scenery along with drenching every bit of your creative soul into the art and history of that place, Venice is indubitably one of them. The awe-inspiring architecture, on the other hand, has swayed the aspiring architects with the refined ancient knowledge that the architects used to possess back then.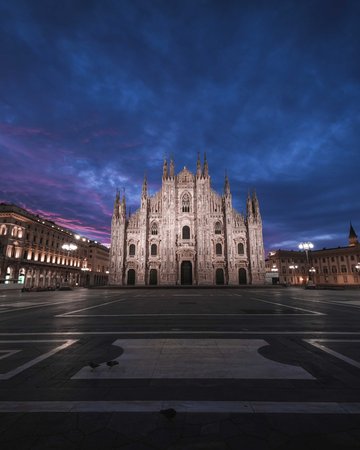 MILAN
Known for its fashion and market, Milan is the capital of the Lombardy region of Italy. From the quaint Duomo di Milano cathedral and Santa Maria Delle Grazie convent to featuring some of the top-notch restaurants in the country, this place has been a business hub for people all around the globe. Milan has gained popularity over time with Leonardo da Vinci's "The Last Supper" which has set an exemplary example of the culture coated with a layer of art. Where Rome is known to be the political capital of the country, Milano has always focussed more on becoming the moral capital to impart the rich history and knowledge that it embraces. Milan is a perfect blend of ancient values with contemporary art and remains one of the most important cities to visit in Italy.