Home
Cities
The city of Turin is one of the most important cities in Italy. It's a city with a history and contribution unlike any other. However, despite being the 4th largest, it often gets unacknowledged by tourists, regardless of its greatness. Turin also used to be the capital of Italy (now the capital of Piedmont). What's interesting is that, although Turin has a greater significance than many other Italian cities, it is still very underrated and is usually avoided from the traveling lists of many tourists.
Torino, Turin |
Click by
Brandon Morse
from
Flickr
The Italian Government redesigned and reconstructed much of Turin's streets and architecture during the Pre-World War 2 era. And therefore, the streets managed to provide easy travel to many parts of the city, which were very hard. This shift also acted as a transition when compared with the significant amount of architecture in Turin, designed during the high-class art period in Italy, like the Baroque architecture during the Renaissance period.
Arcade in Turin
|
Click by
John Noble
from
Flickr
Apart from all this, what usually occurs to mind when one thinks of Italy? Ancient buildings might possess some history that won't fit into superficial or worldly meanings. It's an accepted fact now that Italy has a gothic impression reflecting from every corner, which makes it the way it is, and it doesn't change, no matter which city you go to. That's how it is for Turin. Turin contributes significantly to this gothic impression that lives in our heads when we think of Italy.
People who have visited Turin know Turin is home to many architectures and cathedrals that are important to the religious community of the world, culture and tradition. Some of Turin's architecture dates back two thousand years, centuries before Jesus Christ. Some gates were used by the ancient Romans, and houses were constructed by the royal families to protect their progeny. Apart from that, there are cathedrals in Turin which possess the remaining shroud of linen wrapped around the body of Jesus Christ; at least, this is what the locals believe.
Many tourists have claimed to have felt unmatched gratitude after visiting these places because although they believe in such radical beliefs, they still felt other-worldly, indescribable emotions seeing all these artifacts which connect us to our past.
However, we shouldn't just discredit Turin by saying that its contribution to the world is just some ethereal feel it imposes and not appreciate the botanical gardens and acts towards green earth. The botanical gardens in Turin are a place of significantly restored plants, some of which are now even extinct in other cities.
Click by Richard Mortel from Flickr
Royal Palace of Turin
One of the few remaining architectures which fall in the Baroque category is the Royal Palace of Turin. Resting in the city center of Turin, it is rumored that in the 17th century, the then regent, Christina Marie of France, ordered the construction of this place. She wanted the palace to be as lavish and remarkable for her son, who was returning from the civil war. In the 20th century, however, the palace became a property of the state and a museum, and later on, it was added to the Unesco World Heritage List. To visit the royal palace, you can board a bus from the Torino Airport with your regular, daily, or multi-daily ticket.
Click by Levan Gokadze from Flickr
Cathedral of Saint John the Baptist
Each and every city in Italy is filled with ancient cathedrals and churches. These cathedrals are solely responsible for Italy's gothic impression on tourists. As is apparent, Turin posits one of Italy's most important cathedrals, The Cathedral of Saint John the Baptist. Dating back to the 15th century, it was constructed during the renaissance period, which can be observed from the paintings and architecture of the cathedral. This cathedral is famous among many tourists because the cathedral is home to a shroud which many believe was the piece of linen used to wrap Jesus Christ after his crucifixion. As we said, stories like these add to the mystery and awe around Italy, therefore, you must travel to this place.
Click by Guilhem Vellut from Flickr
Porta Palatina
Residing behind the cathedral is Porta Palatina. One of Turin's most preserved pieces of architecture was constructed more than 2000 years ago, i.e., a century before Jesus Christ. The port was an entry gate from the times of the ancient Romans, which is why it is a pride for the Turinese. You can visit this place and observe something which has survived historical wars and natural decay and stands still even today.
Click by stefano slizza from Flickr
Borgo Medievale
A small village that has been turned into an open museum in Turin, Borgo Medievale was built in 1884 by the Savoie family. A saying among the Turinese people is that, as you walk through this village, you may feel like you're returning in time. One of the reasons is that, in the town, many small local shops sell metal and paper artifacts which were very popular in the 19th century. The place is also preserved with extreme attention to detail; even the planets grown there are in accordance with the kinds of plants that would have existed back in the past. Whatever the reason is, this place is a favorite among the locals and, therefore, must be visited.
Click by Andy Rogers from Flickr
Mole Antonelliana
Cinema is one of the highly followed art forms in Italy, and one can understand that by seeing the contribution of Italian filmmakers to world cinema. Because of this, it shouldn't be surprising that many Italian cities host film festivals and posit numerous film museums. Mole Antonelliana is one such museum in Turin that provides deep and scientific analysis of films. This place is popular among film geeks and should be visited by those who come to Italy for the Venice Film Festivals.
Geneva
the second most popular city in Switzerland lies at a distance of just km from Basel. Geneva is blessed with the rugged beauty of the Alps and Jura mountains. It also provides some spectacular views of Mount Blanc. Besides the raw beauty of nature, the city is the home to United Nations headquarters. The city lies about 254 km away from Basel and can be easily accessed by trains, trams, buses or even taxis. So, do not over think it. Make a stop at the luxurious city of Geneva.
Click by David Martyn Hunt from Flickr
Milan
Milan is nearly 165 km away from St. Moritz, it is one of the most visited cities in Italy. Milan is a great place to visit since it has all the benefits of a big city but is relatively small, allowing visitors to easily walk to most of the city's attractions and museums. Duomo di Milano, Santa Maria Delle Grazie, Milan Cathedral, Monumental Cemetery, and a wide array of museums and art galleries are just a few of the city's most stunning landmarks. True royalty can be experienced in the hotels and restaurants set here serving equally enticing Italian food. A private taxi from St. Moritz, trains and buses from St. Moritz's railway terminal will cover the distance between Milan and St. Moritz in more or less 3.5 hours, depending upon the mode of transport you choose to travel in.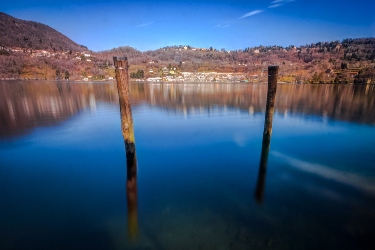 Click by gianni from Flickr
Lake Orta
Residing away from the urbanization and the hustle and bustle of the cities, Lake Orta has remained a secret among the few visitors who know about it. Although Lake Como has replaced it in terms of popularity, Lake Orta is still intact with the past. It is impossible to find one urban architecture in this small city. The reason is that the place is still filled with the romanticism of the past. The preserved villas consist of lavish gardens alongside the river and hand-picked fruits that make its cuisine. You are believed to start seeing the lakeside villas as you drive through the hills and vineyards surrounding the lake. The lake falls about 140 kilometers by taxi from Turin Airport, taking around an hour and a half.
Click by Dr. Matthias Ripp from Flickr
Liguria
A small region in the north-western Italy, which is around 161 kilometers away from the Turin Airport. In terms of culture, cuisine, and tradition, Liguria is a very different city when compared to Turin. Since the place falls alongside the Mediterranean sea, the food mainly consists of seafood. Many great Italian seafood chefs are known to have originated from Liguria. Apart from that, Liguria's biggest contribution to the world of food is Pesto Pasta, which is revered all around the world. Liguria also provides one of the best vacations with its wide range of beaches and resorts. If you enjoy a view of the sea while enjoying a resort in the heat of summer, then Liguria is the right place for you. You can travel to Liguria by public transport in Turin in around 2 to 3 hours. The ticket fares for buses and trains range between 35 to 50 euros.