Tromso is a major city of Norway and hosts a lot of people due to the Norwegian light that it displays. Tromso airport transfers allow the visitors to get to the centre of the city in three modes : airport express, city busses and the taxis.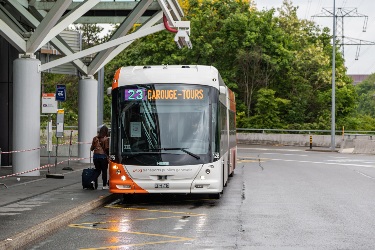 Battery Bus, Le Grand-Saconnex
|
Image by
Matti Blum
The airport express functions from the airport and will drop you off at the vibrant city centre. The journey takes approximately 15 minutes to reach amidst the merry connotation of the shops and eateries at the centre of the city. The express stops at various points to pick up as well as drop off the passengers, make sure to check the timetable and the map before you go on board.
City busses are yet another option that the travellers might consider, not only are the bus rides cost effective they also give you a chance to look into the magnificent surroundings through the glass windows. Bus routes 20, 40 and 42 function from the airport to the city centre, you can either grab the tickets from the driver, in the bus or you can download the app TFT Mobillett. Buying the tickets online can prove to be slightly cheaper than getting it from the machine.
Taxi from Tromso airport to the city centre is the best option if you are carrying a lot of luggage and do not wish to stand in a long queue. The cost of taxi from Tromso airport to the city centre will vary as per the desired vehicles of the passengers. Your ride will arrive right at the gate of your airport on time and will drop you off at the gate of your accommodation without any trouble, for smooth rides and convenient trips.