Located along the banks of River Garonne, this is the capital city of the French department of Haute Garonne and Occitanie. It is the fourth-largest in France and is known to be built by the Romans. A picturesque and modern looking location, this place is home to numerous attractions. It has three of them listed under the UNESCO World Heritage sites. Also known as the centre of the aerospace industry, it has the headquarters of many major organizations. Airbus, the SPOT Satellite system, ATR and the Aerospace valley are present here. Apart from these, this industrial city has placed such as the Basilique Saint Sernin, Couvent des Jacobins, Place du Capitole, Musee des Augustins, etc. Each of these represents a different angle of this beautiful area with some exhibiting the Gothic style architecture and the others speaking of development and modernity.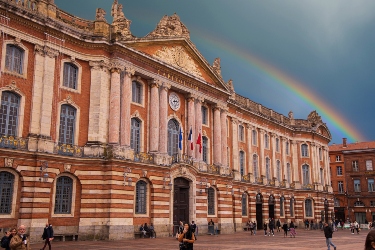 Historically a trade point between the Pyrenees, Mediterranean and the Atlantic, its origin is particularly unknown. Under the kingdom of France, it was named a Royal city and was given due credit. For a period of nearly a hundred years, it had become the centre of Occitan literary culture. Over time, it had experienced war and the ill effects of it and was once a target. Majorly a trading dependent place, it had been an active participant since the 15th century. It was also a part of the Napoleonic war. The war was named the Battle of Toulouse and was one among the last of all. After four days of Napoleon's surrender, the area was defended strongly by Marshal Soult, a revered historical figure.
This city is a culmination of specialties of the past as well the bright future lying ahead. Numerous religious buildings are present here. The architecture, mainly those featuring the Gothic style are captivating. Numerous civilian locations from the past and present are available for tourists. Away from high rise structures, there are natural delights also. Drowning in the lap of nature along the river, enjoying captivating views from the bridge, etc. are some of them. The area offers everything one can wish for in an enchanting tour.
Best time to visit
During the summertime, between June and August, the climate is quite pleasant. The spring and summer offer a calmer temperature along with some special delights. The city plunges into liveliness during these days. Most of the attractions can be visited without any kind of fear. During the winter months, it is off-season and the prices come down. The temperatures are not very welcoming. Choosing the season should be done checking the ability of the visitor to sustain a cold here. Most of the outdoor activities here take place during the summer since most of the winter stay is indoors.