Home
Cities
Sightseeing Transfer in Toulouse
Toulouse, known as the "La Ville Rose," is a captivating destination in southwestern France. Embark on a Toulouse sightseeing tour and explore the must-see places in Toulouse like the iconic Place du Capitole, Basilique Saint-Sernin, and Pont Neuf. Immerse yourself in the rich cultural heritage and admire the pink brick architecture that defines the city. With prestigious universities and a thriving student population, Toulouse offers a vibrant atmosphere. As a hub for technological innovation, the aerospace industry, led by Airbus, adds to its allure. Experience the charm of Toulouse's tourist attractions and make the most of your visit. For convenient transportation, Toulouse airport taxis and airport transfers, including private taxi services, are available for smooth Toulouse airport transfers and private transfer during your sightseeing tour.
La Garonne river at Pont Neuf
|
Click by
Matt Kieffer
from
Flickr
In addition to its cultural and historical significance, Toulouse offers a diverse culinary scene, featuring local specialities like Cassoulet and duck-based dishes. The city hosts various cultural events and festivals throughout the year, including the Rio Loco Festival and the Violet Festival. Toulouse benefits from an efficient public transportation system, including a metro, buses, shuttle service and trams, facilitating easy exploration of the city. Toulouse-Blagnac Airport serves as a major transport hub for domestic and international travel. Combining history, innovation, cuisine, and a lively atmosphere, Toulouse is a city that captivates both residents and visitors.
The Garonne in Toulouse
|
Click by
Nirgal Ksi
from
Flickr
Toulouse, known as "La Ville Rose" or "The Pink City," is a vibrant destination in the Occitanie region of France. Situated on the banks of the Garonne River, it captivates visitors with its unique pink brick architecture. This city is steeped in a rich cultural heritage and has a fascinating history that spans centuries. As a former hub of the European aerospace industry, Toulouse remains a center for technological innovation. Explore the city's enchanting sights on Toulouse sightseeing tours and experience the allure of this remarkable destination. Airport taxis are readily available to guarantee a smooth and comfortable trip, whether you're departing from Toulouse airport or looking for private tranfer.
The city is home to several noteworthy landmarks. The Place du Capitole, with its grand city hall, is a prominent gathering spot. The Basilique Saint-Sernin, an exquisite Romanesque church, is a UNESCO World Heritage site. Toulouse is also known for the Pont Neuf, the oldest bridge in the city.
Click by xiquinhosilva from Flickr
Couvent des Jacobins
Established in the 13th century, this convent features the southern style Gothic architecture. It has contrasting kinds on the inside and outside. Several red bricks belonging from Toulouse are said to be used in its construction. The interior has a delicate architecture while the exterior possess an austere design. A chapel here is dedicated Saint Antonin and it has relics of Saint Thomas Aquinas. The place holds classical music nights and is kept open until midnight during the month of June. A piano festival also takes place in the month of September. Visiting this is a very refreshing and soothing experience. The architectural enthusiasts can enjoy the vastness and tones here.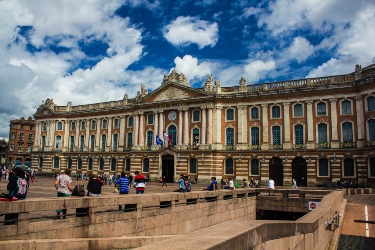 Click by Benuxfox from Flickr
Place du Capitole
Sightseeing in Toulouse is incomplete without a visit to some of its most famous Toulouse tourist attractions. The town square of the city has several activities going on continuously here. There are arcades, the Capitole building, the Theatre du Capitole, etc., here. The architectural beauty of this location too can be experienced properly. Inside the Capitole building, known as the Hotel de Ville, columns are made of pink marble. A room known as Salle de Illustres is special with its gilded mouldings. The area represents the growth and life here. These are open for visitors on the first Sunday of every month. A small walk away from here is the Vieux Quartier, a medieval location. The Cafes, Rue Saint-Rome and Rue des Charges are quite famous here for their delicacies.
Click by javiervaleroiglesias from Flickr
Fondation Bemberg
The fine and decorative arts museum is situated in the Hotel d'Assezat, an old mansion. The establisher had made his fortune from selling plants, a major commodity of the time, making this mansion quite exquisite. The courtyard here has arcaded loggia and beautifully detailed sculptures. Collections consist of bronze sculptures, paintings and art-based objects. Art belonging to the Renaissance, modern French schooL and those of impressionists Claude Monet and Eugene Boudin attract major attention. The collections here are quite amazing and give a soothing experience to enthusiasts. Don't miss the chance to visit this best tourist place in Toulouse and delve into the beauty of Toulouse sightseeing spots and cultural treasures.
Click by pixelia from Pixabay
Cathedral Saint-Etienne
Built over five centuries, this place has an architecture different from many. Changes were made in the duration of these five centuries. Initially built in a southern gothic style during the 12th century, it was made to rival the north style later. Stained glass windows, the 17 chapels built during the 16th to 18th centuries are great experiences. It also has a grandiose organ to honour the tradition here. Choir organ music is of exceptional importance and the cathedral plays soothing and beautiful sounds during the Toulouse les Orgues conducted annually.
Click by David Jones from Flickr
Les Abattoirs
Among the numerous museums to exhibit art, this place is known particularly for modern art. This has more than 4000 different kinds of art, paintings, graphic works and sculptures. The exhibits here are those from the beginning of the 1950s and belongs to nearly 700 artists. Jean Dubuffet, Marcel Duchamp, Vasarely and Robert Maplethorp are famed artists with maximum works here. Apart from the beautifully set up art, the place also hosts educational events, concerts and entertaining performances once in a while.
Click by Guillaume Paumier from Flickr
Canal du Midi
Designed in 1667, this canal bridge was completed 10 years later. It was initially built as short route connecting the Atlantic Ocean and the Mediterranean sea. Running between Marseilles and Toulouse, the place is 240 kilometer long and required nearly 12000 workers to work on it. A massive project of its time, the area gives some breathtaking and charming views. Cyclists and pedestrians are a common sight here. Enjoy a good visit to the place to sit by the canal.
Click by thien dao from Pixabay
Castres
A 1-hour road journey from Toulouse, this place has numerous attractions to visit. Cultural buildings and natural views are the best things to choose from here. The Musee Goya, Centre National et Musee Jean Jaures, Place Jean Jaures, Hotel de Poncet, etc. offer numerous historical and architectural experiences to think of. The Agout riverside, Sidobre,Coche d'eau offer a nature trip into this city. One of the primary attractions here is the Notre-Dame-de-la-Plate' with its 120-metre high tower. Visit as many as you can while exploring the beauty of this area and its historical monuments.
Click by christophe Faugere from Pexels
Bordeaux
A renowned wine-growing destination, the area is a grand gesture in itself. It has numerous unmissable places in and around. The Cathedrale Saint Andre, the Grand theatre, Place de la Bourse, Basilique Saint Seurin, etc. offer a historic and peaceful view of the place. Numerous museums, religious buildings and artistic sculptures are present here. Each of them is an eye-candy and treats the heart too. Explore these to learn a good deal about the past of this region oozing significance.
Click by postcardtrip from Pixabay
Marseilles
If you want to experience ancient France at its best, there's no place better than Marseille. Known to be the second-largest city in France, it is considered to be one of the most visited destinations in the country. Walking on the cobblestoned streets will bless your eyes with the pleasant sight of numerous gothic ruins with baroque architecture, museums and castles which lured the tourists to give this city a visit. Grab the best souvenir, the soaps of Marseille, also known as 'Savon de Marseille'. You can also taste the local dishes of the city along with the rare liquor which helps in eradicating the summer heat.
Click by baccus7 from Pixabay
Montauban
Similar to its counterparts, Montauban expresses the rich French history through its monuments. Palaces, Cathedrals, historical monuments form a crucial part of this location. These places speak greatly of the beauty of this city and the major part of history it has been. It also has a modern aquatic centre, the largest in France and Port Canal. These are short and refreshing places. The old town here too demonstrates an innate architectural beauty and the constructions of the past. The churches and cathedrals established here since a long time exhibit the history and modernity they have been through making them a sight to behold.
Click by Jorge Franganillo from Flickr
Saint Girons
A small and beautiful village, this place has retained its old world charm. With old style houses and valleys, the area is calming. It transports one into an entirely different world, making this a one of a kind experience. Routes and details can be obtained from the tourism office in the city centre. This provides a list of easy routes that can be chosen to avoid confusion. The place can be covered in a single day. While here, do have a taste of the local cuisine with its extensive and tasty options and explore the beauty here.
Click by jmt-29 from Flickr
Najac
Located a little distant from the hustle of city life, Najac is a beautiful village covered with fortresses and old style houses. The medieval timed homes, the beautiful palaces, gorges and lakes add to its charm. Museums here appreciate the artists of their time and showcase their celebrated works. The place can be covered in a day and most of the attractions here can be visited. Know about the history of locations here while admiring their aesthetics.
Click by lecreusois from Pixabay
Albi
Filled with cathedrals and historic museums, this places holds a charm like no other. It can be entered through the port vieux bridge, built during the 11th century. Moving here feels exceptionally beautiful and the major styles of architecture can be understood clearly. Museums dedicated to various art works and significant things of the past can be found here. The place recites stories of glory and the history here. It can be covered in a day with a proper planning and most areas can be covered.
Click by It's No Game from Flickr
Moissac
Located away from the metropolis, the area has a significant number of historical monuments. The bird watching, water activities, treetop adventure, etc. are additional aspects of interest. These activities are often along the side of a natural reserve, making them greatly enjoyable.