Home
Cities
Toulouse City Guide And Airport Transfer Service
Located along the banks of River Garonne, this is the capital city of the French department of Haute Garonne and Occitanie. It is the fourth-largest in France and is known to be built by the Romans. A picturesque and modern-looking location, this place is home to numerous attractions. It has three of them are listed under UNESCO World Heritage sites. Also known as the centre of the aerospace industry, it has the headquarters of many prominent organisations. Airbus, the SPOT Satellite system, ATR and the Aerospace Valley are present here. Apart from these, consider booking Toulouse sightseeing tours, which offer guided trips to popular attractions such as the Basilique Saint Sernin, Couvent des Jacobins, Place du Capitole, and Musee des Augustins. Each represents a different angle of this beautiful area, with some exhibiting Gothic architecture and others speaking of development and modernity. For convenient transportation to and from Toulouse airport, visitors can opt for a Toulouse airport taxi or Toulouse airport transfer services. These private taxi and Private transfer options offer a hassle-free and comfortable journey, ensuring a smooth transition to the city centre or any other desired destination. Private taxi and transfer services provide a personalised and reliable transportation experience, ensuring that you arrive at your destination on time and in style.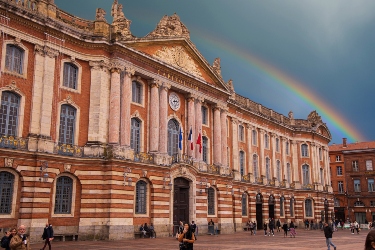 Place du Capitole, Toulouse | Click by
guillaume pdv
from
Pixabay
Historically a trade point between the Pyrenees, Mediterranean and the Atlantic, its origin is mainly unknown. Under the Kingdom of France, it was named a Royal city and was given due credit. For a period of nearly a hundred years, it had become the centre of Occitan literary culture. Over time, it had experienced war and the ill effects of it and was once a target. Majorly a trading-dependent place, it had been an active participant since the 15th century. It was also a part of the Napoleonic War. The war was named the Battle of Toulouse and was one of the last of all. After four days after Napoleon's surrender, the area was defended strongly by Marshal Soult, a revered historical figure. For travellers arriving at or departing from Toulouse airport, convenient transportation options such as Toulouse airport taxi and Toulouse airport transfer services are available. Toulouse Airport serves as a vital connection point, ensuring seamless travel for visitors. While Toulouse has a rich historical background, it also offers opportunities for sightseeing and exploration. Consider booking Toulouse sightseeing tours to discover the city's hidden gems and popular landmarks. Don't forget to utilise the convenience of Toulouse airport taxi and Toulouse transfer services for a seamless travel experience. Toulouse awaits with its stories of the past and its modern-day charm, promising an unforgettable journey.
Streets of Toulouse | Click by
Tomas Llorente
from
Pixabay
This city is a culmination of the specialities of the past and the bright future. Numerous religious buildings are present here, and their architectural beauty, especially those featuring the Gothic style, is captivating. Whether you're interested in exploring the rich history or enjoying the modern attractions, this city has something for everyone. Consider using airport Taxi or private transfer services to ensure a seamless trip. These convenient options provide a comfortable and reliable way to reach your destination in Toulouse or explore the surrounding areas. Additionally, sightseeing transfers and sightseeing tours are available, allowing you to discover the city's hidden gems and iconic landmarks. Whether you prefer a guided sightseeing tour or prefer to explore at your own pace, Toulouse offers a variety of options to cater to your preferences. Shuttle bus services are also available for those looking for a cost-effective option. To ensure a smooth journey, it's advisable to book these services in advance using a reliable booking service. With Toulouse airport transfer services, you can start your adventure in this enchanting city with ease.
Best Time To Visit
During the summertime, between June and August, the climate in Toulouse is quite pleasant, making it an ideal time to visit. The spring and summer seasons offer milder temperatures, creating a comfortable environment for exploration and enjoyment of the city's special delights. During this period, Toulouse comes alive with vibrant energy, and the majority of its attractions can be visited without any concerns. It is a great time to embark on sightseeing tours and take advantage of convenient transportation options like airport taxi services or private transfers. During the winter months, it is off-season, and the prices come down. The temperatures are not very welcoming. Choosing the season should be done by checking the ability of the visitor to sustain a cold here. Most of the outdoor activities here take place during the summer since most of the winter stays indoors. Toulouse airport taxi and private transfer services provide convenient options for getting to and from the airport and exploring the city and its surrounding areas. Additionally, sightseeing transfers and tours offer a comprehensive way to experience the best of Toulouse's attractions and landmarks. Whether you prefer a shuttle bus for budget-friendly travel or a private transfer for added comfort and convenience, Toulouse's transportation options cater to a variety of preferences and needs.
Book Your Airport Transfer In Toulouse
As an industrial city, Toulouse has a rigid and planned public transport system. The private transfers here, too, are available in great numbers. Travelling around is not much of a problem until the mode is figured out. Depending on the time of the day, services and prices vary. Those intending to utilise public transport must be aware of the process here. The language might act as a minor issue, but it can be addressed. Tourists visiting this location can choose their choice from the following available options. In addition to public transportation, there are abundant private transfer options available as well.
Metro, Toulouse | Click by
IngolfBLN
from
Flickr
For travellers seeking a more personalized and convenient transportation experience, private transfer services such as Toulouse Airport Taxi and sightseeing transfers are available. These services provide the flexibility of choosing your own itinerary and offer a comfortable way to navigate the city.
To ensure a pleasing travel experience, it is advisable to use a reliable booking service to arrange your transportation in advance. Whether you prefer the efficiency of the subway, the coverage of the bus network, or the convenience of private transfers, Toulouse offers a range of transportation options to suit your needs and preferences.
Tram, Toulouse

|

Click by

IngolfBLN

from

Flickr
The place has a sorted subway system that works around the clock. A maximum of 4-5 hours is only when they are not active. They begin at 5 A.M and continue until midnight. They connect most of the places here and are highly reliable. They run in two lines namely A and B. The first line operates between Basso Cambo and Balma Gramont. The second runs between Borderouge and Ramonville. During the weekends, these run until 1 A.M. In addition to the subway, Toulouse has a dependable bus network that operates from 9:30 A.M. A total of 82 bus lines cover the area, offering extensive coverage. However, it's important to note that buses are less frequent in the morning hours. Those who wish to explore Toulouse's nightlife will find the buses to be a great option for experiencing the city's vibrant public life.
Train
Another famous mode of airport transfer here is the tram. There is only one line running in the route. It covers the place from Aerconstellation to Palais de Justice. Though reliable, the availability of a single route poses a problem. Travelers wishing to move between these places only can choose this way of transportation. Another often-chosen mode is bike rentals. They are given on a weekly, monthly, or yearly basis in nearby places. Depending on the travelers' requirements, they can be chosen. Another possible way of moving around is car rentals and taxis. Additionally, Toulouse Airport taxi services and Toulouse Airport transfer services are available for convenient transportation.
Private transport, such as Toulouse Airport taxi and airport transfer services, proves to be efficient and dependable in Toulouse. Though the public transfer system here is frequent and reliable, there is no proper connection between all the places in the city. One would need to change to different modes during the journey. Given the fact the city is not a familiar one, this could be very tough. The queue lines and waiting along with the luggage only add to the existing discomfort. Touring the place in private vehicles offers a higher ground in reaching places sooner. The hustle of locating and identifying the proper routes would be eliminated. The industrial aura of the location has some exquisite views and knowledge to offer. Drowning in these and gulping down this knowledge would surely be a great experience, one to cherish forever.
Choosing the mode of transfer would play a role of key importance, especially while visiting places with the least connections.
Toulouse Airport Transfers and Private Taxi Service
To enter this exquisite and blended city, one must fly down at the Toulouse Blagnac airport. From here, several services connect this place to the main part. Though there are many to choose from, the choices could sometimes result in unexpected experiences. One must select the mode which is most feasible for them. The often chosen and primary route is the Airport shuttle. It connects the airport to the city centre. They run between 0500h and 0015h with a 20-minute gap between them. They usually take 20 minutes to reach their destination. Apart from the city centre, 4 different stops are covered through this. The frequency makes this method the most chosen one. But, the negative effect of a huge crowd and waiting time is observable. The rates vary depending upon the time of visit. During the off-season months, they come down and during the season, they increase. Alternatively, travelers have the option to choose private transport such as Toulouse Airport taxi, private taxi, or private transfer services.
Bus, Airport Transfer

|

Click by

IngolfBLN

from

Flickr
Bus
Another efficient method is the bus service of Toulouse airport taxi. Four routes run through the airport and are frequent enough. They include a good crowd too. The bus station can be reached easily from the terminals. These too run only during the nighttime. This reduces the choices during the day. The rates are the same as those for the other routes. They can be checked with the official website due to the changes. It is visible only in French. Apart from these, the frequently chosen option is the private mode of transfer. Taxis and car rentals are easily available here. Several are staged outside the terminals, near the entrance, and can be opted for.
They can also be booked prior to reaching the place, including Toulouse Airport taxi, Toulouse Airport transfer, and private transfer services. This pre-booking option reduces the suddenness and ensures availability, providing peace of mind. Rydeu, a trusted transportation provider, assists you in selecting the best vehicle for your specific needs. Our comprehensive services begin by offering numerous options to cater to your preferences. With our commitment to customer satisfaction, we prioritize providing a hassle-free and enjoyable ride to your destination. The inconvenience of having to choose transportation options during a specific time of the day or dealing with vehicle changes is completely eliminated. Sit back, relax, and trust in our professional taxi service to deliver a truly happy journey to your desired location.
Know More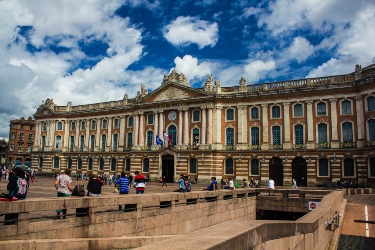 Place du Capitole, Toulouse | Click by
Benuxfox
from
Flickr
Explore Toulouse Sightseeing
Toulouse, also known as "La Ville Rose" (The Pink City), is a vibrant city in southwestern France with a rich history and a lively atmosphere. Here are some popular Toulouse sightseeing attractions to explore in Toulouse:
Place du Capitole
Toulouse's main square, featuring the iconic Capitole de Toulouse, is a must-visit for toulouse sightseeing tours. This neoclassical building houses the city hall and is surrounded by cafes, shops, and restaurants, offering a vibrant atmosphere to explore. Discover the charm of Toulouse's sightseeing attractions in this lively square.
Basilique Saint-Sernin, Toulouse
|
Click by
chantrybee
from
Flickr
Basilique Saint-Sernin
A magnificent Romanesque church and a UNESCO World Heritage site. It is one of Europe's largest remaining Romanesque structures and a significant pilgrimage site. Explore the city's cultural treasures through Toulouse sightseeing tours, where you can immerse yourself in the beauty and historical significance of this remarkable place.
Know More