Home
Cities
Thessaloniki Airport Makedonia |
Image by
ahisgett
from flickr
Thessaloniki Airport, officially called Thessaloniki Airport Makedonia is the largest and busiest airport in the country. Located just 13 km southeast of the city, Thessaloniki Airport is the third-largest airport of Greece. It handles approximately 6 million passengers annually and is considered a focus city for Thessaloniki, Chalkidiki and the surrounding cities of Central Macedonia
Originally constructed as an airfield to be used during World War I, it was a part of collections of airfields and was known as Big Mikra. The airport was reconstructed with an aim for expansion as a purpose-built civilian airport yet the work temporarily halted during World War II and was opened to civilian traffic in 1948. There was a huge influx of investments in the airport after the accession of Greece to the North Atlantic Treaty Organization. A terminal building was constructed in 1965 and the runway was expanded to 2,440 metres. The whole airport was modernized including rebuilding the tower which was damaged during the 1978 Thessaloniki earthquake. Privatized in 2015, refurbishment of the existing terminal at Thessaloniki as well as the construction of a second terminal was planned.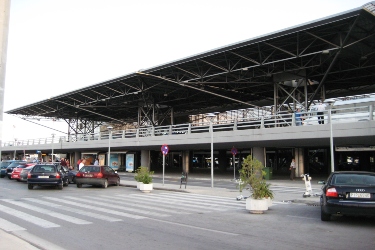 Thessaloniki Airport Entrance |
Image by
jwalsh
from flickr
The terminal building consists of three floors, each divided with a specific purpose. While the ground floor is dedicated to arrivals only, the second floor serves departures and also includes a shopping center. The ground floor services international/extra-Schengen arrivals and domestic/intra-Schengen arrivals whereas the second floor consists of 34 check-in counters, waiting areas, bars, stores and various airlines' offices. The third floor has two restaurants and numerous bars with gorgeous views of the runway. The airport has two runways, two taxiways, 22 stands for narrow-body aircraft and 20 for light aircraft.
Baggage carts are provided in the terminal for the convenience of passengers and lost and found services are also available. Upon travelers' request, luggage can be wrapped to protect it from scratches and dirt. This service can be availed at the baggage wrap service which is located at the Departures area-Hall B, 1st Floor. Along with first aid, there are almost no money woes with numerous banks and currency exchange services available. The airport also provided free internet access to all its travelers and visitors.
Many transportation options are available for transfers out of the airport. At nights when there is no public transportation, when you have a lot of luggage, and when you want to avoid the hustle and bustle of public taxis, private transportation emerges as the solution. Having a personal vehicle means that you save loads of your time expecting the subsequent bus or railway system to return to the station.
Rydeu offers a variety of options, suitable for all, ranging from budget and affordable rides to high-end luxury trips. Book a ride in advance to cash on the savings. Unlike a regular taxi, you will know your exact fare in advance. There are no hidden costs and you can even schedule your taxi to your specific time. You are helped to your luggage in the car and are taken to your destination with complete comfort.
Understanding the time sensitivity which comes with all trips, Rydeu provides a feasible 24 hour cancellation policy. An intra city trip can be cancelled up to 3 hours before a ride whereas an intercity trip can be cancelled 24 hours before.
Enjoy a stress-free journey between the airport and Amsterdam with Rydeu's reliable transfer service. Rydeu provides a one-step solution to all your problems with its easy and hassle-free experience. Transfers from Thessaloniki Airport Makedonia have never been easier!