Home
Cities
Sightseeing Transfer in Tashkent
If you're looking to explore Tashkent and its many sights, Rydeu can provide Tashkent sightseeing tours. Our experienced drivers can take you to the most popular tourist destinations in Tashkent, such as Chorsu Bazaar, Amir Timur Museum, and Kukeldash Madrasah. Suppose you need to book a transfer to or from Islam Karimov Tashkent International Airport. In that case, Rydeu offers a reliable Tashkent airport taxi and airport transfer service with a fixed-price online reservation.
Amir Timur Park, Tashkent
|
Click by
Robert Wilson
from
Flickr
Looking for a hassle-free way to get around Tashkent? Rydeu offers a variety of transportation options to fit your needs, including Tashkent airport transfer, private taxi, airport taxi, and private transfer services. Our sightseeing transfer in Tashkent allows you to create a personalized itinerary to visit the places that interest you most at your own pace. With Rydeu, you can relax and enjoy the ride, while our drivers care for the driving and navigating.
Alisher Navoi Park Entrance, Tashkent
|
Click by
Robert Wilson
from
Flickr
To book a sightseeing transfer in Tashkent, simply make a reservation on our website or through our mobile app. Our fixed-price online reservation service ensures that you know the cost of your transfer upfront, without any hidden fees or charges. So, whether you're traveling alone or in a group, Rydeu can provide a comfortable and convenient sightseeing transfer service in Tashkent.
Click by xusenru from Pixabay
Tashkent Tv Tower
At 375 metres, the Tashkent Building ranks as the 11th tallest building in the world. Use the elevator to the sixth floor to reach the viewing platform and take in the city's magnificent panorama. On the seventh floor, there's a cafeteria where you can get a drink and/or dinner for a fair price. The observation deck at the time of entry cost 40.000 UZS. To climb the tower, you'll still need your passport. Regular operating hours for the Tashkent Tower are from 10 am to 8 pm. Coming there in the evenings to see the setting sun over the downtown skyline can be pleasant.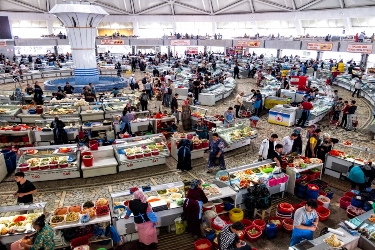 Click by Dan Lundberg from Flickr
Chorsu Bazaar
This renowned bazaar is Tashkent's primary market, wherein locals may shop for everything from clothes, jewellery, and cosmetic supplies to raw grocery items, fresh vegetables and fruits, honey, and seasonings. It's all conveniently available here! There are numerous food, clothing, and domestic centers in the nearby streets and alleyways, in contrast to the magnificent blue dome which covers the bulk of the bazaar's central area. This economy continues to stretch on and on forever! The bazaar is a lovely location to spend time while watching and enjoying the distinct cultural fusion that Tashkent is renowned for, if you do not intend to purchase anything.
Click by Dan Lundberg from Flickr
Hazrat Imam Complex
Tashkent's famous religious centre is the Hazrat Imam Complex, commonly referred to as the Hast-Imam Ensemble or Khast Imam. It's the ideal place to begin your journey to Tashkent. You can wander the compound and admire magnificent architectural landmarks like the Barak Khan Madrasah, the Tilla Sheikh Mosque, and the Saint Abu Bakr Kaffal Shashi Mausoleum. They serve as a good starting point for the magnificent Islamic architecture that may be found in other Uzbek cities, including Bukhara. The Barak Khan Madrasah's courtyard is accessible to the public without restrictions. The Muyi Mubarak Library, which now has ancient manuscripts and the Uthman Quran, believed to be the earliest Koran in circulation, is also located in Hazrat Imam. This library's entry cost is 15000 UZS, or about $1.50.
Click by Dave Morton from flickr
Abu Dhabi
Abu Dhabi, the capital of the United Arab Emirates, is situated on an island in the Persian Gulf, far from the continent. If you travel by road, the Ras Al Khaimah to Abu Dhabi distance is 252 km. Taxi transfers are the best ways to travel to Abu Dhabi from Ras Al Ras Khaimah which takes nearly 2.5 hours on regular days. This city is a tourist's dream since it perfectly blends traditional values with modern culture. Do not return until you have visited all of the places listed below in Abu Dhabi, the coveted jewel of the United Arab Emirates, a piece of advice to all travellers who want to experience the best of the Middle East.
Click by Francisco Anzola from Flickr
Sharjah
Sharjah is one of the biggest and most populated cities in the United Arab Emirates and a member of the Dubai-Sharjah-Acman Metropolitan Area. Sharjah is one of the 7 emirates that make up the United Arab Emirates, along with Abu Dhabi, Dubai, Ajman, Fujairah, Umm Al Quwain, and Ras Al Khaimah. The town, which has been under the authority of the Kasimi Dynasty ever since the 18th century, holds an important position as the UAE's cultural and commercial hub. In terms of the United Arab Emirates Gross National Product, the city makes up about 8%. Sharjah was also chosen in 1998 as the Arab World's Cultural Capital.
Click by Frank Monnerjahn from Flickr
Dubai
Regardless of your hobbies, Dubai genuinely intends to provide you with the best feeling. Notwithstanding its relatively small size, the Gulf state offers diversions for individuals of any age. Dubai has it all, whether you wish to unwind on a beach or party all night. Youngsters that desire to learn will love the city. Make pleasant moments for a lifetime by taking your children to one of the many zoos and aquariums. Dubai is a fantastic city recognized all over the globe for its rich heritage and hospitable people. It is a rising oasis on the northeast corner of the Arabian Peninsula and bordering the Persian Gulf. Annually, millions of business and leisure guests travel to Dubai, which regularly tops lists of locations to visit.
Other Cities