Transfers from all the major airports of Stockholm are extremely easy and convenient. Your journey begins at the airport itself and a lot depends on the method of airport transfers chosen.Considered to be one of the world's best, Stockholm's public transportation system is exceptional. With an extremely organized system of buses and trains one is subjected to a completely different point of view of the city and Stockholm Public Transport provides the most comfortable and enjoyable way to discover the capital city of Sweden.
Arlanda Airport - Stockholm
| Image by

Mic V.

from flickr
Arlanda Express provides the fastest way to reach the Stockholm Arlanda airport, in mere 20 minutes. It is easily accessible as the platform lies underneath the arrival terminals. The train operates at a frequency of every 15 minutes and offers free Wi-Fi. An alternative is using the Stockholm commuter rail which connects Uppsala C and central and southern Stockholm and takes 43 minutes to journey from the airport to the Stockholm Central Station.
Travelling by bus gives you ample opportunity to admire the views. Flygbussarna Airport Coaches offer straightforward transfers between Arlanda Airport and the town terminal and depart every 10-15 minutes throughout the day. Flixbus gets you directly to Stockholm and multiple other destinations in Sweden from terminal 5 of the airport. Route 583 to Märsta railway station operated by SL is extremely popular due to cheaper tickets and it leaves every 10 minutes during the day.
Taxis are a convenient choice from travelling from the airport especially at night when there is no public transportation and you have a lot of luggage. Taxi fares in Sweden aren't regulated which leads to difference in prices among different companies. Hence it is always recommended to use the services of well-known firms. Rydeu provides an easy solution for all your travel woes with easy airport transfers. They are cheap, affordable and leave you hassle-free to enjoy the journey to your destination.
Book Rydeu Transfer's 24x7 Door To Door Airport Transfer In Stockholm
When you arrive at any of the major Stockholm airports from a long and tiring journey, the last thing you need is a worrisome ride to your hotel. At nights when there is no public transportation, when you have a lot of luggage, and when you want to avoid the hustle and bustle of public taxis, here is where Rydeu steps in. It is advised not to take any rides from unlicensed and illegal taxis.
Rydeu provides a one-step solution to all your problems with its easy and hassle-free experience. A diverse fleet of options varying to your budget, Rydeu offers safety and comfort from all your transfers out of the airport.
Understanding the time sensitivity which comes with all trips, Rydeu provides a feasible 24 hour cancellation policy. An intra city trip can be cancelled up to 3 hours before a ride whereas an intercity trip can be cancelled 24 hours before.
With fixed prices and no hidden costs, transparency between the customer and Rydeu is maintained. As customer satisfaction is paramount, a 24/7 customer service is also available to solve any problem which arises. Rydeu looks forward to seeing you in Stockholm.
Stockholm Arlanda Airport
The biggest airport in Stockholm, Stockholm Arlanda Airport is just 37 km from the center of the city and is the major gateway for international transfers from the country. Serving as a major hub for airlines like the Scandinavian Airlines and Norwegian Air Shuttle, the airport handles around 27 million passengers in 2017.
Stockholm Bromma Airport
Stockholm Bromma Airport is the country's third-busiest airport and is located 7.4 km from the city. Established in 1936 by King Gustav V, the airport was the first to have paved runways. When the Arlanda airport opened in the 1960s, the air traffic was divided with Bromma Airport handling the domestic traffic now.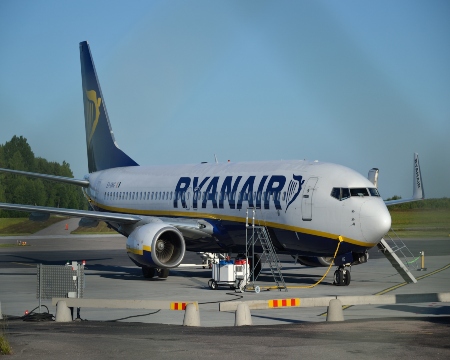 Stockholm Skavsta Airport
Stockholm Skavsta Airport is an international airport located near Nyköping, Sweden and is the fifth largest airport in the country which handles around 2.5 million passengers per year. The airport uses the name 'Stockholm' only for marketing purposes since it is approximately 100 km from it.