The Stavanger airport, Sola is the commonly used one to commute to Stavanger. From here, the city center can be reached using multiple modes of transfer. Primarily buses and taxis or private car hires are available in the region. Train is connected only at the central part which can be reached by road transfer. The airport buses, run by Flybussen connect the city to the airport. Also known as The Airport Express coach, it is the most convenient way to travel. Two bus stops, namely Radisson Atlantic hotel and Byterminalen are the locations to access these buses. They run once every 15 to 20 minutes, connecting two routes. One of these bus routes passes through the E39 motorway while the other passes through Royneberg town. The entire journey takes around 20 to 25 minutes, surrounded by varying city dynamics.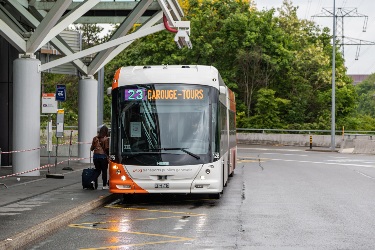 Stavanger airport taxi is also available from here. They are usually parked outside and can be booked either directly or prior to reaching the airport. These are another mode of efficient transport, especially in the case of those with more baggage. Moving around with the baggage in public transport is not a very comfortable option. Travellers moving in a big group would be very relieved travelling through private transfers. Private car hires are also available here. These can be chosen before entering the airport for a hassle free journey along the way. Trains are not available directly, but can be accessed from the central station. The central station can be reached by the bus service or taxi.
The public transport services can be utilized by payment through the smartphone apps. They are updated frequently and give details about the prices, the change in them, etc. Day passes are also available, which can be taken through the app. It is better to take these before boarding the bus from the airport in order to avoid unwanted delay. Payments can be usually done using the smartphone app or cash in the local currency. Card is not an accepted mode of payment here.
Stavanger taxis are available with Rydeu at unbelievably affordable prices. There is always an option suiting your needs. Travelling from the airport to any part of the city is now an easy task with us. The stress and pains of travelling around in public transport would be eliminated to ensure a safe and happy ride. Our methods and methodologies are quite easy to understand. Choose the option suiting your needs and head over to a beautiful trip.