Home
Cities
Stavanger Airport Transfers & Private Transportation
The Stavanger airport, Sola is the commonly used one to commute to Stavanger. From here, the city center can be reached using multiple modes of transfer. Primarily buses and taxis or private car hires are available in the region. Train is connected only at the central part which can be reached by road transfer. The airport buses, run by Flybussen connect the city to the airport. Also known as The Airport Express coach, it is the most convenient way to travel. Two bus stops, namely Radisson Atlantic hotel and Byterminalen are the locations to access these buses. They run once every 15 to 20 minutes, connecting two routes. One of these bus routes passes through the E39 motorway while the other passes through Royneberg town. The entire journey takes around 20 to 25 minutes, surrounded by varying city dynamics.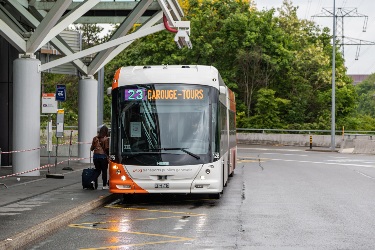 Battery Bus, Le Grand-Saconnex
|
Image by
Matti Blume
Stavanger airport taxi is also available from here. They are usually parked outside and can be booked either directly or prior to reaching the airport. These are another mode of efficient transport, especially in the case of those with more baggage. Moving around with the baggage in public transport is not a very comfortable option. Travellers moving in a big group would be very relieved travelling through private transfers. Private car hires are also available here. These can be chosen before entering the airport for a hassle free journey along the way. Trains are not available directly, but can be accessed from the central station. The central station can be reached by the bus service or taxi.
The public transport services can be utilized by payment through the smartphone apps. They are updated frequently and give details about the prices, the change in them, etc. Day passes are also available, which can be taken through the app. It is better to take these before boarding the bus from the airport in order to avoid unwanted delay. Payments can be usually done using the smartphone app or cash in the local currency. Card is not an accepted mode of payment here.
Stavanger taxis are available with Rydeu at unbelievably affordable prices. There is always an option suiting your needs. Travelling from the airport to any part of the city is now an easy task with us. The stress and pains of travelling around in public transport would be eliminated to ensure a safe and happy ride. Our methods and methodologies are quite easy to understand. Choose the option suiting your needs and head over to a beautiful trip.
Why Book Rydeu for Airport Transfers in Stavanger
As beautiful as travelling and visiting places seems, the troubles of moving from one place to another exist. These obstacles sometimes might be the end of your plans. To avoid the pain of such mishaps, we make your journey a comfortable affair while not being heavy on your wallet. Taxis from Stavanger and outside the place can be booked through us. While you lay back and relax, we make sure you reach your destination at our promised time without facing any kind of hurdles. Though this city has a feasible and frequent public transport system, the luggage, the pain of remembering where and why you left the luggage, waiting in queue lines, etc. comes down automatically. With us you are bound to get a royal experience that fits properly into your budget. Our suppliers along with us offer various offers that you could choose from.
The methodology involved with us is quite simple and understandable. We provide an estimated time and cost of the journey during the booking itself. We have our services expanded to both intercity and intracity. This makes travelling between places much easier. Are you a last minute planner? Worry not. Our plans provide a free cancellation up to 3 hours prior to the journey for intracity and 24 hours for intercity. Your costs would be greatly cut down with us as the wastage would be lesser than you can ever ask for.
Head over to our website to check out the numerous discounts provided by us directly and by our suppliers. Choose the one which suits your needs. We also have a dedicated 24*7 customer service to cater to your doubts. The payment methodologies we use would be an easily approachable and understandable affair. We believe in staying firm on our words and make your journey a memorable one. Pre-book a journey with Rydeu to and out of Stavanger. Lay back and enjoy the ethereal views around you, while me make way for a happy and safe journey for you.
Stavanger airport, Sola
Located in the Rogaland county, the airport is around 11 km south west of the central part of the city. It is the oldest airport of Norway with nearly four million people travelling through it each year.