The perfect destination for tourists is one which is within their reach. St Gallen lies at proximity to Zurich International Airport. The beautiful city of St Gallen has its small regional airport known as Altenrhein, lying 20 km from the city's core. The local airport only serves a few international flights which are mainly from Vienna and Austria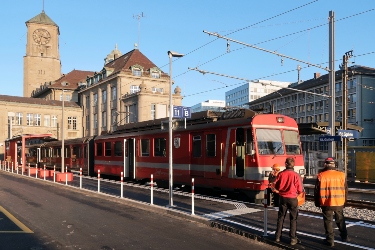 Train, St. Gallen
|
Image by
CoreForce
from flickr
Trains services in Switzerland are wide, extensive and well-connected. So, St Gallen can be easily accessed via train from Zurich Airport within an hour. Starting from just 26 Swiss franc, you can enjoy a relaxed, stress-free ride to the charming city.
The connectivity of bus services is another great alternative for transfer from Zurich Airport. If you are a bag packer or someone who does not have a lot of luggage then buses are your go-to option. Running to and from all day, starting from 24 Swiss Franc, this ride offers you comfort and convenience. The beautiful views of the region are a cherry on the top.
One of the easiest ways to commute is tasking private taxi services. Rydeu provides customized rides for a hurdle free journey. Therefore, airport transfers in St Gallen are easy and quick. Be it premium rides or one within a budget, we customize your trip according to your preference or mood.