Home
Cities
St-Gallen Airport Transfers & Private Transportation
The perfect destination for tourists is one which is within their reach. St Gallen lies at proximity to Zurich International Airport. The beautiful city of St Gallen has its small regional airport known as Altenrhein, lying 20 km from the city's core. The local airport only serves a few international flights which are mainly from Vienna and Austria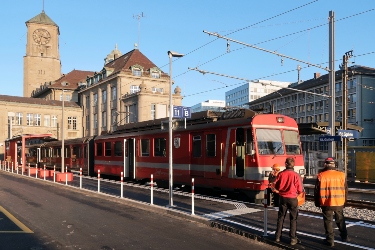 Train, St. Gallen
|
Image by
CoreForce
from flickr
Trains services in Switzerland are wide, extensive and well-connected. So, St Gallen can be easily accessed via train from Zurich Airport within an hour. Starting from just 26 Swiss franc, you can enjoy a relaxed, stress-free ride to the charming city.
The connectivity of bus services is another great alternative for transfer from Zurich Airport. If you are a bag packer or someone who does not have a lot of luggage then buses are your go-to option. Running to and from all day, starting from 24 Swiss Franc, this ride offers you comfort and convenience. The beautiful views of the region are a cherry on the top.
One of the easiest ways to commute is tasking private taxi services. Rydeu provides customized rides for a hurdle free journey. Therefore, airport transfers in St Gallen are easy and quick. Be it premium rides or one within a budget, we customize your trip according to your preference or mood.
Why Book Rydeu For Airport Transfer In St Gallen
Bid adieu to your mundane schedule filled with taxing errands and roam around in the enchanting streets of St Gallen. Rydeu provides a variety of options for its customers depending on their mood, style, and pocket. From exquisite premium rides to an affordable one, Rydeu has got its customers all covered! Discover extravagant, high-end taxis or cosy, compact yet comfortable ones among all options we have to offer. We understand that your quirks, preferences and even lifestyle reflect in your choice of the ride so we never restrict our pool of options.. Our dynamic range of options suits every person and their uniqueness making your scope for choice bigger and better. Another spectacular quality of Rydeu is our 24/7 customer service. We are always here to understand your concerns and strive to provide you with our services accordingly. From resolving problems or answering queries, we are always available for our customers. Our friendly employees are just a call away from fixing your problem. Don't hesitate. We are always available to you. Whenever you need us!
Rydeu has as one of the most feasible options for booking a ride because of its comprehensive and easy cancellation policy. We understand that plans can change any moment so our forum allows the customer to cancel a ride within the city until 3 hours before the trip. If it is an intercity ride, it can be cancelled 24 hours before the trip. The simple framework of our cancellation policy is one of our best features.
We're here to make your dream vacation come true. To map out the vision you have. Be it a happy summer with your family or a romantic getaway with your loved one, we realize that safe and comfortable travel tops our customer's priorities. And so does ours. We offer rides that are not only relaxing but are also secure in every way possible. There are no extra or hidden charges to any ride. So, what are you waiting for? Book with us now!
Image by Kecko from flickr
St. Gallen Airport (Altenrhein)
lies at a distance of just 20 km from the city's centre. The airport facilitates many regional flights and is well-connected to a chain of buses, trams and taxi services for commuting to/from the city.
Zurich International Airport
Zurich International Airport- lies at a distance of about 85 km from the city of St Gallen. Thousands of international travellers commute via Zurich Airport making it one of the busiest airports in the whole world.