Home
Cities
St Gallen City Guide And Airport Transfer Service
Situated between Lake Constance and the mountains of the Appenzell Alps, St Gallen is a beautiful land of rich heritage, culture and art. Standing 700 meters above sea-level, it is one of the highest cities in Switzerland. The picturesque views, bustling squares, and archaic setting with a contemporary touch to it will leave your jaw dropped. The peaceful atmosphere of the town makes St Gallen one of the most tourist-friendly locations. From a circuit of aesthetic museums to rejuvenating outdoor activities mark this city as the perfect location for locals as well as tourists. Escape in the medieval streets of Old Town, away from the daily hubbub and explore a trail of local shops, cute cafes, and 16th-century quaint houses.
Streets of St Gallen |
Image by
xiquinhosilva
from flickr
St Gallen has a diverse range of cafes and restaurants since it has an enriching and colossal cuisine. The city is especially popular for its bratwurst, beer and bürli, or regional bread. When in town do not forget to visit the traditional, small restaurants situated on first floors with low ceilings known as Beizlis. The restaurants have a warm atmosphere and offer you an intimate experience laced with top-notch service and lip-smacking delicacies.
Alps,St Gallen |
Image by
uwelino from flickr
Make a trip to Mt. Saentis, the highest peak of the region that gives you some spectacular views of St Gallen and the Bodensee Region. This is your chance to unravel your mind in the majestic beauty of the city and prep yourself for a laid-back experience. Rusty ranges of the Alp and lush greenery of the land make the aura of St Gallen serene and a trail of romance that lingers throughout the year.
Book Your Airport Transfers in St Gallen
The marvellous city of St Gallen is easily accessible because it is well-connected to different modes of transportation. Hop on your preferred commute to plan a perfect day in the heart of this St Gallen. One of the most popular modes of travelling in the town is by trains.
Train,St Gallen

|
Image by
Albert Koch from flickr
Train
The train service is a wide extensive chain of service that is well connected to the Swiss and the international railway network. The service allows direct train services from the nearby city of Zurich. The local St Gallen train station lies about 500m from the heart of Old Town. The quaint station is tucked between a chain of cute cafes and local shops which you can explore after an exhausting journey to get in the holiday mood. The station connects various international, national, and local trains such as the ICE.
Bus, St Gallen
|
Image by
Kecko from flickr
Bus
Buses are another means of easy conveyance. All the spots in the city are chained by a network of local buses that run throughout the day. Make your trip memorable with a hassle-free travelling experience by this quick and smooth way of transportation. The intercity transfers in St Gallen are convenient because of the ever running bus services that start costing from 4 Swiss Franc.
Taxi
Taxi services are still one of the best alternatives when seeking queen-like treatment. Stop stressing about the charges, routes, or luggage and indulge in a relaxed ride to your desired destination. Rydeu provides you with an array of amazing options for you to choose from. We ensure comfort, convenience and safety.
St Gallen Airport Transfers and Private Taxis Services
The perfect destination for tourists is one which is within their reach. St Gallen lies at proximity to Zurich International Airport. The beautiful city of St Gallen has its small regional airport known as Altenrhein, lying 20 km from the city's core. The local airport only serves a few international flights which are mainly from Vienna and Austria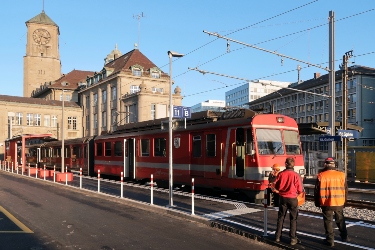 Train, St. Gallen
|
Image by
CoreForce
from flickr
How to reach the city centre via train?
Trains services in Switzerland are wide, extensive and well-connected. So, St Gallen can be easily accessed via train from Zurich Airport within an hour. Starting from just 26 Swiss franc, you can enjoy a relaxed, stress-free ride to the charming city.
The connectivity of bus services is another great alternative for transfer from Zurich Airport. If you are a bag packer or someone who does not have a lot of luggage then buses are your go-to option. Running to and from all day, starting from 24 Swiss Franc, this ride offers you comfort and convenience. The beautiful views of the region are a cherry on the top.
Taxi services from the Airport to the city centre
One of the easiest ways to commute is tasking private taxi services. Rydeu provides customized rides for a hurdle free journey. Therefore, airport transfers in St Gallen are easy and quick. Be it premium rides or one within a budget, we customize your trip according to your preference or mood.
Know More
Must-See Attractions in St-Gallen
Be it the enchanting grandeur of the city or the chain of local cafes, every nook of St Gallen has something interesting to offer. The rich heritage and vibrant culture of the city draw tourists and make them want to stay a little longer. The city is the home a lot of interesting sites, some of the preferred places are as follows
St Cathedral,St Gallen |
Image by
KommBistumStGallen
from
Pixabay
1.

St Cathedral Church
St Gallen is a country which is rich in heritage and Cathedral St.Gallen is an exemplary example of it. This 1764 built church bounds the visitors in a calm and enchanting spell under its high ceiling and low lighting. In the heart of the church is the jaw-dropping baptism fountain with the respect of the magnificent frescos of the cupola.
Old Town,St Gallen |
Image by
puyol5 from flickr
2. Old Town
Feast your mind and eyes by taking a stroll around the gothic feet of Old Town which has contemporary blemishes to it. The wide streets and bustling squares are filtered with local shops, chic cafes and restaurants with open seating serving souvenirs and delicacies. The place has long lovely alleyways, with a remarkable display of ancient oriels, and a trail of aesthetically pleasing bay windows on the old houses. Do not forget to pause and take a moment to acknowledge this soulful place.
Know More