Home
Cities
Singapore, cosmopolitan, vibrant, and multicultural, is diverse and exciting to the senses. The island nation is one of the smallest in Southeast Asia, but it offers visitors a diverse range of cultures, cuisines, and shopping opportunities. Singapore, the tiny island state, has a plethora of family attractions for children. There are Singapore attractions for kids as well as of all age groups. Singapore is a popular tourist destination in Asia due to the convergence of cultures and urbanization. No matter how long you stay, there will always be something left over for your next visit.
Clarke Quay
|
Click by
Catherine Poh Huay Tan
from
Flickr
Singapore is an 8-hour direct flight from Sydney and is a commercial mecca that offers exciting experiences for all types of travelers.
Clarke Quay is a vibrant and exciting lifestyle district located on the Singapore River. You can easily spend a day exploring the historic site by combining dining, nightlife, shopping, and adventure activities. Clarke Quay, once a fishing village, is now a mix of old and new, embracing both in its tourist offerings.
Singapore is well-known for the variety and quality of its hawker centers, which serve a wide range of inexpensive and market-style foods. Because of the size and scale of the shopping developments found here, this famous shopping strip is sometimes referred to as a shopping belt. The boutiques and multi-level complexes are surrounded by beautiful gardens, sculptures, and dining precincts to re-energize weary shoppers in this 2.2km urban oasis.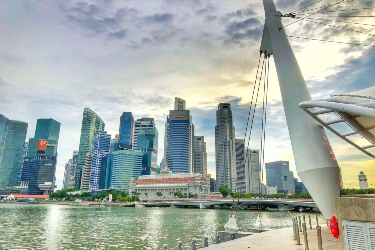 Marina Bay Sands
|
Click by
Catherine Poh Huay Tan
from
Flickr
There are hundreds of hawker centers throughout the island, with each stall-holder competing for your traveling hospitality with affordable, yet tasty food cooked hygienically and quickly. Hawker centers are frequented by both Singaporeans and tourists.
Clarke Quay is home to some of Singapore's most popular nightlife establishments, including nightclubs, bars, and lounges. The colorful, restored warehouse lights up the river at night and fills the area with music.
If you enjoy live music and jazz, you'll enjoy the Crazy Elephant live music venue, which is famous for bringing together locals and tourists. Champagne lovers will enjoy the Fenix Room, which serves special champagne cocktails. The Central, a five-story development directly above the Clarke Quay train station, has a predominantly Japanese theme.
The bright lights and waterfront atmosphere are major draws, and despite commercialization, the fishing village feel remains a strong and distinct feature of the area. The dining options are almost European in feel, with seafood, casual cafes, and eateries).
Twenty-four outlets offer $15 lunch options for a variety of tastes throughout the day. Clarke Quay offers a variety of riverside cruises and tours, including tours of the larger Singapore Rivers area, which includes Clarke Quay, Boat Quay, and Marina Bay. This area becomes more beautiful as you get closer to the water. Thrill seekers can enjoy more than just the stunning river scenery by immersing themselves in the G-Max Bungy and G-X5 Extreme Swing.
The waterfront views are enjoyed by over 150 stores, restaurants, and bars. Independent fashion boutiques and homewares also have a Japanese vibe and are a welcome respite after exhausting all of the designer brand outlets. Tourists flock to the riverfront restaurants and bars, especially at night.
Click by Robin Hickmott from Flickr
Gardens by the Bay
If you can escape the lure of shopping and food, you'll be rewarded with a visit to Gardens by the Bay and Theatres by the Bay. The Supertree Grove is awe-inspiring and tries not to miss the Garden Rhapsody show here. This is a must-visit for kids to show them the amazing flora our Earth has to offer. Just a short stroll along the promenade and you'll discover the beautiful gardens, including the famous flower dome. One glimpse of this place and you are transported to a futuristic Sci-Fi world. This place cannot be explained, and it has to be experienced. The Flower Dome, Supertree Grove, Cloud Forest, OCBC Skyway, Heritage Garden, and Art Sculptures will keep you mesmerized. The lights and sound show are spectacular, and the tickets are available at a discounted rate. Artistic talent is on full display at Theatres by the Bay, with an endless list of acts and performances to see.
Click by Jnzl's Photos from Flickr
Little India
During the afternoon, hit up bustling Little India to visit temples like Sri Veeramakaliamman Temple. Tons of little specialty stores that sell pretty saris, spices, and accessories, so do poke around to see what's available. The Banana Leaf Apolo on Race Course Road is a hit with signature dishes like the spicy fish head curry. Of course, you can't leave Little India without having an authentic Indian meal. Banana Leaf Apol o is an excellent choice, and their fish head curry is to die for. In the evening, visit Mustafa Centre in Little India. This massive complex is a shopper's paradise––they sell anything and everything here and it's open 24 hours a day, seven days a week. For dinner, don't miss the opportunity to sample curries and plenty of authentic Indian dishes.
Click by Catherine Poh Huay Ta from Flickr
China Town
Like Little India, this is another ethnic part of Singapore. China Town stands apart from the rest of Singapore as it displays its rich culture in the form of ornate Chinese temples, decorated streets in red and gold, and the flavor of the food that is sold in old shop-houses lining the bustling streets. This place looks best at dusk, with the Chinese lanterns swaying in the breeze. Apart from the tasty local food, you can shop for some interesting Made in ChinaWares too. The Buddha Tooth Relic Temple is a must visit. In the morning, explore Chinatown on foot and drop by Maxwell Food Centre for the breakfast staple of congee from the popular Zhen Zhen Porridge stall, and of course, some kopi (traditional local coffee). Then explore Chinatown on foot to see places like the majestic Buddha Tooth Relic Temple for a slice of history and culture. Fresh juices and Chinatown market trinket finds are also just around the corner. Wind chimes, durian fragrances, and open-air courtyards Maxwell Road transports you from modern Singapore to a bygone village era.
Click by _paVan_ from Flickr
Jurong Bird Park
Birds, Birds, and more Birds. Jurong Bird Park is Asia's largest Bird Paradise. It houses around 5000 birds and over 400 different species in open spaces. This is a fun activity for young and old alike. Try not to miss the interactive shows that are entertaining as well as informative.
Click by Eddie Sin from Flickr
Ferris Wheel
Adventurous and high-flying souls are more than catered for in Marina Bay. A trip on the Singapore Flyer day or night gives a spectacular view of the region but isn't for the faint-hearted. To distract you from the heights, you can book a private or catered viewing capsule. Guests at Marina Bay Sands can visit level 57 of the resort and be transported to an oasis-literally in The sky with an infinity pool, observation deck, and plush dining venues. A 45-minute Ferris wheel ride shows us an incredible obstructive view of Singapore. The ride is much more exciting after sunset when the city's skyline lights up in spectacular colors.
Click by krebsmaus07 from Flickr
Singapore Zoo
The rain-forest-themed zoo, housing more than 300 animal species, is fascinating for kids and adults alike. The freely roaming animals and interactive sessions with them make it an experience to cherish. The impression of a zoo that we had in mind was that of animals caged and alone in an enclosure that in no way resembles their natural habitat. so here we were in a bit of shock. This was nothing like the Singapore Zoo was more like an interactive experience with the animals. Stepping into Singapore Zoo almost feels like walking into a rainforest in its natural form. Thick, green forests and a river surround the large and expansive animal exhibits. Once through the gates, the sounds of birds, monkeys, and other animals fill the air despite the animated buzz from excited tourists.
Click by Rajeev Rajagopalan from Flickr
Clark's Quay
Clark's Quay is known for its stunning collection of waterside restaurants and bars, and clubs. The walk along the waterfront amidst the glittering lights is a lovely experience. This historical landmark is built on the banks of the Singapore River, and a boat ride is a perfect way to experience this city, especially the famous Merlion Statue.
Click by Fabio Achilli from Flickr
Ion Orchard
Over 300 stores await you at ION Orchard across 8 levels of retail and architectural amazement. If you're not satisfied with simply window shopping, various tourist services are offered to pamper you and your fellow travelers. Fashion consultations, fittings, and delivery services are marketed to tourists to make shopping a luxury experience. In addition, the special ION tourist wallet is worth taking advantage of.
Click by denisbin from Flickr
Waterfront & Alfresco Dining
Paragon houses 200 different retail stores for your active or perhaps more wishful perusal. A family destination, the center boasts a huge dining precinct and specialist youth and children's stores. While popular designer brands take center stage, younger, and edgier brands are also to be found amongst the iconic 6-level development.
Click by Dickson P from Flickr
Plaza Singapura
Located close to the Dhoby Ghaut train station, Plaza Singapura is a 9-level shopping complex, with each level flaunting a different theme. With less of a designer brand focus and more of a one-stop family shopping idea, you will find practical and unique items to suit any budget. You'll also catch a glimpse into the lifestyle of Singapore residents, and this is a popular destination for all ages to explore and relax in comfort. Cinemas and multiple dining options abound to please everyone in the family.