Home
Cities
Singapore City Guide And Airport Transfer Service
Singapore, cosmopolitan, vibrant, and multicultural, is diverse and exciting to the senses. The island nation is one of the smallest in Southeast Asia, but it offers visitors a diverse range of cultures, cuisines, and shopping opportunities. Singapore, the tiny island state, has a plethora of family attractions for children. There are Singapore attractions for kids as well as of all age groups. Singapore is a popular tourist destination in Asia due to the convergence of cultures and urbanization. No matter how long you stay, there will always be something left over for your next visit.
Clarke Quay
|
Click by
Catherine Poh Huay Tan
from
Flickr
Singapore is an 8-hour direct flight from Sydney and is a commercial mecca that offers exciting experiences for all types of travelers.
Clarke Quay is a vibrant and exciting lifestyle district located on the Singapore River. You can easily spend a day exploring the historic site by combining dining, nightlife, shopping, and adventure activities. Clarke Quay, once a fishing village, is now a mix of old and new, embracing both in its tourist offerings.
Singapore is well-known for the variety and quality of its hawker centers, which serve a wide range of inexpensive and market-style foods. Because of the size and scale of the shopping developments found here, this famous shopping strip is sometimes referred to as a shopping belt. The boutiques and multi-level complexes are surrounded by beautiful gardens, sculptures, and dining precincts to re-energize weary shoppers in this 2.2km urban oasis.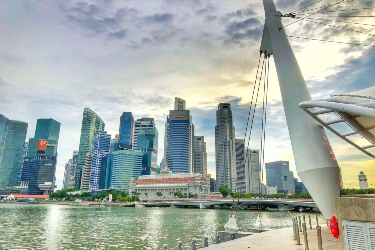 Marina Bay Sands
|
Click by
Catherine Poh Huay Tan
from
Flickr
There are hundreds of hawker centers throughout the island, with each stall-holder competing for your traveling hospitality with affordable, yet tasty food cooked hygienically and quickly. Hawker centers are frequented by both Singaporeans and tourists.
Clarke Quay is home to some of Singapore's most popular nightlife establishments, including nightclubs, bars, and lounges. The colorful, restored warehouse lights up the river at night and fills the area with music.
If you enjoy live music and jazz, you'll enjoy the Crazy Elephant live music venue, which is famous for bringing together locals and tourists. Champagne lovers will enjoy the Fenix Room, which serves special champagne cocktails. The Central, a five-story development directly above the Clarke Quay train station, has a predominantly Japanese theme.
The bright lights and waterfront atmosphere are major draws, and despite commercialization, the fishing village feel remains a strong and distinct feature of the area. The dining options are almost European in feel, with seafood, casual cafes, and eateries).
Twenty-four outlets offer $15 lunch options for a variety of tastes throughout the day. Clarke Quay offers a variety of riverside cruises and tours, including tours of the larger Singapore Rivers area, which includes Clarke Quay, Boat Quay, and Marina Bay. This area becomes more beautiful as you get closer to the water. Thrill seekers can enjoy more than just the stunning river scenery by immersing themselves in the G-Max Bungy and G-X5 Extreme Swing.
The waterfront views are enjoyed by over 150 stores, restaurants, and bars. Independent fashion boutiques and homewares also have a Japanese vibe and are a welcome respite after exhausting all of the designer brand outlets. Tourists flock to the riverfront restaurants and bars, especially at night.
Book Your Airport Transfers in Singapore
Getting around Singapore is very easy. The public transport is so good that you need not rent a car. All the places are so well-connected that all you need is a map and a bus schedule to get around the city. If you plan to use public transport often during your stay or if you plan to keep visiting Singapore often, then buying an EZ-Link card is worthwhile. The card costs 10$ with a 5$ stored value. It is recharged easily at any 7-Eleven store. Card validity is 5 years.
Flight
Arguably one of the best airports, Changi Airport in Singapore is also among the busiest ones. It serves more than 100 countries so getting here is not a problem. This airport is a city in itself with its list of attractions, dining, and of course shopping. The low-cost airlines catering to Singapore from India are Air Asia, Indigo, Malindo Air, and Garuda-Indonesia. We found that Air Asia offers the cheapest fares without meals and baggage. Other airlines which operate in Singapore from India are Jet Airways, Singapore Airlines, and Air India.
Taxi
Singapore taxi booking uses meters, with the fares being slightly on the higher side. It can come out to be cheaper than an MRT if traveling in a group. Taxis are usually hard to find, especially in crowded areas or in peak times. You could even book a private car charter for your sightseeing in Singapore.
Bus, Singapore
|
Click by
KK70088
from
Flickr
Bus
Buses are slower than MRT, but you get to see the city better while using them. We used buses to visit Jurong Bird Park and the Mandi Area, which houses the Zoo and Safari. The bus schedule that shows the bus timings, stops and the terminal number is easily available at any bus terminal.
Train, Singapore
|
Click by
Paul
from
Flickr
Train
The MRT (Mass Rapid Transit) and LRT (Light Rail Transit) make up Singapore's transit system. They are affordable, reliable, and cover almost all the new attractions in Singapore. Moreover, these are also stroller friendly. It's perfect for families with kids. All the lines are seamlessly integrated. There is also a Changi Airport Extension that is very convenient for airport transfers. Just get a Singapore map freely available all over the city and your local commute is taken care of.
Singapore Airport Transfers and Private Taxis Services
Waiting in a long taxi line at the airport's arrivals gate could ruin your trip. The best option is to plan ahead of time for a private transfer, which will ensure a stress-free trip and allow you to spend more time exploring the city. A Private Transfer offers premium personalized service as well as clean and comfortable seats for a luxurious experience.
Bus, Airport Transfer
|
Click by
Jeriel Lim
from
Flickr
At rydeu.com, you can take advantage of the affordable and personalized best airport transfer in Singapore. A private airport transfer is no longer difficult to arrange with Rydeu. We offer airport transfer services 24 hours a day, seven days a week, so you can rely on us at any time. Also, get up to 60 mins of free waiting service for Airport pickup that helps you in case of flight delays and enjoy a comfortable journey which is similar to a taxi service but with premium quality services rydeu makes your travel experience much easier than other modes of public transportation.
Know More
Best time to Visit Singapore
As Singapore is situated near the equator, it has a typical tropical climate. The abundant rains make it humid all the time. The weather is pretty much the same all year round. The temperatures range from 25°C to 31°C. Humidity is in the range of 70% - 80%. Since the weather is the same all year round, you can visit it any time of the year. However, January is the coolest month, and June is the hottest. Due to the hot and humid weather, it's always better to wear light comfortable clothing. Most of the buildings and public transport are air-conditioned so you will hardly feel the heat while traveling. It's always better to carry an umbrella or rain gear with you to save yourself from the intermittent rain.
Know More