Home
Cities
Shanghai City Guide and Airport Transfer Services
Paris of East, Shanghai is a megacity full of life, wonder, and culture. Sightseeing in Shanghai can be a daunting task if you go by yourself, because of the vastness of entertainment that it offers. It lies at the Yangtze River's mouth on China's eastern coast. Shanghai is famous for its new age skyline, landmarks, dynamic culture, and economic significance on a global level. As soon as you land at the Shanghai airport, the city's sublimity will surprise you, take a Shanghai airport transfer further into the town that awaits to give you a delightful stay. A Shanghai airport taxi can be a great option to ease your travel in the city while you soak in the first impressions.
A megacity like this one is sure to have a vast history, both rich and eventful. The word Shanghai literally means– 'City on the Sea.' The first settlements date back nearly 5,000 years ago. When Shanghai emerged as a fishing town and market town in the Song Dynasty (960–1279), it first started to grow into a major town. During the Yuan Dynasty (1279-1368), the city's importance as a trading port began to gradually rise.
Shanghai Street
|
Click by
Jeremy Keith
from
Flickr
Due to foreign influence, Shanghai underwent a dramatic alteration in the 19th century. Shanghai was founded as one of the Treaty Ports after the First Opium War, where foreign nations were given concessions and trading rewards. Western culture, architecture, and commercial activity were introduced through the establishment of British, French, American, and other foreign communities.
Twenty years later, the socialist market system had been endorsed by the 14th Party Congress, which further promoted foreign investment and the city only flourished after that. The city that we see today has reached great heights of advancements, with financial and social aspects growing along with political establishments at a global level. To soak in all the history, many remains and monuments from the past stand tall proud to tell you all from Shanghai's past. Hire a private taxi for yourself in the city and enjoy an extensive tour for a day.
Sheshan Church
|
Click by
Maxime Guilbot
from
Flickr
Shanghai cuisine, known as "Hu cuisine" is commonly known, has gained recognition for its delicate flavours and textures, emphasis on freshness, and combination of several regional culinary tastes. Xiaolongbao, probably the best dish in Shanghai, Shengjianbao, Sweet and Sour Mandarin Fish or Tangcu Xiao Jing Yu, Hairy Crab or Xie Huang, as it's locally known, and many more dishes that are famous as street food and gourmet, keeps the city's food culture live. Book any of the private transfer services provided by private companies in the city and go on for a flavourful eating spree!
Shopping is a favourite pastime in Shanghai for both locals and tourists. The city is admired for its extensive array of retail outlets, which vary from luxurious shopping centres and designer names to lively street markets and exclusive boutiques. Nanjing Road and Huaihai Road is a paradise for all those who love street shopping. Shanghai IFC Mall is for shoppers who love brands and spend gala time shopping indoors. A taxi transfer or any private transfer service to have hassle-free fun day shopping in Shanghai.
Best Time to Visit Shanghai
Shanghai has an array of activities to offer throughout the year but the major ones take place around Spring and Fall. Let's say there are two best times to visit Shanghai. Shanghai is generally thought to be comfortable in the Spring, that is from March to May. The temperature is pleasant and ranges between 10°C (50°F) and 20°C (68°F). Cherry blossoms and other flowers begin to bloom in the city, contributing to a gorgeous atmosphere. Exploring the city's attractions and getting involved in outdoor activities are both ideal now.
Shanghai's summers are highly humid and hot, with temperatures frequently rising beyond 30°C. It lasts from June to August. Moreover, as it's the rainy season, thunderstorms and occasional showers are to be expected. Travelling around the city during this weather can be tiring, however, you can take any one of the airport shuttle or Shanghai airport transfers, available in the city.
Autumn in Shanghai, which lasts from September to November is yet another best time to visit Shanghai. One of the nicest seasons to visit Shanghai is autumn. The temperature is delightful, ranging from about 15°C to 25°C. It's a great time to visit outdoor sights, take peaceful walks around the city, or simply take part in Shanghai's festivals and celebrations.
Book Airport Transfer in Shanghai
Shanghai is a huge city in China and has a number of tourist attractions to visit. The local transportation modes like taxis, buses, and trains help to a great extent to move around in the city. Moreover, Shanghai airport transfers and private transfer services too are quite popular among tourists for various travel purposes.
Maglev Train, Shanghai |
Click by
Missy Schmidt
from
Flickr
Maglev Train
Shanghai is home to the very first high-speed magnetic levitation (maglev) train used for business travel, which runs connecting Pudong International Airport and the Longyang Road Metro Station. The maglev train is a rapid and economical option for travellers arriving at or departing from the Shanghai airport, with a maximum speed of 430 km/h (267 mph). It's a widely used form of Shanghai airport transfer.
Taxi in Shanghai
You will get to see taxis pretty everywhere in Shanghai every day, and they are inexpensive when compared to those in many other big cities. Taxis can be located at defined taxi stops or called on the street. A transparent shield dividing the driver's side from the passenger, a metre and an illuminated vacancy disc are typical characteristics of all licenced taxis.
Private taxis in Shanghai are a popular way tourists prefer to roam around and travel to their destinations in and around the city. Airport taxi service is easily available online and near the airport to travel to the city.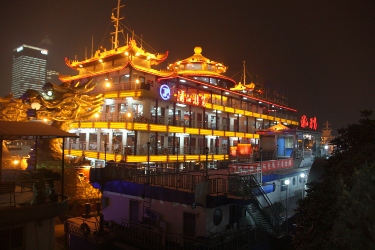 Golden Ferry, Shanghai

|

Click by

maerzbow

from

Flickr
Ferries
The Huangpu River splits Shanghai, and ferries provide a pleasant means of crossing it. Numerous ferry routes can be reached, including those linking the Bund and Lujiazui regions.
Shanghai Metro
The Shanghai Metro is an extensive reliable subway structure that has many routes which span the city and its neighbouring areas. It is the most commonly utilised form of transit used by locals and tourists. The metro hours vary as per different routes. The regular ones run from 5 am to 11 pm. The basic metro ride charges 3 Yuan, but it's better to check the rates once on Shanghai Metro's official website.
Buses in Shanghai
Shanghai has an extensive bus network that goes throughout every part of the city. Buses are cheaper compared to other forms of transportation in the city. Nearly 1,000 bus routes run through many entities. If you prefer to board, you will need a Public transportation Card, which can be used to pay for all forms of public transportation in Shanghai. Bus fares vary between 1 to 2 yuan (about $0.15 to $0.30). The locals use the bus system more than the tourists who prefer private transfer services even for sightseeing.
Shanghai Airport Transfer and Private Taxi Services
Two Shanghai international airports in the city operate all around the year. Shanghai Pudong International Airport, the primary airport is 30 kilometres east of Shanghai's downtown while the Shanghai Hongqiao International Airport is 13 kilometres from the city centre. There are multiple Shanghai airport transfers available from the airport to the city and vice versa, one of them which is commonly used is Shanghai airport taxi. Many of the services available for airport transfer are provided by private companies which also help with transfers for Shanghai sightseeing tours.
Metro, Airport Transfer

|

Click by

Tim Adams

from

Flickr
Metro
Shanghai's extensive metro system serves the majority of the city. Metro stations are linked to the terminals of PVG and SHA. If your location is close to a subway station a metro ride is not much of a hassle for you. It might not be an ideal choice for airport transfer in Shanghai, though, if you are carrying a lot of bags during peak times.
Airport Shuttle Buses
Shanghai provides airport shuttle buses which connect both the PVG and SHA airports with various areas of the town. Outside the terminals, look for the authorised bus stops. If your destination is close to one of these bus travel routes, they offer an easy option and tend to be less expensive than taxis. Bus routes, schedules, and cost information can be found at the airports or on their respective web pages. It is one of the most used forms of airport transfer in Shanghai.
The Maglev Train
The Maglev Train is a suitable Shanghai airport transfer if you're travelling from Pudong International Airport to the city downtown. The train, which travels at a high speed implementing magnetic levitation, joins the airport with the Longyang Road Metro Station, the nearest metro station to the airport. Although the Maglev Train is quick to service, it may not be the most feasible choice if your destination is far away in the city. In such cases, you can use a Shanghai airport taxi or other forms of airport transfer in Shanghai to reach your destination.
Shanghai Airport Taxi
Both Pudong International Airport (PVG) and Shanghai Hongqiao International Airport (SHA) have taxis easily available at the exit. Make sure your destination address appears in Chinese or that the driver can see it on a map. The rates vary as per the trip and the traffic on the route.
Private taxi transfer is quite popular now in tourist countries. Certain companies provide Shanghai Taxi and private transfer services which passengers can book anytime, anywhere to go anywhere in the city or suburbs. These are personalised services where your luggage, timings, and even halts can be managed effortlessly. You can book Shanghai Airport taxis as well to reach the city centre or your hotel from the airport.
Know More
Explore Shanghai Sightseeing
Being a megacity, Shanghai is well-known for the seafood that you get there.
The best way to explore these places is by getting one of the Shanghai sightseeing tours available in the city. You can book a private taxi or any form of private transfer to travel to these places. Once you land at the Shanghai international airport, you can book a Shanghai airport taxi provided by companies to reach your hotel. Tourists often use Shanghai airport transfers in the city.
Know More