Home
Cities
The second-largest city in Sardinia, Sassari, is a vibrant and sophisticated university town with something like a charming mediaeval core and a down-to-earth, ordinary feel. Sassari is the fifth-largest city in Italy by area (546,08 km2) and is situated nine kilometres from the shore in the Asinara Gulf. For many years, this city's favourable geography—a wonderful blend of mountains and vast plains gradually diminishing into the sea—has become the fundamental factor in its development.
Tour Match |
Click by
Francesco Gasparetti
from
Flickr
Sassari is an infamous place to visit in Sardinia but it's still a fascinating place. If you're travelling through the northern portion of the island, you should include it in your schedule and spend some time exploring the area around it. It conceals its beauties behind an exterior of gloomy apartments and convoluted, congested roads, as several Italian villages do. However once inside, it expands out to showcase a spectacular cityscape of broad boulevards, grand piazzas, and regal palazzi. Ancient lanes in the atmospheric and somewhat deteriorated centro storico (old city) pulse with Dickensian bustle as locals go about their everyday lives amidst dingy facades and secret chapels.
Cattedrale di San Nicola
|
Click by
János Korom Dr. >20 Millio
from
Flickr
Sassari has traditionally been quite a turbulent area, with upheavals and creative transformations occurring frequently. More than one governor has been driven from the city by its strong citizens, and numerous craftsmen have considered Sassari to be the perfect place to create. As a result, there have been unceasing, continuous modifications to traditions, beliefs, and art throughout the ages, and the city has become a hub for innovation, as seen by the establishment of the first Sardinian University in 1617.
Sassari became the wealthy city it is today, replete with remnants and structures from every historical era and with varied artistic inspirations because of this never-ending quest for advancement and transformation.
Click by Luis Ascenso from Flickr
Duomo
The construction of the Duomo di Pisa began in 1063 under the architect Buscheto. Its architecture shows signs of Byzantine and Moorish influence, which points to Pisa's international ties as a former sea power. Some essential artwork inside the cathedral is the mosaic of Christ in the apse, the pulpit by Pisano, and the golden ceiling. The cathedral also contains the tomb of St. Rainerius, the patron saint of Pisa and all travelers.
Click by Roberta Marceddu from Flickr
The Cavalcata Sarda
The event honours beauty and is scheduled to take place every year on the second-to-last Sunday in May. Folks from every corner of the islands come to Sassari to march while wearing native costumes and jewellery. It also features horse races, equestrian acts, and individuals on horses. Attendance is free, but if you'd like to sit down, be sure to purchase a €10 ticket from TicketOk in Sassari.
Click by Fred Romero from Flickr
Piazza Castello
If you're doing a leisurely stroll of Sassari, this is where you should begin. The old Aragonese castle (Castello) that once stood there, built in the fourteenth century and destroyed in 1877 because it was viewed as a sign of tyranny and slave labor because it did belong to the old Spanish colonisers and had served as the location of the Spanish Inquisition Court in Sardinia, gave the area its title. A portion of the old structure has already been unearthed and is now accessible for viewing. The plaza, which has served as the centre of city life since the 1300s, is still respected and adored by the locals because it stands in the centre of the old and new Sassari. In honor of the major occasion that became the city's major festival, the Cavalcata Sarda, the statue was erected in 1899 with much fanfare and theatrical revelry. The square also serves as a catalyst for I Candelieri, Sassari's other major festival.
Click by Hervé Simon from Flickr
Piazza Italia
The city's expansion and partly reconstruction to handle more residents and the new requirements of contemporary society and industry was one of the earliest urban developments of the 19th century, which saw the stone walls dismantled. A statue of Vittorio Emanuele II, created by Giuseppe Sartorio, is located in the middle of the plaza. Additionally, the Cavalcata Sarda, a significant and recurring festival in Sassari, began at its inaugural ceremony. This area, like Piazza Castello, is a popular gathering spot for residents and visitors and leads straight to two structures that are regarded as icons of the city: Palazzo Giordano, a stunning Gothic castle from 1878 that is currently the major portion of a huge bank string, and Palazzo Sciuti, the former residence of Kings and Queens who visited Sassari and today the Provincial Government's offices. From this, you can continue strolling to uncover additional significant works of Sassari's architecture and culture, as well as some of the city's most stunning cathedrals.
Click by Catedrales e Iglesias/Cathe from Flickr
San Nicola da Bari Cathedral
The church, often known as the Duomo, was a paleo-Christian holy symbol before it was converted into a church in 1441. Since it was restored in the late 12th century, there aren't many original parts left, although you can see a few beneath the apsis. Many claim that even though this cathedral is regarded as an architectural masterpiece and has many unique looks heaped on throughout the years, if one element were to be missing, it would appear unattractive and unfinished. As the most significant cathedral in the area, visitors won't be let down when they visit!
Click by Fabrizio Sciam from Flickr
Giardini Pubblici
The central city of Sassari has approximately 2900 square metres of lush greenery. These now consist of three distinct parts but were initially constructed during 1870. The first building is the only one with kid-friendly areas and is located between Via Tavolara and Viale Italia. The second area is the largest and is located between Via Tavolara and Via Coppino. It is home to a variety of domestic and exotic plants as well as two magnificent fountains. The third and final space, which is situated between Via Manno and Viale Italia, is mostly utilised by urban metro riders as a rest place.
Click by SunLife Scrapbook from Flickr
Emiciclo Garibaldi
The various stores and cafés along this footpath are well-known for providing places to relax afterwards or during visitor events. The artist in charge had intended to create a sizable, round space where individuals might congregate and spend a few hours around each other following Italy's unification, but the work was never fully completed and the round-to-be square stayed the semi-circular location that you are seeing today.
Click by shots of carmen fiano from Flickr
La Pelosa Beach
In relation to the beachfront, you must visit the Stintino region and the region's most well-known beach, La Pelosa. La Pelosa is a tropical paradise-like beach featuring crystal clear water and smooth, golden sand that is frequently cited as one of the most gorgeous beaches in Europe, and occasionally also on the entire globe. The only thing we can advise is to arrive a little before because it's a prime attraction and gets packed during the day.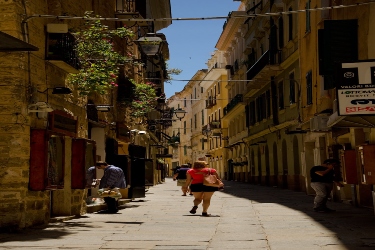 Click by Massimo Frasson from Flickr
Alghero
Don't overlook the opportunity to explore Alghero if you're spending enough time in Sardinia. Due to the strange Catalan impact that somehow still lingers in the region, where residents converse in Catalan and observe religious rituals that are remarkably similar to those observed in Barcelona, it is sometimes called the "Sardinian Barcelona." It's a picturesque city that's hard not to fall in love with.
Click by risastla from Flickr
Castelsardo
Castelsardo seems to be another location you must visit. The Genoese Doria clan built this village, which receives its title from the fort (castello) that stands watching over it. It is well known for its beautiful beaches and, in particular, for the rituals performed during Holy Week. Additionally, you should just not skip the Museo dell'Intreccio Mediterraneo, which is a very unique museum.
Click by FouPic from Flickr
Corso Vittorio Emanuele II
Corso Vittorio Emanuele II, the major thoroughfare through the historic centre, following the route of the old Roman highway that connected Porto Torres and Cagliari. There are merely a few traces of the glory it enjoyed in the 13th century. At No. 23, Casa Farris is a 15th-century townhouse, while Casa di Re Enzo, a few floors higher, is a clothing store in a Catalan Gothic style. The Teatro Civico, which is across the street, was a 19th-century expansion.