Home
Cities
Developed as a fishing village in 1328, Rotterdam is now the second largest city in the Netherlands. Rich with breath-taking architecture and modern art, it is the biggest and busiest port in Europe. A modern metropolis, the city's skyline shimmers with colossal skyscrapers unlike other cities in the country.
One third of Rotterdam and the city centre was completely destroyed by the Germans during the Second World War yet the city rose from its ashes in the subsequent years. It was completely rebuilt, more brilliant than before. With inputs from great architects like Piano, Foster, and Koolhaas, city planning was done in such a way to retain space towards the river.
Rotterdam is a city with cutting-edge designs and continuous innovation. Tourists come from all over the world to marvel at the unique urban design ranging from the docklands at Kop van Zuid, the grand Centraal Station redevelopment; the iconic Erasmus Bridge, and the unique Markthal. Exploration in Rotterdam is both eye-opening and memorable.
From hippie and trendy cafes to the grandiose magnificent traditional cafes, Rotterdam boasts of its huge variety of eating corners which act as a functional working space along with quaint hang-out places. Where it was home to the brilliant Man Met Brill, the only coffee roastery in the city, now it has twelve such famous eateries.
A favourite shopping place for high end shoppers, there are numerous shopping venues scattered in the city. Where the well-known street Kruiskade is popular for its upscale retailers like Michael Kors and Calvin Klein, Markthal hosts a lot of small retailers. Yet Zuidplein remains the main shopping area with exhibitions, concerts, shows among more.
A casual sight beholds locals involved in a lot of water-related action. Rotterdam promises a day of fun and excitement and visitors are advised to board a ferry to visit nearby destinations including Dordrecht and Kinderdijk.
Considered the European Capital of Culture, the city has its own orchestra called the Rotterdam Philharmonic. There are numerous theatres and cinemas including Cinerama which guarantee a magnificent time. A visit here is definitely an ideal proposition!
The Cube Houses
One of the city's iconic attractions, these houses are literally cubes, tilted over by 45 degrees. Considered to be Rotterdam's most creative and striking architecture, the cube houses were designed by the Dutch architect Piet Blom. Take a tour around a fully furnished cube house in the Show Cube Museum or experience living it in the Cube House hostel.
Market Hall
Rotterdam's indoor market is football pitch size and is the largest in the Netherlands. Hosting 100 fresh produce sellers, 15 food shops and 8 restaurants, Market Hall is a foodie's heaven. A one of a kind gastronomical experience, you can find everything from fresh bread to delicious cheese at the market's stalls.
Delfshaven
A small inner-city that was spared the destruction during World War II, Delfshaven has retained its historic ambience with its architecture, bars and restaurants. Make sure to visit the beautiful Pilgrim Fathers' Chuerch where pilgrims gathered before heading for America. Don't forget to enjoy a beer at brewery De Pelgrim, the only city brewery in Rotterdam and learn more about the brewing process.
Maritime Museum Rotterdam
Learn all about the history of Rotterdam's famous and historic port at this museum. Have an enthralling learning experience at Maritime Museum with the help of numerous maritime objects on display and a movie about the history of the port of Rotterdam. Families, especially children, spend a wonderful time here.
Kunsthal
An award-winning modern architecture, Kunsthal is one of the most famous museums. From photography and sculpture to fashion and film, the museum can host more than 20 exhibitions each year. The building itself is a piece of modern art, with intriguing design elements at every corner. You can also enjoy the Museum Park, directly connected with the museum itself.
Fashion shopping in Rotterdam
Having a wide range of shopping avenues, enjoy a shopping spree in Rotterdam's city center all week. Take time to explore all the shopping streets like Beurstraverse, Witte de Withstraat, De Meent, Oude Binnenweg and Nieuwe Binnenweg to find what you're looking for.
Kinderdijk
The largest concentration of old windmills in the Netherlands, Kinderdijk is a popular tourist destination. A UNESCO World Heritage site since 1997, Kinderdijk is a one-of-a-kind example of Dutch water and air management and control. Experience the history and feel the wind of the 19 windmills at this heritage site.
Scheveningen
Netherland's most famous seaside town, families have a memorable and wonderful time here. From staying at the sophisticated five star hotel, the Kurhaus to discovering the mysterious marine world at Sea Life, Scheveningen has innumerable attractions and beach pavilions. City and beach life go hand-in-hand here!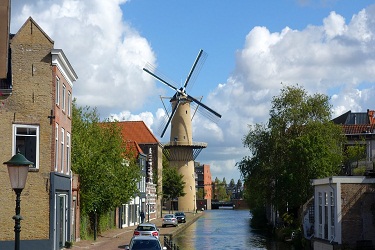 Schiedam
Popularly known for Jenever, Schiedam's historical centre and the tallest old windmills in the world, Schiedam is a small town with gorgeous canals to walk or cruise around. Major sites like Old City Hall, the Wheat Exchange, the Porters' Guild House and Church of Saint John are historically important and worth seeing.
Otterlo
Otterlo is the home of the Kröller-Müller Museum, named after Helene Kröller-Müller, which has the world's second largest collection of Vincent van Gogh paintings. Go on a bike or cycle ride which are available for hire from Veluwe Specialist Otterlo and explore the Nationaal Park De Hoge Veluwe.
Delft
Considered to be the birthplace of microbiology, Delft is an attractive tourist destination. Being home to the famous painter Jan Vermeer, along with the city's extremely beloved blue pottery make it culturally diverse. One of Netherlands' technologically advanced cities, it boasts the prestigious Delft University of Technology.
Utrecht
Built around the Dom tower, Utrecht's ancient city centre hosts many historically important buildings and structures. Explore the Oude Hortus, the former botanical garden of Utrecht University, Rietveld Schroder House, an architectonic highlight by Gerrit Rietveld and Trajectum Lumen, a beautiful light art route that illuminates the city.
The Hague
This 13th century historical city grew from politics. Where kingdoms rose and fell and great leaders flourished, Hague is the heart of the Dutch Government and still is the home of King's residential and working palaces. Spend a few days taking in the mesmerizing sights and soaking up the culture in the city's stately buildings and royal history.