Home
Cities
Rimini City Guide And Airport Transfer Service
Rimini is the most important and populated city on the Emilia-Romagna Riviera (seaside), and it has nearly 145.000 inhabitants, making it one of the most densely populated cities in the region. Rimini, Italy is a well-known summer vacation destination. It stretches for 15 kilometers along the Adriatic coast and is densely packed with hotels, nightclubs, beaches, and sports facilities. Rimini, Italy is not only a vacation destination but also a city of cultural and historical significance, though the latter role is much less valued.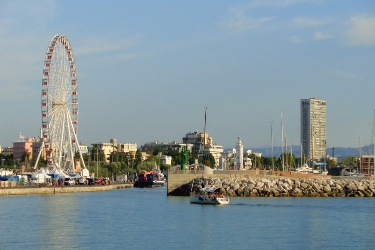 Beautiful Ferris Wheel, Rimini
|
Click by
Mario_Ierardi
from
Pixabay
The city is located on the border between the Mediterranean and the Central European Phyto climatic zones, making it a naturalistic environment of significant value. Rimini is split up into districts. The most common habitats are urban, sand/shingle beach, and moor/heathland. Rimini has a low biodiversity level and a medium seismic classification. Rimini has a population of 150,028 people, with 49,822 students divided between junior high schools, high schools, and a university (Alma Mater Studiorum University of Bologna: Economy, Fashion, Pharmacy, Quality Science).
Emilia Romagna, Rimini
|
Click by
Piera66
from
Pixabay
The Romans founded the city in 268 BC. Rimini, Italy served as a communication crossroads between the north and south of the peninsula throughout the Roman era, and great monuments such as the Arc of Augustus, the Bridge of Tiberius, and the Amphitheater were built on its soil. Many centuries later, during the Renaissance, the court of the ruling Malatestas family was one of the most lively of its time, and it hosted several great artists, including Leon Battista Alberti and Piero Della Francesca.
This city is one of Europe's most famous seaside resorts, thanks to its 15-kilometer-long sandy beach, approximately 1,000 hotels, and thousands of bars, restaurants, and discos (in fact, the most developed economic sector is tertiary 80.7%, and the most developed activities are commerce, transportation, and tourism 27.6%, with approximately 50% of the population employed in tourism-related jobs). The first bathing establishment opened here in 1843, and the city is now known as an International Entertainment Capital.
Rimini is also a cultural center, with ancient Roman and Renaissance structures. Rimini is also the birthplace of famous film director Federico Fellini. Furthermore, Rimini promotes its traditional cuisine characterized by intense flavors, which is inextricably linked to the traditions of rural culture, with peculiar influences due to the city's position between the sea and the hills, near the border between Romagna and Marche.
Rimini (Latin Ariminum) is a Roman city located along the Adriatic Sea coast, at the south-eastern edge of Emilia-Romagna (Italy), near Montefeltro and Marche. The city has an area of 135 square kilometers (size of urban area: 31.43 km2) and borders the municipalities of Bellaria-Igea Marina, and Santarcangelo di Romagna. It is located northwest of San Mauro Pascoli, southwest of Serravalle and Verucchio, and southeast of Coriano. Rimini has a modern and efficient urban transportation network, consisting of minibuses, and ultimate generation coaches. You can find fascinating art masterpieces within walking distance of the beach restaurants and the "street bars' ' in front of which people dance all night. Does Rimini have nice beaches? Yes,of course. The best place to be in the morning is on a beach in Riccione or Cattolica. Afternoons are ideal for driving or cycling tours of the foothills' castles, such as Verucchio, Torriana, or Montebello.
The landscape around Rimini, which ranges from sandy beaches to beautiful hills topped by picturesque art towns, has a common history: it was the heart of the Malatesta family's fiefdom. San Giovanni in Marignano, just outside Cattolica, is known locally as the meeting place for witches on sabbath nights. Its Teatro Comunale Massari is a small but elegant 19th-century theater with lovely decorations that hosts a variety of plays and shows.
It is impossible to provide an exhaustive list of the castles, fortresses, and manors in the Rimini area. Some of them, like Azzurrina in Montebello, are haunted by ghosts.
Others, such as Mondaino's castle, are densely packed with conduits. The two imposing fortresses built by the Malatesta family in Montefi ore Conca and Verucchio are must-sees. The first has extraordinary frescoes, while the second is perched on a rock spur with a breathtaking view of the valley below and down to the sea.
Tourists come here because Rimini is a warm, welcoming town, the Italian champion of hospitality culture. You can find fascinating art masterpieces within walking distance of the beach restaurants and the "street bars" in front of which people dance all night.
Book Your Airport Transfer in Rimini
Railway
Rimini is served by two railway lines, which meet at Rimini Central Station:
Double electrified railway track (national network) on the Bologna-Bari-Lecce line; single electrified railway track on the Rimini-Ravenna line (regional network).
Both are managed by the RFI group (Italian State Railway Group)
Do you know how far the Rimini train station is from the beach? The nearest train station to Rimini Beach in Bologna is a 24 min walk away and 950 meters.
Rimini - Central Station is the main railway station, located in a barycentric position between the city center and the tourist coast area. There are four additional stops within the Municipal boundaries:
1. Rimini - Viserba: Rimini-Ravenna line; 2. Rimini - Torre Pedrera: Rimini-Ravenna line; 3. Rimini - Miramare: Bologna-Bari-Lecce line in the city's southern part; 4. Rimini - Fair: Bologna-Bari-Lecce line in the city's northern-western part.
Bus, Rimini
|
Click by
Keith Laverack
from
Flickr
Bus
Urban and suburban lines cover the entire territory, granting approximately 486,715 runs per year, 7,047,564 vehicle*km per year, and an average length of approximately 14,5 Km.
The no. 7 bus connects the Conference Palace to the city center, but the no. 27 bus is also available. Tickets can be purchased at any tobacconist (->) or from automatic machines located at the railway station. In terms of transportation, the city is divided into zones, so tickets are only valid for a limited time and a limited number of zones.
€ 1.20 - 60 minutes - 1 Zone
€ 2.00 - 75 minutes - 2 zones
€ 2.80 - 90 minutes - 3 Zones
The Coastal Rapid Transport (TRC) is a smart transportation system that will connect Rimini's main railway station to Riccione by the summer of 2019. The vehicle will run for 9.8 kilometers along a specific road near the railway line, reducing traffic congestion and travel times in comparison to other modes of transportation (frequency: 10 minutes – nr. of vehicles: 5 vehicles – run duration: 23 minutes – intermediate stops: 15).
The TRC service will allow for the strengthening of the supporting axis of local public transportation as well as intermodality with other modes of transportation (particularly cycling) due to the ability to transport bikes on board.
Yacht Club, Rimini
|
Click by
Giacomo Carena
from
Flickr
Harbor
Rimini's harbor is close to the mouth of the Marecchia river and is classified as a "port harbor" because of its elongated shape caused by progressive development along the canal's banks, with quays on both sides.
Bicycle
The cycling network in Rimini is extensive and includes several complete axes:
The coastline: from Miramare to Rimini along the Adriatic Sea;
Internal route: along historic roads (Via Emilia and Via Flaminia from Rimini Fair to Hospital);
The green road follows the Marecchia River's embankments.
The "green ring": a green path that circles the city center, passing through the city's major parks.
The axis of penetration: from Rimini to the Marecchia valley (along Via Marecchiese - SP258).
There are numerous other itineraries with adequate continuity. A strategic network of cycling paths known as Bicipolitana is also planned. It has the following characteristics: attractiveness, continuity, shortness, recognizability, and safety.
The local cycling system includes a bike-sharing system and a free-flow bike-sharing system.
Rimini Airport Transfers and Private Taxi Service
With convenient airport transfers, Rydeu provides a simple solution to all of your travel problems. They are inexpensive and convenient, allowing you to sit back and relax while traveling to your destination.
Taxi, Airport Transfers
|
Click by
JonEr5
from
Flickr
Taxi fare in Rimini from Rimini Airport is included in private transportation. You can, however, take advantage of low-cost and specialized Private transfer services at the airport. A private airport transfer is no longer difficult to arrange. Thank you very much, Rydeu. Rydeu offers several transportation options from the airport to the city center or directly to your lodging.
Transfers from door to door.

The greatest financial benefit. Be astounded by our prices.

Cancellation is free up to 24 hours in advance.

Professional, local drivers with extensive knowledge of the area provide services without hindrances or delays brought on by unfamiliarity with your destination. A rapid and effective transfer is guaranteed by Hispatransfers.

To provide you with all the information or help you might need with your reservation, we pay attention to some languages.

Upon your request, we provide a variety of specialized services, such as assistance for infants and individuals with special needs.
It provides all tourists with one of the best Premium Private Transfer Services in Rimini! You can choose an offer from Rydeu's extensive selection that fits your mood as well as your budget!
Because Rydeu understands the value of time in all travel, it has a reasonable 24-hour cancellation policy. An intra-city trip has a three-hour cancellation window, whereas an interstate trip has a twenty-four-hour window.
Know More
What is Rimini Italy known for? Rimini is a budget resort on the Italian Adriatic Sea coast known for providing quality service at a reasonable price. Because the sea off the coast is shallow, this is a great place to relax with kids. Adults, on the other hand, will not be bored due to the abundance of clubs, bars, restaurants, and other forms of entertainment. Rimini is also one of the few places in Italy where you can combine a beach vacation with Rimini sightseeing. Monuments from ancient Rome and the Middle Ages have been preserved in the town. This city is reminiscent of Julius Caesar debating whether or not to cross the Rubicon.
Best time to Visit Rimini
Rimini's peak beach season runs from mid-June to early September. Life here does not stop for a minute in August; the buses run 24 hours a day. The craziest week is the one that falls on the 15th, which becomes the official week of vacation for almost all Italians, and hotel rooms must be reserved ahead of time. April is the best month to visit the ancient sites in Rimini because of the pleasant spring weather, which is neither cold nor extremely hot. It is too early to go swimming. During the penultimate weekends of May, buses begin to run for one-day trips to other cities in Italy. At the end of the month, there are already a few tourists on vacation. By the end of the month, you can see a few tourists enjoying themselves in the sea, and the water begins to warm up. The month of July is ideal for a trip to Rimini.
During the first weekends of July, a grand celebration called "Notte Rosa" is held here, and youth from all over northern Italy come to party until the morning. Buses run continuously throughout the night on all July weekends (Friday to Sunday). Winter in Rimini begins at the end of November and lasts until March; Rimini weather is mild and warm in comparison to northern Europe. The temperature rarely falls below 0 degrees Celsius. In Italy, there are seasonal discounts on almost all clothing in January, so don't miss out.
In January, almost all clothes in Italy have seasonal discounts, so don't pass up the chance to get some new clothes at incredible prices.
Know More