Home
Cities
Rhodes Airport Transfer And Private Transportation
Transfers from Rhodes International Airport are extremely easy and convenient. Your journey begins at the airport itself and a lot depends on the method of airport transfers chosen. Located just north of the village Paradeisi, approximately 14 km southwest of the capital city, Rhodes International Airport is the fourth busiest airport of the country.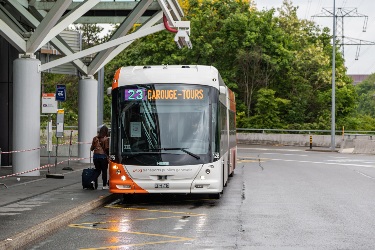 Battery Bus, Le Grand-Saconnex
|
Image by
Matti Blume
Rhodes's public transportation system is exceptional. With an extremely organized system of buses, one is subjected to a completely different point of view of the city and easy transfers from the airports are provided.
The Rhodes Airport bus runs several times in a day from Monday to Saturday. The bus stop is located immediately outside the terminal building, just 300 m to the left of door 1. The bus takes approximately 40 minutes to reach the city and a one-way ticket costs 2.50 Euros. Tickets can be purchased from the bus driver itself who accepts only cash and if you pay onboard the bus, the cost is €2.60.
Taxis are a convenient choice from travelling from the airport especially at night when there is no public transportation and you have a lot of luggage. Two companies, RTLS and Diagoras run taxis frequently in the city. You can find the taxi stand outside the terminal building and taxis are available 24/7. The cabs can be identified with their dark blue with white – colored roofs with a sign on the top of the car with the word "TAXI". These taxis operate with a first come first served system. It costs approximately €15-108, depending on your destination from the airport but you will be charged extra for different situations. The standard surcharge is €3.69 and for baggage weighing over 10 kgs can cost you €0.43 more. Waiting per hour is €11.81 whereas double fare is charged from midnight to 5 am. It is the taxi driver's duty to carry your luggage from the pavement to the vehicle and he cannot pick up extra passengers without your permission. You can also get an invoice with the route and metered fare paid for the trip. Rydeu provides an easy solution for all your travel woes with easy airport transfers. They are cheap, affordable and leave you hassle-free to enjoy the journey to your destination. It is suggested to pre book your taxi before your arrival to avoid long lines since Rhodes airport is a very busy airport.
Why Book Rydeu For Airport Transfer In Rhodes
When you arrive at Rhodes International Airport from a long and tiring journey, the last thing you need is a worrisome ride to your hotel. At nights when there is no public transportation, when you have a lot of luggage, and when you want to avoid the hustle and bustle of public taxis, here is where Rydeu steps in. It is advised not to take any rides from unlicensed and illegal taxis.
Rydeu provides a one-step solution to all your problems with its easy and hassle-free experience. A diverse fleet of options varying to your budget, Rydeu offers safety and comfort from all your transfers out of the airport.
Understanding the time sensitivity which comes with all trips, Rydeu provides a feasible 24 hour cancellation policy. An intra city trip can be cancelled up to 3 hours before a ride whereas an intercity trip can be cancelled 24 hours before.
With fixed prices and no hidden costs, transparency between the customer and Rydeu is maintained. As customer satisfaction is paramount, a 24/7 customer service is also available to solve any problem which arises. Rydeu looks forward to seeing you in Rhodes.
Rhodes International Airport
Rhodes International Airport, officially called Diagoras International Airport is the largest and busiest airport in the country.