Home
Cities
Pisa is a city in central Italy's Toscana (Tuscany) region. The city is situated on the Arno River's alluvial plain, approximately 6 miles (10 kilometers) from the Ligurian Sea and 50 miles (80 kilometers) southwest of Florence. Pisa was close to the sea till the 15th century when piled silt from the Arno River shut the town away from the retreating beach.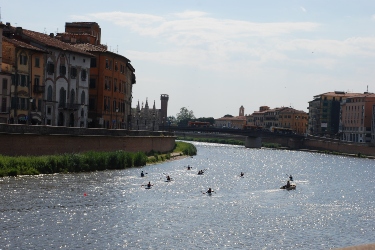 run4unity, Pisa |
Click by
teens4unity
from
Flickr
The city of Pisa is unquestionably best visited fresh in the mornings and evenings since this is when you will uncover the actual splendor (beyond the summer tourism crowds). If you're a morning person, you will have the city to yourself! Because the city center is so small, keep strolling to discover genuine beauty: located among the numerous little stores, cafes, and restaurants.
Chianti, Pisa |
Click by
charley1965
from
Flickr
Before becoming a Roman naval stronghold, Historic Pisa, or Pisae, was perhaps colonized by the Ligurians. It evolved into a Roman colony soon after 180 BCE and a Christian bishopric by 313 CE. Pisa outlasted the fall of the Roman Empire to become the dominant urban center of Tuscany.
Present Pisa is a modest city with a realistic culture and a long and enlightening history. There are many Pisa Italy things to do which we will discuss in detail. Stay Connected with us to read more about this beautiful city.
Bike
Residents prefer motorbikes for transportation, but Pisa is also a wonderful city to ride around if you prefer pedal power. Several bikes are available by rental companies, such as Toscana in Tour or Ecorent (on the city's outskirts), which lend both bikes and cycles. In addition to offering a convenient method to navigate the city, many residents use it to reach the Parco di Migliarino on the adjacent coast.
Buses, Pisa

|
Click by
Bill Pearson
from
Flickr
Bus
There are three main lines of buses in Pisa: red, green, and blue. The red line, Line Rosa, leads you to the Leaning Tower of Pisa. Tickets can be bought from cigarette shops, train stations, and airports. Purchase your ticket beforehand and confirm it as you are onboard. The bus runs a limited night service till midnight, with tickets available in 70, 120, and 240-minute increments and a 17-minute ticket reserved for four or ten passengers riding in Pisa Italy.
Like some other Italian cities, it seems to have a limited traffic zone known as the ZTL. Driving in this zone will result in a fine ranging from 60 to 100 euros. You pass the traffic camera, which means you might be penalized several times for driving on the same street.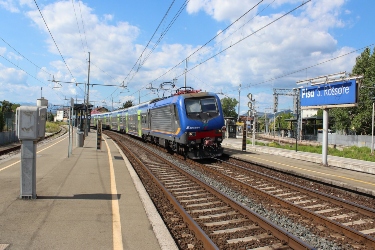 Train, Pisa
|
Click by
Pjedro22
from
Flickr
Train
Touring by tram from Pisa to certain other destinations in Italy is the most suitable way. Pisa Centrale, the city's principal train station, is located 1.5 kilometers outside of town and may be accessed by walk or bus. The ticket office is available from 06:00 am to 09:00 pm, or self-service ticket offices are always available. If you're going for a short distance (20km or less), railway tickets can be purchased at local newsstands. Florence (an hour and a quarter ride for roughly 5€) and Livorno (a 15-minute journey for less than 2€) are beautiful day getaways by rail from Pisa.
Pisa only has one airport located only a short distance from the city center, and it is through that you can begin your journey. Pisa Airport is Tuscany's primary gateway, with about 5 million people traveling yearly. It's close to the city center, and transports are accessible. Still, a cab or the people service should cost approximately 10 euros, with just an additional 2 euros 55 imposed on weekends and holidays. The PISA mobile shuttle service is the newest in 2017 and costs $70 per way and takes you into town in only five minutes. It was all advised to go in the center here. If you're worried to book a Taxi and knowing how far is Pisa airport from Florence, then Visit Rydeu.com
Bus, Airport Transfer
|
Click by
Chris Sampson
from
Flickr
Shuttle Train
You may reach any location on the Italian rail system from Pisa Central Station. The PisaMover system regularly connects Pisa Airport to the Central Station, taking 5 minutes and stopping at San Giusto/Aurelia station.
Between 04:30 to 01:30, the PisaMover works. The shuttle train leaves every 7 minutes throughout the day, although it runs every 15 minutes early in the day and late in the evening.
The Local Bus
You can also use the nearby bus route E3 instead of PisaMover (Pisa-Aeroporto Galilei-San Giuliano Terme-Ripafratta-Santa Maria Giudice-Lucca).
The first bus leaves the airport at 06:20, while the final leaves at 08:17 pm. (on holidays, the first bus leaves at 09:00 am and the last bus at 09:00 pm).

Buses leave roughly every half an hour.

A one-time ticket costs €2.50 and can be paid onboard.
Taxi Transfer
A taxi offers the most convenient and pleasant method to commute to and from Pisa Airport. A car rental from Pisa airport to the center of Pisa costs around € 12. Rent a cab with Rydeu at Pisa Airport and experience the convenience of pre-booked taxis. If you're how far is Pisa airport from Pisa centrale train station, then book a Taxi with Rydeu.