Home
Cities
Ostersund City Guide And Airport Transfer Service
A beautiful and quaint area in Jämtland in the middle of Sweden, Östersund is a famous tourist destination due to its convenient location near the country's fifth largest lake, Storsjön and nature. A relaxed and scenic gateway town, away from the hustle and bustle of the city, a pleasant and rejuvenating holiday is guaranteed here.
Town Hall,Ostersund |
Image by
Dlearn from Pixabay
The stark contrast between the lively city and idyllic mountains makes the city a unique and magnificent destination. From enjoying nature's comforting presence to numerous culinary delights, Östersund offers something to everyone. Founded in 1786 by King Gustav III, the city became an important trading centre after the establishment of the railway in 1862. Majorly an agricultural and tourist centre, Östersund now has industries in the machinery, furniture, and leather goods sectors.
Prastgatan,Ostersund |
Image by
Kenneth Vetter from flickr
Have a delightfully informative experience at the Jämtland County Museum which explores the history of this town through its wonderful archaeological and cultural exhibits. Catch a glimpse of life through the decades at Fornbyn Jämtli, an open-air museum housing ancient and historical structures from the 15th to 18th century. An extremely significant Swedish structure, dating from the 11th century located near the bridge that connects the town with Frösön, an island in Lake Stor, tells the story of the town's conversion to Christianity. The northernmost zoological park in the world, Froso Zoo, located on the island of Froson provides an exciting opportunity to admire the exotic animals including lions, zebras and Siberian tigers. Explore the park's fascinating displays and have unique experiences.
The city is said to have the highest number of cafés per capita so you can relish the traditional Swedish "fika" with delicious, hot cups of coffee with your loved ones at a new café every time. Make sure to visit the most popular cafes in the area, Torners on Storgatan and Wedemarks Konditori on Prastgatan and enjoy a quick meal here.
Referred to as "The Winter City", the weather here varies from cold and dark winter nights with auroras and stars to sunny summer days where people can be spotted relaxing on beaches and sunbathing. Yet, the presence of wind is constant due to the city's location next to a big lake. Numerous festivals and cultural events take place here all year-round. From the Biathlon World Cup which takes place every winter to the music festival Storsjoyran which turns the summer into a never ending party, Ostersund promises a memorable time.

.
Book Your Airport Transfer In Ostersund
With an extremely organized system of buses, ferries and trains, one is subjected to a completely different point of view of the city. The public transportation of the city is operated by multiple organizations and there are multiple local and regional bus routes available.
Bicycle,Ostersund

|
Image by
Mr Thinktank
from flickr
Bus
With an affordable and extensive bus system, transfers from Östersund are made easy and convenient. Single tickets can be bought on the bus itself but it is preferred to buy a prepaid card if you're staying for a longer number of days. These cards can be bought at the numerous kiosks and shops scattered around the city center or the main bus station which is located on Kyrkgatan. Keep in mind that long queues are formed for the buses after 9 pm every day and the whole of Sunday.
Train,Ostersund

|

Image by

herbertshin from flickr



Bicycle
Since the majority of the city is walking distance, walking is a fun and great way of experiencing the city. Travelling by bicycle also provides an alternative and memorable mode of transportation. Cycling is an environment-friendly, healthy and a delightful way of experiencing your surroundings. Discover and explore Östersund's mesmerizing surroundings at your own pace on a bicycle. Multiple cycling paths are scattered all over the city. Bicycles can be rented from multiple locations and can also be bought from the flea markets.
Train
Trains in the city are operated by SJ and there are frequent daily departures. The railway system provides easy and comfortable transfers from Östersund to Sundsvall and Trondheim with Norrtåg and to Mora with Inlandsbanan.
Taxi
Taxis can be handy when you want to avoid crowds and travel without any waiting time. Yet these can be extremely expensive hence an alternate way is to share a cab with multiple people. Be vary of the numerous unregistered taxis which can always be found outside common nightclubs and pubs after closing. It is recommended to take a taxi from a well-known company and always pre-book a taxi since it is difficult to wave one down. Services like Taxi Östersund and Taxi Kurir provide convenient cabs. For easy, stress-free travel, Rydeu provides private transfers in and around the city. Rydeu strives to make every journey safe and enjoyable. Download the smartphone app TaxiKurir Östersund to view the address based routing and calculate price according to them.
Ostersund

Airport Transfer And Private Taxi Service
Transfers from Åre Östersund Airport are extremely easy and convenient. Your journey begins at the airport itself and a lot depends on the method of airport transfers chosen. Östersund's public transportation system is exceptional. With an extremely organized system of buses and trains one is subjected to a completely different point of view of the city.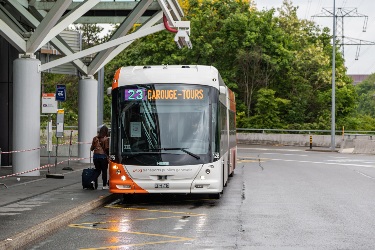 Battery Bus, Le Grand-Saconnex
|
Image by
Matti Blume
Bus
There is an airport bus which provides easy transfers from the Åre Östersund Airport. It usually operates according to the scheduled air traffic arrivals and departures. The airport coaches run for each and every all departures from/arrivals at Stockholm which means that there is no bus service for cancelled flights. You can find the airport bus to the left of the bus depot in front of the terminal, Stand 1. The bus leaves for the city 10-15 minutes after every arrival and it takes 15-20 minutes to complete the trip from the airport to central Östersund. The bus stops at Gustav III Square from which you can catch a bus and leave to other parts of the country. The regional bus transfers are operated by Länstrafiken.
Taxi
Taxis are a convenient choice from travelling from the airport especially at night when there is no public transportation and you have a lot of luggage. The taxi stand is located directly outside the terminal of the airport. The taxi market is deregulated hence there isn't any fixed price. Always ask the driver if a fixed rate applies and ensure that it is entered in the meter. It is always recommended to use the services of well-known firms. After completion of your ride, get the taxi meter receipt which will have the car's registration number along with information about the taxi company and the driver. This information is particularly helpful if you have forgotten something in the car or if you need to file a complaint about your ride. Download the smartphone app TaxiKurir Östersund to view the address-based routing and calculate price according to them. Choose the company that best suits you and it is not necessary to take the first car in the taxi queue. It is recommended to take a taxi from a well-known company and always pre-book a taxi since it is difficult to wave one down. Rydeu provides an easy solution for all your travel woes with easy airport transfers. They are cheap, affordable and leave you hassle-free to enjoy the journey to your destination.
Know More
Places to Visit In Ostersund
A city full of modern designs, gorgeous architecture, atmospheric cafes, Östersund leaves everyone dazzled. Below is a list of must-visit tourist attractions to explore to make your trip complete
Jamtli,Ostersund |
Image by
pieterstok
from flickr
1. Jamtli
Jamtli is a wonderful blend of architectural art and history. Consisting of two vastly different museums, one is open-air, complete with reconstructed wooden buildings and a realistic portrayal of history with the guides dressed in 19th-century period costume and the second is home to the Överhogdal Tapestries. The indoor museum features Christian Viking relics from AD 1100 that feature animals, people, ships and dwellings that are a must visit
2. Mus-Olles Museum
This eclectic collection of almost everything, Mus-Olles Museum is learner's delight. Situated 34km northwest of Östersund, this museum was opened by Per-Olov Nilson in 1906 who was a charismatic and serial collector of things. There are more than 150,000 objects on display including 25,000 related to packaging. Enjoy a meal at the café which is located on the museum grounds.
Know More