Home
Cities
The city of Oslo has tucked close to its international airport so the city is easily accessible at any point of time. Oslo Airport Gardermoen lies at a distance of just miles from the heart of the city. You can reach the airport from the city via different means. One of the most convenient ways is by bus. Bus transfers are cheap, comfortable, and quick. You will find that airport transfers in Oslo are so smooth and easy.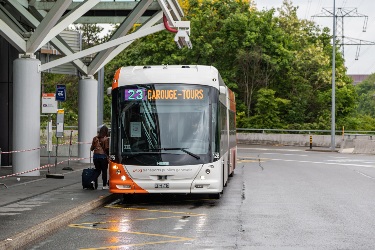 Another means of the commute is by taking the train. Get on board and cut down the extra time. Oslo train transfers are smooth, comfortable, and very tourist-friendly. They are especially very friendly when you have a lot more luggage with you. So book your tickets as soon as possible and hop on to explore the picturesque sights of Oslo.
One of the best modes of commute still stands to be private taxi services. Oslo taxi transfers are very cosy and friendly. Oslo taxi fares are affordable and are available at different prices according to your budget and need. Rydeu provides one of the best transfer facilities across the city and to/from the airport. So, what is the wait for? Book with Rydeu right now! The beautiful city of Oslo waits to be explored by you.
To fulfil one demand, we need to sacrifice the other one. Comfort and price-effective travelling can not be done at the same time is something that we have been hearing for a long time. Well, not any more. Rydeu has finally made its arrival featuring the world-class services for the comfort of its clients. Airport transfers from Rome directly to your accommodation is promised without going too heavy on your wallet, avoid the hassle of travelling in the crowd, book your ride and plan a memorable trip.
We offer a wide variety of transportation from budget-friendly rides to lavish ones, your demands are now just a click away. The easy cancellation policies allow you to cancel your trip without any hidden charges. Change in plans? Don't worry, we offer free cancellation up to 3 hours before the ride for intra city transfers and 24 hours for intercity transfers to the city.
The user can either explore Rydeu's offer or directly check out the offers from our suppliers listed on the page for making travelling easy in the contemporary era, Providing a timeless experience to you has been our ultimate goal, enjoy our 24*7 customer service to connect with our team for all your queries.
Oslo Airport Gardermoen
Also referred to as Gardermoen airport, this is the primary airport serving the city of Oslo, the capital of Norway and the most populous city in the country.
Sandefjord Torp Airport
Sandefjord Torp Airport is situated at a distance of 4 nautical miles away, in the northern direction of Sandefjord, Norway and 110 km away from the lively city of Oslo.