Home
Cities
Squatting on the western coast of Italy, lying on the bay Naples, it is known to be one of the most populous cities in Italy. Rooting back to the second millennium B.C, Naples is a conveyer of the rich art and iconic architecture and is known to be the most populated city after Rome and Milan. From boasting some of the most alluring beaches ornate with the sparkling sandy coastline and unique pebbles to being one of the most preferred places to visit for the foodies, Naples is known to be a paradise for all the nature lovers out there.
This beautiful city has survived through many life-shaking events such as WWII, the eruption of Vesuvius and has managed to become one of the most visited cities in Italy which reflects the greek origins at its best. Due to its magnificent architectural art and history possessed by a place no other place than Naples, it was regarded as a UNESCO World Heritage Site in the year 1995.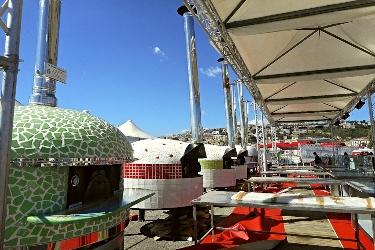 Pizza village, Naples |
Image by
Carlo Raso
from flickr
Best time to visit the city
If you are looking to witness the raw beauty of the magnificent city at its best, book your tickets between March and April when the soft sun rays fill your body with life while the cool breeze soothes your skin with its touch. Visiting the alluring city during September and October would be budget-friendly as the city does not face the tourist rush and most of the things such as accommodation, dining and adventure events are usually cheap. Avoid visiting during July and August which is seen to be the hottest months of the year.
Calling out all the pizza lovers to satisfy their pizza lust with the pizza that can not be experienced anywhere else, YES! Naples is the great mother of our favourite Italian dish topped with customised veggies and cheese that just melts in your mouth. The city surprises its visitors with more than one can ever expect, from being a paradise for adventure lovers and art freaks, it also provides an array of options for foodies.