Home
Cities
Sightseeing Transfer in Naples
Naples, Italy, is a vibrant and historic city in the country's southern part. Naples is situated in the Campania region, along the western coast of Italy, overlooking the Tyrrhenian Sea. It is the capital of the Campania region and one of the largest cities in Italy.
Naples boasts a rich and ancient history, dating back to its founding by the Greeks in the 8th century BC. Over the centuries, it has been influenced by various civilizations, including the Romans, Byzantines, Normans, and Spanish, which have left their mark on the city's culture, architecture, and cuisine. If you're arriving at Naples Airport or exploring the city, consider using Naples Airport taxi, Naples Airport transfer, or private taxi and private transfer services to make your journey comfortable and convenient. You can also enhance your Naples experience with Naples Sightseeing tours, immersing yourself in the city's fascinating history and vibrant culture.
San Domenico Maggiore Church
|
Click by
Carlo Raso
from
Flickr
The historic center of Naples, a UNESCO World Heritage Site, is known for its narrow, winding streets, colorful buildings, and numerous churches, including the Naples Cathedral and the Church of San Domenico Maggiore. It is also home to the Naples National Archaeological Museum, which houses an exceptional collection of Roman and Greek antiquities. Whether you're exploring the historic center or visiting the Naples National Archaeological Museum, consider using convenient transportation options like Airport taxi, Airport transfer, Private taxi, or Private transfer to enhance your experience and ensure a smooth journey.
Museum Pignatelli in Naples
|
Click by
Carlo Raso
from
Flickr
Naples is renowned for its delicious cuisine, particularly its pizza, which is said to have originated here. Neapolitan pizza, with its thin crust, fresh ingredients, and wood-fired ovens, is celebrated worldwide. The city is also famous for its pasta dishes, seafood, and traditional street food like Sfogliatella and Pizza Margherita. While savoring these culinary delights, don't forget to explore the city's rich food culture with Naples Sightseeing tours, which can take you on a delectable journey through Naples' gastronomic treasures.
Naples is located close to Mount Vesuvius, one of the most famous volcanoes in the world. The city offers a base for exploring this iconic volcano, which famously erupted in AD 79, burying the ancient cities of Pompeii and Herculaneum. When visiting Naples, make sure to include these must-see places in Naples and the Naples tourist attractions on your itinerary.
Additionally, the Amalfi Coast and the nearby Capri, Ischia, and Procida islands are easily accessible from Naples. These destinations offer stunning coastal landscapes, crystal-clear waters, and charming villages, making them popular tourist getaways. To make the most of your visit and explore these attractions, consider taking Naples Sightseeing tours to experience the beauty and history of the region.
Naples is a city of contrasts, where ancient history meets modern life and where the love for art, food, and culture is deeply ingrained in its people. It's a destination that offers a taste of authentic Italian life, making it a compelling place to visit for travelers seeking a diverse and immersive experience.
Click by Nicola since 1972 from Flickr
Lungomare and Castle Ovo
Remember the fairy tales where the vast palaces were surrounded by the water bodies to sway the reader's mind with the ethereal beauty of the surrounding, this alluring waterfront with crystal clear water hitting on the walls of the Ovo Castle, the oldest castle in the history of Italy is something that every traveller must experience.
Click by Anna & Michal from Flickr
Teatro di San Carlo
Calling out all the movie buffs to witness a rarity. Known to be the largest movie theatre in Europe, this supreme opera house was built by King Charles of Bourbon. The ornate theatre with six levels is embezzled with lavish boxes to make the visitors witness the ultimate acts, concerts and ballets. Young people with a wild heart are highly recommended to visit this place where chaos dangles in the air and art lies on the land.
Click by Peppe Guida from Flickr
San Gregorio Armeno
Souvenirs are like a walk down the memory lane and while in Italy, three things that every traveller must have in his list to explore are- Food, Sightseeing and shopping. Wandering around San Gregorio Armeno will not only give you a chance to shop but will awe-inspire you with its unique Terra-cotta art, native figures and other fabric materials sculpted in beautiful sumptuous figures.
Click by Andrea Schaffer from Flickr
Cappella Sansevero
Formally built as a private chapel, this beautiful place is now ornate in baroque style and consists of some of the most jaw-dropping sculptures in the history of art such as Veiled Christ by Sammartino. Every art lover must pay a visit to this place to awe-inspire themselves.
Click by Prof. Mortel from Flickr
Catacombs of San Gennaro
If you want to travel back in time and lose yourself in the labyrinth of a rustic building with ethereal architecture and some of the finest paintings, make sure to put this place on your list. This renowned basilica is seen to be a landmark in the Christian religion and entertains a lot of tourists every year.
Click by Bruno Bordderr from Pixabay
Amalfi
Squatting on the south-west coast of Italy, this alluring town rests below the outraged cliffs of the region. Saint Andrea Cathedral is known to be situated in the heart of the city and attracts most travellers from all around the world. The travellers are advised to taste the rare liquor that this town produces.
Click by Graham Hobster from Pixabay
Pompeii
Situated in the southern part of the country, this place is regarded as a landmark in the architectural history of Italy. Pompeii sits peacefully beside the Bay of Naples and extracts the serene ambience and beauty from the place. The tourists can witness rare architecture and buildings carved with rustic bricks, ornated with alluring paint.
Click by Graham Hobster from Pixabay
Herculaneum
If you want to get away from the chaos of Naples, make sure to visit this underrated beautiful place with picturesque surroundings and breathtaking views. Herculaneum has been declared to be a World Heritage Site by UNESCO due to the perfect blend of culture and history.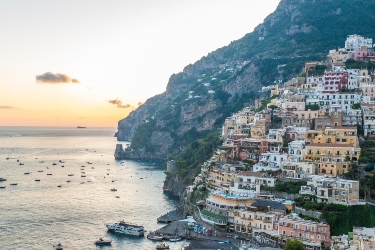 Click by Ben Davies from Pixabay
Sorrento
Located on the southern Amalfi Coast, Sorrento has recently gained a lot of popularity amongst the tourists due to its ethereal background beauty blessed with the magic of nature and the fun-filled nightlife that can not be experienced at any other place. Book a day trip to Sorrento from Naples with Rydeu for a timeless experience.
Click by juliak13 from Pixabay
Positano
Known to be the most famous holiday destination, Positano is an alluring village that sits beside the cliff on the southern part of Italy. If you're in the mood for resting on the sandy beaches with the tranquil sound of the sea, make sure to visit Positano with your loved ones for a memorable trip
Click by Joanna Maitland from Pixabay
Paestum
Resting on the mouth of Tyrrhenian River, this ancient city is seen to reflect the Greek settlement and the rustic ruins that have made the city as a World Heritage Site by UNESCO. A day trip to Paestum would leave you amidst the dreamy beauty of Mother Nature.
Click by gianfranco.vitolo from Flickr
Pozzuoli
Situated near Naples, Pozzuoli is a beautiful town that sits in the southern part of Italy. This place is an amalgamation of culture with archaeology and arts with history. Pozzuoli holds the power to sway the breath of its visitors with its magnificent sightseeing places.