Route Summary - Naples to Ischia
Sitting on the bay of Naples, Ischia is a dream place for all the travellers out there, linked to some of the great places on the earth, Naples makes the first great place in the list. While on a trip, we all want to make it as comfortable as it can get, while the public transportation would prove to be easy on your pocket, it will cause you a lot of problems to reach from one place to the other. Private transfers from Naples to Ischia will allow you to completely escape the process of standing in a queue and waiting for a seat.
The close proximity of the cities assures an exemplary Naples to ischia day trip. From luxurious rides to pocket-friendly ones, one might be able to find it all in Rydeu. Naples to Ischia private hire cost varies according to the vehicles. So fellas, who's up for an adventure?
Distance From Naples To Ischia- 55.6 km
Journey Time- 2 hr 5 min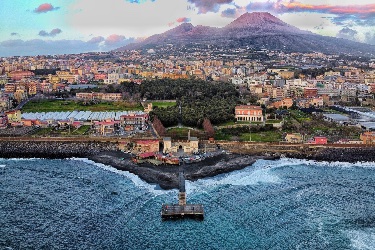 NAPLES
Squatting on the western coast of Italy, lying on the bay Naples, it is known to be one of the most populous cities in Italy. Rooting back to the second millennium B.C, Naples is a conveyer of the rich art and iconic architecture and is known to be the most populated city after Rome and Milan. From boasting some of the most alluring beaches ornate with the sparkling sandy coastline and unique pebbles to being one of the most preferred places to visit for the foodies, Naples is known to be a paradise for all the nature lovers out there. This beautiful city has survived through many life-shaking events such as WWII, the eruption of Vesuvius and has managed to become one of the most visited cities in Italy which reflects the greek origins at its best.
ISCHIA
Nestled in the heart of the Bay of Naples, Ischia is a small picturesque island which is a part of the Campagnia archipelago. Painted in the colour of the sun, the mesmerising island provides the view of the setting sun while wrapped up amidst the beauty of the flowers, birds chirping and serene waterfall from the flowery hills. Besides the white sandy beaches and exotic scenery, one can also enjoy the hot baths and thermal springs while in Ischia. Ischia Porto features an array of cafes for the breakfast and bars for a vibrant, colourful nightlife for all the party fanatics out there. The island also serves as a historic centre, right after 10 minutes of drive, you can witness a historic seaside town, known as Ischa Ponte.