Route Summary - Milan to Zurich
If you are visiting Italy but missing out on Switzerland, you better have a good excuse for it. Situated at a close proximity from the fashion capital of the country, Milan sightseeing might come as a surprise that you can reach Milan to Zurich by road.
For all those people who vividly enjoy singing while soaking in the scenic beauty of the road, the cool wind that gets absorbed into your skin and the never-ending beautiful moment with your loved ones is too precious to be shared with others. It might come as a shock that the taxi fare from Milan to Zurich can now be afforded by every sort of traveller out there. Rydeu provides the best Milan to Zurich taxi service without going gaga over your budget.
Distance from Zurich to Milan- 280.5 kms
Journey Duration- 3 hr 20 min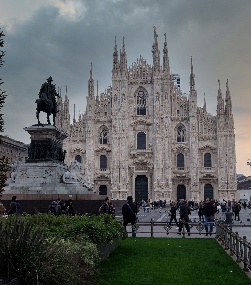 MILAN
Known for its fashion and market, Milan is the capital of the Lombardy region of Italy. From the quaint Duomo di Milano cathedral and Santa Maria Delle Grazie convent to featuring some of the top-notch restaurants in the country, this place has been a business hub for people all around the globe. Milan has gained popularity over time with Leonardo da Vinci's "The Last Supper" which has set an exemplary example of the culture coated with a layer of art.
Where Rome is known to be the political capital of the country, Milano has always focussed more on becoming the moral capital to impart the rich history and knowledge that it embraces. Milan is a perfect blend of ancient values with contemporary art and remains one of the most important cities to visit in Italy.
ZURICH
Treat yourself with an exorbitant holiday and traverse the beautiful streets of one of the most extravagant cities in the world, that is, Zurich. The place is situated at the end of Lake Zurich in northern Switzerland, surrounded by a range of wooden ranges in its east and west. Covering an area of about 91.88 km2 it is the largest city in Switzerland. The city is truly the perfect blend of heritage and urbanization. From an array of gothic museums with contemporary touches to artsy galleries, this place is a paradise for the eyes. Zurich creates the perfect equilibrium of beauty and leisure. Being the financial capital of the country, it is known for its sumptuous lifestyle. You will find a range of high-end shops, niche cafes, fine dining and rich Swiss chocolates in almost every nook of the city.