Route Summary - Milan to Turin
Milan and Turin is a perfect amalgamation of all the things that a traveller would want to witness. Milan being an absolute paradise for all the shopaholics out there to Turin attracting the foodies all around the world with the mouth-drooling smell. There are numerous transfer services from Milan to Turin.
Tired from the regular schedule, we all deserve a break from working from 9-5, to slip into the arms of Mother Nature, Visit underrated places and make new friends are a few things that we thrive upon. A relaxing trip requires everything in a pre planned manner, be it the tickets or vehicles. Milan to Turin in a private taxi is the fastest way to reach the city without getting involved in the tedious process of standing in the que to buy the ticket and then stand with all the luggage on your back. Rydeu provides the best taxi service from Milan to Turin at a pocket-friendly budget.
Distance from Milan to Turin - 141.2 kms
Journey Duration - 1 hr 50 min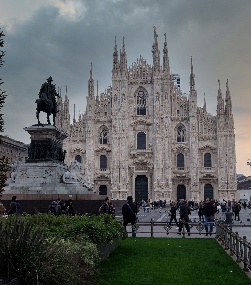 MILAN
Known for its fashion and market, Milan is the capital of the Lombardy region of Italy. From the quaint Duomo di Milano cathedral and Santa Maria Delle Grazie convent to featuring some of the top-notch restaurants in the country, this place has been a business hub for people all around the globe. Milan has gained popularity over time with Leonardo da Vinci's "The Last Supper" which has set an exemplary example of the culture coated with a layer of art.
Where Rome is known to be the political capital of the country, Milano has always focussed more on becoming the moral capital to impart the rich history and knowledge that it embraces. Milan is a perfect blend of ancient values with contemporary art and remains one of the most important cities to visit in Italy.
TURIN
There's an odour that lingers in the air more than any other city in Italy, strong enough to mesmerise every visitor that inhaled it. Situated in the northern part of Italy, Turin is known to be the capital city of Piedmont. The city is known to be a paradigm for rich architecture and a cuisine that will make you drool all over the place till you satisfy your taste buds with the tasty regional dishes. The rustic city of Turin is seen to act like a time machine, so if you are in the mood to explore ancient Italy with baroque architecture and classical builds with overlooking balconies, book a ticket to Turin right away. Piazza Castello and Piazza San Carlo are two of the most renowned squares for shopping, grabbing a bite or casually hanging out with your buddies. Art lovers would not get enough of this place, it simply has a lot to offer.