Route Summary - Milan to Genoa
Known to be the fashion capital of the country, Milan will bless its visitors with the hustle-bustle and commotion of the publice while Genoa is known for its rustic beauty and medieval buildings designed in a baroque architecture. Transfers from Milan to Genoa can be done in numerous ways like Bus, Trains and taxi.
Milan to Genoa from Private car is the best option if you are visiting the economical capital from a business perspective but want to explore the beauty of the country without travelling in a public transport system. The travellers can also opt for taxi transfers from Milan Malpensa airport to Genoa witnessing the scenic beauty of the surrounding on your way over to Genoa. Rydeu gives a wide array of options to its travellers to get a cab according to their desire and affordability, so go, book a taxi right away to soak into the ethereal beauty of the city.
Distance From Milan to Genoa - 147 km
Journey Time - 1 hr 50 min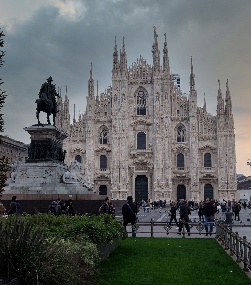 MILAN
Known for its fashion and market, Milan is the capital of the Lombardy region of Italy. From the quaint Duomo di Milano cathedral and Santa Maria Delle Grazie convent to featuring some of the top-notch restaurants in the country, this place has been a business hub for people all around the globe. Milan has gained popularity over time with Leonardo da Vinci's "The Last Supper" which has set an exemplary example of the culture coated with a layer of art.
Where Rome is known to be the political capital of the country, Milano has always focussed more on becoming the moral capital to impart the rich history and knowledge that it embraces. Milan is a perfect blend of ancient values with contemporary art and remains one of the most important cities to visit in Italy.
GENOA
Known to be the capital of Liguria region, Genoa is the sixth largest city in the country, due to its rich history, glorious past and exemplary landmark, the city is referred to as la Superba which means 'the proud one'. The historical centre also referred to as the old part of Genoa is declared to be a World Heritage Site by UNESCO. A perfect amalgamation of culture, dipped in history and adventure perfectly describes the city Genoa. Music lovers will find this place as an absolute paradise, if you are in the mood for some reminiscing time with your friends, the old part of the city has several narrow streets that feature numerous mouth/drooling restaurants to dine in. The rustic city now offers a series of fashionable shops featuring small end restaurants and bars to light up your entire vacation. Make sure to include Genoa in your itinerary to enjoy every bit of Italy at its best.