Route Summary - Milan to Florence
Imagine walking amidst the ethereal beauty of Mother Nature in the most raw form to stepping right into the place where shopaholics will lose it, completely. Milan and Florence are completely different cities from one another, yet two of the most alluring cities that the country births. There are various ways for transfers yet, Milan to Florence private car transfers are considered to be the most convenient way to reach Florence without drooping sweats for grabbing a ticket and making your way to the seat, which is highly unlikely.
Cost of a taxi from Milan to Florence is now very affordable, so folks what are you waiting for? If you are looking to spend some quality time with your loved ones, Milan sightseeing a comfy ride is just a click away with Rydeu.
Distance of Florence From Milan- 303.4 kms
Journey Duration- approximately 3 to 4 hours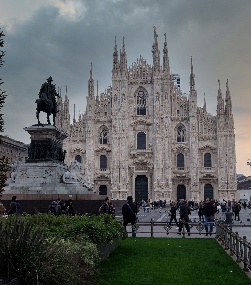 MILAN
Known for its fashion and market, Milan is the capital of the Lombardy region of Italy. From the quaint Duomo di Milano cathedral and Santa Maria Delle Grazie convent to featuring some of the top-notch restaurants in the country, this place has been a business hub for people all around the globe. Milan has gained popularity over time with Leonardo da Vinci's "The Last Supper" which has set an exemplary example of the culture coated with a layer of art.
Where Rome is known to be the political capital of the country, Milano has always focussed more on becoming the moral capital to impart the rich history and knowledge that it embraces. Milan is a perfect blend of ancient values with contemporary art and remains one of the most important cities to visit in Italy.
FLORENCE
Nestled in the heart of the country, Florence is known to be the capital of the Tuscany region, and m is one of the most populated and wealthiest cities in the area. Declared to be a world heritage site in 1982 by UNESCO, the city attracts a lot of tourists every year due to its renaissance art and architecture. If you want to witness Italy at its best, make sure to visit this city for a timeless experience. The city was seen to be the centre for medieval European trade and finance. Dating back to 1861 which marked the arrival of 'Kingdom of Italy' the city has expanded its wing of history throughout the world and is known for the rich history that it possesses. Due to the huge number of famous artists renowned for their art throughout the world, Florence is home to numerous museums and art galleries such as Uffizi Gallery, Palazzo Pitti.