Route Summary - Milan to Bologna
If you haven't visited two of the most vibrant cities of the country, have you even explored Italy yet? Travelling with friends, family or anyone you love is the best feeling ever, to get away from the world and cherish the special and unparalleled feeling that you possess for that person can just not be shared. Private car to Bologna is the best option if you enjoy with Milan sightseeing privacy as much as we do.
Although the cost of a taxi from Milan to Bologna will differ from ride to ride, it is available for every sort of traveller out there. Imagine escaping the hassle of waiting for your turn to buy the tickets, walking till the public transportation from your accommodation and fighting for seats in the bus, metros or train. Rydeu makes the travelling smooth for all the world fanatics out there.
Distance from Milan to Bologna - 216 km
Journey Duration- 2 hr 45 min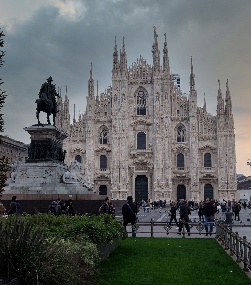 MILAN
Known for its fashion and market, Milan is the capital of the Lombardy region of Italy. From the quaint Duomo di Milano cathedral and Santa Maria Delle Grazie convent to featuring some of the top-notch restaurants in the country, this place has been a business hub for people all around the globe. Milan has gained popularity over time with Leonardo da Vinci's "The Last Supper" which has set an exemplary example of the culture coated with a layer of art.
Where Rome is known to be the political capital of the country, Milano has always focussed more on becoming the moral capital to impart the rich history and knowledge that it embraces. Milan is a perfect blend of ancient values with contemporary art and remains one of the most important cities to visit in Italy.
BOLOGNA
Nestled in the heart of the country, Bologna is known to be the most vibrant and lively city in Italy and is the historical capital of the Emilia-Romagna region squatting in the northern part of the country. With peace dangling in its air, this city possesses enormous love for its people and is seen to be the seventh most populous city in Italy. Formerly Etruscan, the city was the first one to take a step towards modernity and has remained the paramount urban centre for centuries. Due to the rich history that the city possesses, it was declared as the European capital of culture and in the year 2006, it was declared as a city of music by UNESCO and was included in the Creative City Network. Bologna is known to have an amalgamation of art, history, cuisine and sightseeing to please its visitors in the best way possible.