Home
Cities
Mar Del Plata City Guide and Airport Transfer Services
A beautiful city situated in Argentina, Mar Del Plata attracts a huge number of tourists from across the globe. The summers here are eventful as the beaches are the best place to be during this period, and Mar Del Plata happens to have a few attractive beaches. The weather is warm and comfortable, the one where the city thrives and is at its best!
When landed at the airport, the drive into the city in a Mar Del Plata airport transfer is enough to make you fall in love with the city. The Atlantic coastline which passes through Mar Del Plata is mesmerising where recreational activities, sunbathing, and relaxing are what you would find people doing.
Beach, Mar Del Plata
|
Click by
Natali Folonier
from
Flickr
The Guaraníes and Querandíes were the first ones to inhabit the region. They survived in the area by hunting, fishing, and gathering resources. Later Europeans invaded and introduced civilization to the region, gradually.
The city saw the origin of tourism in the 19th Century and has evolved ever since. Over the years, Mar Del Plata emerged as a resort town and famous Atlantic vacation destination. Since the city was not involved much or directly in wars and politics, history has been peaceful from the start.
Though not many historical monuments, the city does have some beautiful old buildings you would want to visit and witness its structure and architecture. Get a taxi service booked online and go for a sightseeing tour around these places.
Street, Mar Del Plata
|
Click by
Fernando Souza
from
Flickr
Mar Del Plata hotels like Costa Galana, Sheraton Mar del Plata Hotel, Hotel Hermitage, NH Gran Hotel, and Hotel Provincial are a few that will take care of your stay in the city and entertain you in every way possible. With a plethora of services like luxurious and affordable rooms, spacious and clean areas, tasty food, pools, bars, lounges, multiple restaurants, and kind and efficient staff, the hotels give the true feeling of being on a vacation; the one which you wish never ends. These hotels are in such parts of the city and are easily accessible via taxi transfer from anywhere in the city or airport taxi service if you are getting there from the airport.
Being a coastal city, Mar Del Plata offers some lip-smacking seafood dishes and that too at every nook and corner. Enjoy juicy meats, especially Asado which is quite famous in this region. Milanesa is yet another must try dish that the city has. Italian dishes like pizza and pasta have an equal preference as seafood and fish here. You can take a private transfer service to move around the city tasting every special dish here because a food trip sounds like a good plan when in Mar Del Plata.
Güemes Street, Juan B. Justo Avenue, Craft Markets, Alem Street, Punta Mogotes Artisan Fair, and Mercado del Puerto are all famous shopping places in Mar Del Plata. Clothing, craft, accessories, and souvenirs, you get it all here! Have a fun-filled day shopping in the city, the private taxi services are the best when you have to halt at several places while on a shopping spree.
Food, shopping, and luxury, Mar Del Plata has nothing less to offer than extravagance in every aspect, just like that, the sightseeing in the city is also a truly mesmerising experience. Playa Grande, Paseo Hermitage, Catedral de los Santos Pedro y Cecilia, Faro Punta Mogotes, Villa Victoria Ocampo Cultural Center, and many more must see places in Mar Del Plata attract thousands and lakhs of tourists every year. Sightseeing can be best enjoyed with a private transfer like a taxi service to have hassle free experience.
Best Time to Visit Mar Del Plata
Being a coastal town, summer counts as the best time to visit Mar Del Plata. It lasts from December to February when the temperature ranges from 25 degrees Celsius to 35 degrees Celsius. All the beaches in the city are bustling with tourists sunbathing, having fun with water sports, and other beach activities altogether.
The nightlife at this time is worth experiencing too. Crazy parties, amazing restaurant experiences and wandering in the town randomly are the best ways you experience the beauty of the city at night. Sightseeing is at its peak too during this season. Take a private taxi transfer to have a hassle free ride around the city and also to be safe from the hot sun.
Book Airport Transfer in Mar Del Plata
Mar Del Plata is the seventh largest city in Argentina, and being a popular city, it has a sufficient network of transport, right from airport transfers in Mar Del Plata to local transport, residents and tourists can move in and around the city conveniently.
Chinese Train, Mar del Plata
|
Click by
Juan Enrique Gilardi
from
Flickr
Suburban Train
Mar del Plata has a suburban train network that links the city to neighbouring towns and suburbs, although it is not as comprehensive as in larger cities. It covers short distances easily around the town and is also an economical commute option.
Bicycle Renting
Renting bicycles allows residents as well as tourists to explore the city at their own leisurely speed. You can get bikes in Mar del Plata and ride along the waterfront pathways while visiting the city's various neighbourhoods.
Taxi, Mar Del Plata

|
Click by
Life Of Pix
from
Pexels
Taxis in Mar Del Plata
Local taxis can be hailed from anywhere in the street, especially near the tourist spots in the city. Private taxi transfers can be booked online on their apps. Many companies provide these taxi services at great deals with options to choose the car passengers would want to travel in. They come in a variety of luxurious cars to provide the best experience for the passengers. Taxis are also convenient airport transfers in the city as they can manage luggage easily, schedule on time and drop directly to the airport.
Many people, especially residents, like to go walking everywhere in the city for short distances. Tourists too opt for walking over local and private transport as it is a great way to explore the city and experience the local life.
Buses in Mar Del Plata
The city of Mar del Plata and its neighbouring towns are serviced by an efficient bus network. Buses connect major attractions, neighbourhoods, and the city centre of gravity, making them a cost-effective means of commuting. Prior to taking this mode of journey, make careful to check the bus travel routes, schedules, and fare details. Buses are for short distances and hence do not function as airport transfers in Mar Del Plata, although they can help passengers reach the nearest bus station to the airport.
Car Rental
Renting a car in Mar Del Plata is like a personalised service because you don't have to share the space as you do when taking other kinds of public transport. Sightseeing becomes convenient when you have your own vehicle as you may halt anytime anywhere and as long as you want to, unlike public transport.
It is a practical Mar Del Plata to the airport transfer as you can drop off the car with the rental agencies there. It is advisable to follow traffic regulations and obtain a driving licence in order to avoid accidents.
Remises
Similar to car rental service, Remises are a kind of rental car service that functions similarly to a taxi but generally require a phone reservation in advance or at specific areas. They provide a more individualised and cosy travelling alternative.
Mar Del Plata Airport Transfer and Private Taxi Services
Mar Del Plata Astor Piazzolla International Airport is the primary airport in the city serving domestic and international flights. Taxis and private airport transfers are available in the city to travel to the airport.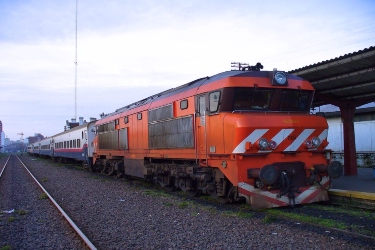 Train, Airport Transfer

|

Click by

Juan Enrique Gilardi

from

Flickr
Public Transports
Public transport like taxis and trains do not directly drop passengers to the airport. These services drop you at the nearest bus station and train station and further need another vehicle like a private car or airport taxi to reach the airport.
Mar Del Plata Airport Taxis
Taxis are easily available everywhere in the city, especially at tourist attractions, hotels, and other major points. Mar Del Plata airport taxis, one of the private airport transfers to the airport, are easily available online to book on apps. These are personalised services that take you directly to the airport. The main advantages of these companies are that they can be pre-booked online and can be scheduled as per your sightseeing tours or even flight schedules.
These transfers come with an option of choosing the type of vehicle you need for your ride. Minibuses, buses, and luxury cars can be opted for according to the number of people travelling.
Private Car Services
Private car services are similar to airport taxis in Mar Del Plata. A few private companies provide these services which can be booked in advance and scheduled too. These are also personalised services like private services. These are similar to Mar Del Plata airport taxis, except you drive yourself to the airport directly.
Know More
Explore Mar Del Plata Sightseeing
Mar Del Plata is well-known for its seafood, shopping, and various tourism activities.
The best way to explore these places is by getting one of the Mar Del Plata sightseeing tours available in the city. You can book a private taxi or any form of private transfer to travel to these places. Once you land at the Mar Del Plata airport, you can book a Mar Del Plata airport taxi provided by companies to reach your hotel. Tourists often use private transfer services and Mar Del Plata airport transfers like Mar Del Plata airport taxi in the city.
Know More