Route Summary - Manchester to London
When visiting Manchester, visiting London is a must! While the majestic city of Manchester entails a plethora of unique experiences of its, the world-famous regal city of London is truly one of its kind! Surely, both the incredible cities go hand-in-hand and visiting them both, when visiting one, is a must!
Apart from the breath-taking places in the land of royals, - London - what one will never forget is travelling from Manchester to London by road! The countryside offers the touristy souls some privacy with mother nature and the authentic English food satiate the hunger pangs of the foodie travel bugs! Don't muse much! Book a Manchester to London taxi with Rydeu and get ready for some adventure! Rydeu offers Manchester to London taxi services along with some unique offers from itself and its large pool of suppliers, customizable budget-friendly or luxurious taxis at no hidden costs and a 24*7 customer support system!
Distance between Manchester and London - 209 miles
Journey time - 4 hr
Manchester
Also known as England's second city, the beautiful city of Manchester, sits quietly in the northeast side of London in a bowl-shaped terrain bordered by the Pennines in the North and East. The dazzling nightlights of the city, lush greenery of the nearby countryside, and plethora of outstanding museums and galleries presenting the visual treats of the majestic city will make your jaw drop. Manchester is the sixth biggest city in the whole of England is home to almost half a million people.People who are welcoming, kind, and are said to have a great sense of humor. The diversity in Manchester is brilliant and vivid. Take a break from the mundane routine of your everyday life and explore the antique showrooms, vintage record stores, and authentic boutiques. The city vouches an experience that you will remember forever.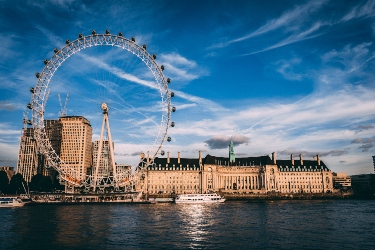 London
London's bright, vibrant, and cheerful culture wraps its visitors in a woeful environment and leaves you in awe of the city. Around 197 festivals are held across the city every year, Notting Hill Carnival, being the largest festival witnesses over a million year annually. With festivals comes food. You ought to treat your taste buds with the wholesome English breakfast. Along with that, fish and chips, lip-smacking pies as well as the epic roasted ducks are the cuisine's highlights. It truly proves to be a foodie's paradise.London is a beautiful mix of everything, exceptionally and pleasantly. It is a culmination of quality lifestyle with a plethora of surprises when it comes to rejuvenating your spirits. One must visit London at least once in their lifetime.