Route Summary - Lyon to Milan
Travelling to Milan from Lyon for some additional exploration is as obvious as is the revolution of earth around the sun! The city of Milan is truly gorgeous and visiting it would be surely worth your precious time and dime.When planning your travels from Lyon to Milan, be sure of choosing to travel by road. Travelling from Lyon to Milan by private car would be the best decision you will have ever made. The route from Lyon to Milan is truly very beautiful and will greatly impact your heart, mind, and soul in terms of healing and rejuvenating them!
Rydeu offers Lyon to Milan taxi booking online to all the tourists and travellers. If you choose to book Lyon to Milan long distance car with Rydeu, you will open yourself to the options of choosing from multiple exciting offers by Rydeu and its suppliers, customizable budget-friendly and luxurious cars, no hidden costs, and a 24*7 customer support.
Distance between Lyon and Milan - 447 km
Journey time - 5 hr
LYON
A city in France's Auvergne-Rhône-Alpes region, Lyon is a capital city known for its history stretching back to more than 2000 years ago.Lyon's history, culture, and architecture is truly one of a kind. The city takes pride in its ancient culture while respecting the modern ways of life! Lyon is swarmed with tourists and travellers throughout the year. The touristy souls not only soak themselves in the beauty of this city, but also hail its magical charisma!There are a plethora of places in the French city of Lyon for the touristy souls and travel bugs to explore. Some of those amazing places are - The Rhône River, The Saône River, and La Place Bellecour.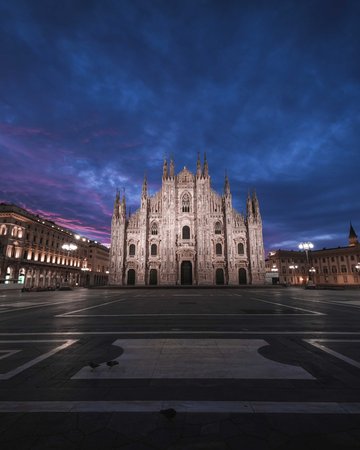 MILAN
Known for its fashion and market, Milan is the capital of the Lombardy region of Italy. From the quaint Duomo di Milano cathedral and Santa Maria Delle Grazie convent to featuring some of the top-notch restaurants in the country, this place has been a business hub for people all around the globe.Apart from being a conveyer of history and initiator of economic success, Milan also satisfies the taste buds of its tourists with some of the most mouth-watering dishes. Food is one of the most important reasons that every tourist want to visit Italy to experience the raw and pure taste, while in Milan, do not forget to treat your taste buds with Risotto Alla Milanese the creamy risotto is tossed with saffron flavour which gives it a beautiful colour while the creamy taste makes it extremely heavenly and elegant.