Transfers from Lulea Airport are extremely easy and convenient. Your journey begins at the airport itself and a lot depends on the method of airport transfers chosen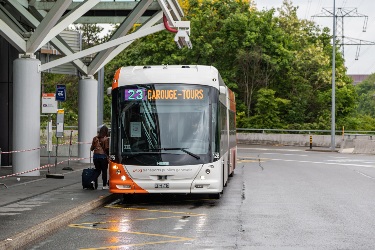 The local bus route 4 and 104 provide easy transfers from the airport. Buses are operated by LLT, which has a ticket office in the centre of Luleå. You can purchase the tickets with a credit on the bus or at automated machines at the bus stop. The journey takes around 20 minutes and it gives ample opportunity to admire the neighbouring sites. The distance between Lulea Airport and Luleå Centralstation is 4 km and a direct bus departing from the airport covers this distance in 13 minutes. This bus departs every 30 minutes and operates every day and arrives at Smedjegatan station.
Taxis are a convenient choice from travelling from the airport especially at night when there is no public transportation and you have a lot of luggage. The taxi stand is located directly outside the arrival hall of the airport. The taxi market is deregulated hence there isn't any fixed price. Always ask the driver if a fixed rate applies and ensure that it is entered in the meter. It is always recommended to use the services of well-known firms. After completion of your ride, get the taxi meter receipt which will have the car's registration number along with information about the taxi company and the driver. This information is particularly helpful if you have forgotten something in the car or if you need to file a complaint about your ride. Companies like Avis, Budget, Europecar and Hertz provide offside car rentals. Choose the company that best suits you and it is not necessary to take the first car in the taxi queue. Rydeu provides an easy solution for all your travel woes with easy airport transfers. They are cheap, affordable and leave you hassle-free to enjoy the journey to your destination.