Home
Cities
London Sightseeing Tours & Transfers
London offers a wide range of London sightseeing tours and transfers, catering to various interests and preferences, including London airport taxi and London airport transfer services. Whether you want to explore historical landmarks, cultural attractions, or iconic sites, there are options to suit every traveler. One of the most convenient ways to explore the city is through airport transfers, airport taxis, and bus tours from London Airport, which allow you to hop on and off at designated stops, giving you the flexibility to visit attractions at your own pace.
London Street
|
Click by
VarockAndRoll
from
Flickr
Enjoy a leisurely cruise along the River Thames, passing by major landmarks such as the Tower of London, the Houses of Parliament, and the London Eye. Airport transfers and private taxis offer a comfortable and convenient way to reach the embarkation point for your river cruise, ensuring a seamless travel experience.
Iconic black cabs can be hired for private tours, where drivers, known as "cabbies," provide personalized sightseeing experiences and share their local knowledge. For a more active experience, join a guided bike tour to cover a larger area while getting up close to the city's attractions.
London Fields Park
|
Click by
Loz Pycock
from
Flickr
Arrange private transfers with experienced drivers who can provide commentary and take you to popular landmarks en route to your destination. For fans of the wizarding world, specialized tours take you to locations featured in the Harry Potter films, including Platform 9¾ at King's Cross Station and Leadenhall Market. Discover London's diverse culinary scene on a food tour, where you can sample traditional British dishes and international cuisine.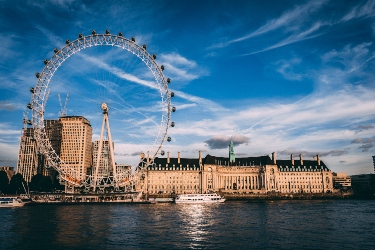 Click by Chait Goli from Pexels
London Eye
Standing high on the South Bank of River Thames, this giant ferris wheel is one of the most iconic places in the world. The cantilevered observation wheel witnesses over 3 million visitors every year. The wheel is about a whooping 443 feet tall, making the whole experience exhilarating. It is also the highest public viewing point in London. It consists of 32 air-conditioned ovoidal passenger capsules. One complete revolution takes about 30 minutes to complete. The experience is completely worth the time and price. Enjoy breathtaking views of the city while floating in the sky. A ride you will always remember. London Eye truly is a must visit for every tourist.
Click by Dimitris Vetsikas from Pixabay
Buckingham Palace
Time to take a bow in front of the royal monarch. A visit to Buckingham Palace is an absolute must to complete your London sightseeing experience. The impeccable grandeur of the Palace, stretches of serene and sophisticated gardens, and grand ornate gates are worth all the hype. Take a trip to the place to see how to live king-size. Quite Literally. The palace has about 775 rooms, facilitating 92 offices and 78 bathrooms. If you're in the city during summertime, don't forget to attend the Royal Welcome Exhibition. The event unfolds a lot of activities and visual delights.
Click by wuestenigel from Flickr
Big Ben
One of the most legendary monuments in the city. Big Ben was originally the Clock Tower; it was then renamed as the Elizabeth Tower in 2012 to mark the Diamond Jubilee of Elizabeth II, Queen of the United Kingdom. The monument is an icon in itself, it is used as an establishing shot in movies that tells the significance of the place and How it is used as an identifying factor to the city.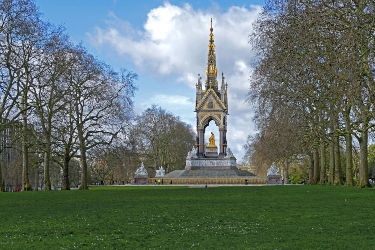 Click by Drago Gazdik from Pixabay
Hyde Park
Largest open space. It is also the largest of the four royal parks. It is one of the most attractive sights in central London and just as popular among tourists. It provides a beautiful tone to the entrance of Buckingham Palace. Originally made to serve the passion of hunting, the park is now accessed for a plethora of options. It is the home to a number of events, exhibitions, and even children's playgrounds. You can spend a long relaxing day here to escape from the tiresome hubbub of daily life.
Click by Ron Mitra from Pixabay
The Victoria and Albert Museum
The Victoria and Albert Museum serves as an ode to history buffs. With a collection of over 2.27 million objects, The Victoria and Albert Museum marks itself as the largest museum of applied and decorative arts and design as well as sculpture. Founded in 1852, the museum still stands with a glorious grandeu and impeccable collection of things. It's remarkable holdings of Italian Renaissance items is the largest outside of Italy while the Islamic collections is the biggest in the Western World. The museum vouches to amaze you with its splendor and magic of art. A must-visit when in the city of London.
Click by Waid1995 from Pixabay
National gallery
National gallery has the finest collection of paintings. The majestic gallery lies in Trafalgar Square and is the home to over 2,500 paintings from the mid 13th century to the early 20th century. Some of the highlights of the collection includes 'Bacchus and Ariadne' by Titian, 'Equestrian Portrait of Charles' by Anthony van Dyuck, also 'Samson and Delilah' by Peter Paul Rubens. The beauty of the exhilarating art work and majestic presentation of exhibitions will leave you amazed. National Gallery is a place that you cannot afford to miss whenever in the city of London.
Click by timo_w2s from Flickr
Bray
Mentioned in the comedic song "The Vicar of Bray", this beautiful village lies about 29 miles away from London. The Berkshire village gives you some picturesque visual delights that will leave you in awe of the place. As the place is small, it can be easily explored on foot. So, pack your bags and extend your trip to enjoy the surprises this quaint village has to offer.
Brighton
Funky graffiti, hip streets, and contemporary love, Brighton has so much to offer. Lying at a close proximity of 64 miles from London, this eccentric place waits to get explored. The place is the perfect escape from the mundane of your daily life or even if you want an exotic weekend away with your loved one. Make a turn to the city of Brighton and experience love lingering in its sky.
Click by David Jakab from Pexels
Oxford
This warm and friendly county town is blessed with crisp blue and lush green stretches throughout the year. Spend a day at the serene Port Meadow that offers splendid sights of the port or take a stroll down the Gloucester Green Town Square. The place is also home to the prestigious University of Oxford. As it sits at a distance of just 58.5 miles from London, you ought to visit the place whenever you are around.
Click by isapisa from Flickr
Margate
Situated on the Eastcoast of England the city of Margate is blessed with a beautiful sandy beach, vintage rides, art galleries with exciting exhibitions, and whatnot. The seaside town is the perfect weekend getaway for people in London. The place lies at a distance of just 76 miles from the city so you can reach there in a couple of hours via driving. So what are you waiting for? Treat yourself with the warmth Margate has to offer.
Click by Aussie~mobs from Flickr
Frome
Thriving markets, flourishing art on the streets, beautiful historic centers along with gothic blemishes, the enchanting town of Frome will urge you and your family to stay a little longer. The civil parish lies in eastern Somerset in England at a distance of 110 miles from London. So, whenever you are near or in the city, make a note to visit the woeful Frome at least once.
Click by Hulki Okan Tabak from Pixabay
Bath
Lying at a stretch of 114 km west from the city of London, the city of Bath is well-known for its simplicity and warmth. The city is the largest city in the county of Somerset and takes pride in its grandeur and beauty. It got its name from the Roman-built baths. This beautiful valley became a World Heritage Site in 1987. One must visit the town whenever near London. Highly recommended!
Click by David Mark from Pixabay
Bristol
The beautiful, kind and artistic city of Bristol will make the cavity of your heart warm. The city is a cute compilation of exhilarating activities, natural beauty, and amazing people. It is popular world wide as it is known as the UNESCO City of Film. It is the home to a plethora of museums, music festivals, gigs, live shows, art exhibitions and what not! One must indulge in the rich culture and hearty vibe of the city once. It lies at a distance of just 118 miles from London, so feel free to extend your vacation a little. Bristol is worth it.
Click by James Jang from Pixabay
Stonehenge
This prehistoric landmark graces the terrain of Wilshire, lying at a distance of just 87.8 miles from London. The landmark is made up of large 13 feet high stones standing high; they're about 7 feet wide and weigh around 25 tons. It was added to the list of UNESCO World Heritage Sites in 1986. The landmark is more than just a landmark. It is a British cultural icon. You ought to visit Stonehenge whenever you are in London. Don't forget to take a few selfies and flaunt them in front of your friends.
Click by Michael Kleinsasser from Pixabay
Windsor
Lying at a stretch of only 24.6 miles from the city of London, one must take a take to see the offers the city has to offer. The city is rich in history but has a cosmopolitan vibe of cosmopolitan, always running and buzzing. It has a calm environment and vouches for a high-quality lifestyle.
Click by PublicDomainPictures from Pixabay
Cambridge
Sitting quietly on the River Cam, this country city is a package of everything a person longs from a city. It caters to a lot of museums, art scenes, galleries and also the prestigious University of Cambridge. Be it the Botanical Garden or St Mary's Church, a day in Cambridge is always worth the stay. Since the city lies at close proximity to London, which is around 65 miles, you must visit the beautiful port.