Home
Cities
Boeing 747-200, London

Heathrow Airport |
Click by
Dean Morley
from
Flickr
About Airport
Heathrow is an International Airport that is about 23 km west of Central London and is one of the most prestigious airports in the world. When considering passenger traffic, this airport is the second busiest airport in the world and stands as the busiest in Europe. It is the main hub for British Airways and acts as the primary operating base for Virgin Atlantic. The following airport is operated and served by Greater London.
The airport is huge, well-equipped, and has all the necessary amenities for efficiently running any airport. The security is a little strict, and the safety of the passengers is a must. The airport is covered with signs that make it easy to navigate.
It has 4 operational terminals and 2 runaways. The appeal to make a third runway had been rejected due to climate change reasons. However, the ban was finally lifted by the U.K Supreme Court on 16th December 2020, allowing the construction of the third runway. The 4th terminal is temporarily closed at the airport due to safety reasons for the passengers.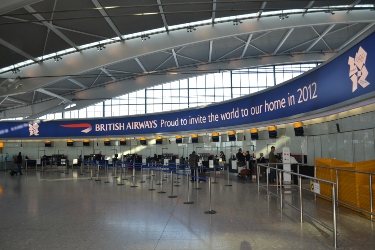 Heathrow Airport | Click by
eGuide Travel
from
Flickr
Ambience Nearest Airport
The airport is equipped with all the amenities for the comfort of its travellers; whether it's WiFi service to save you from boredom or a proper charging facility, you'll be able to find it all. There are several ATMs if you want to withdraw any cash and exchange centres in case you want to convert your local amount into the country's currency.
The airport has several restaurants and eateries offering lip-smacking food to its visitors, so make sure to satisfy your taste buds in case of any delay in your flight. Many shops sell dresses and souvenirs, and you can stroll through them and grab whatever you like. The shops are duty-free, which means you can get way better stuff at a cheaper price at the airport. We highly advise you to take a walk through the airport and explore it if your flight is delayed. London Heathrow Airport is renowned for a good reason, a home away from home.
Bid adieu to any jet lag and ride with Rydeu. We provide you with amazing London Airport transfers that fit your budget and comfort. Depending on your luggage, mood, and preference, we present you with a variety of amazing rides. So, don't hesitate and book with Rydeu!
Everybody seeks for travelling which is comfortable and convenient. Rydeu presents you with the best airport transfers that improve your jet lag and give you a stress-free time by offering you the best of both worlds. That is comfort and convenience. Forget the hassle and tensions of travelling and indulge in the services of Rydeu. We promise safety and honesty. Our customers have always been assured the best experience with our first-class amenities and top-notch efficiency.
The London Heathrow Airport transfers to the city provided by Rydeu are available at one click of your screen. They are smooth, seamless, and efficient. Say goodbye to your daily hubbub and plan an exotic trip to the city by accessing our services! We also provide a string of options for Heathrow Airport transfers. The regional airport is well-connected to the city, and our rides make the journey seem short and comfortable. So, pull up your travelling socks and pack your bags. A beautiful getaway in the city of London waits for you.
Rydeu is familiar with several aspects when it comes to booking a ride. So we cumulate all things while creating an easy cancellation policy. Or even while presenting you with different choices for a transfer. London private taxis and private transfers to the city are affordable and friendly, so do not think twice because we have got your back. And even your backpack!