Gatwick Airport
Situated at a distance of 29.5 miles south of Central London, lies one of the major airports in Europe, known as Gatwick Airport. Its close proximity to the city makes it very popular among the city locals as well as international passengers. It is known to be the tenth busiest airport in Europe and the second busiest airport in the United Kingdom. The airport has two main terminals, the North terminal and the South Terminal. The airport has one main runway with a length of 3316 meters. Thousands of international travellers commute via Gatwick Airport making it one of the most preferred airports in the United Kingdom when considering passenger traffic. For its popularity, it is one of the most accessed airports throughout the year. In 2017, the international airport was known to be the busiest airport operating with one runway as it witnessed about 46.5 million passengers in 2019. The airport is so well-connected to public transport that is so easily accessible. An easy rail system that interworks with the London public transport system, regulates the commute of passengers to and from the airport.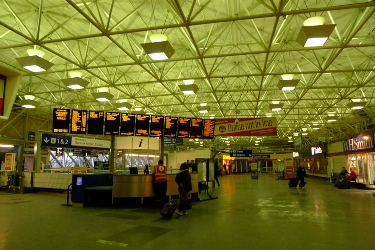 Ambience
Filled with amenities, the airport takes care of the passenger needs from the minute ones to the major ones. The WiFi facility enables visitors to binge-watch their favourite TV shows while the charging point all around the airport helps you to charge the phones and laptops without any hassle. The airport also has several VIP lounges for the passengers to experience luxury while waiting for their flights. If you did not have any chance to shop around due to the time shortage, voila! There are a lot of shops that provide duty-free items so make sure to grab some before you leave. There are several restaurants and eateries that provide a quality dine-in experience at the airport, you might also be able to find high-end brands like Burger King, Starbucks and several other cafes on the second floor of the building.
So forget any jet-lag and ride with Rydeu. We provide you with amazing London Airport transfers that fit your budget and provide you with utter comfort. Depending on your luggage, mood and preference, we present you with a variety of amazing rides. So, don't forget to check our wide range of vehicles and book a ride with Rydeu!