Casa
Città
Situata sulle maestose acque del fiume Reno, nella Svizzera settentrionale, si trova la bellissima città di Basilea. La città bilingue ospita una miriade di delizie visive e attività creative in cui abbandonarsi. Il fascino della sua vegetazione naturale e tocchi di macchie medievali per le strade rendono questo luogo il paradiso dei fotografi. Il clima soleggiato e allegro è uno dei motivi principali per cui la città è la meta perfetta per il fine settimana e per i turisti. Basilea rivendica 300 giorni di sole all'anno. Considerando che il profumo dell'estate aleggia nell'aria quasi tutto l'anno. Quindi, prendi una bella abbronzatura nel clima temperato o rilassati sulle rive del Reno per battere il cuore. La città offre entrambe le facce della medaglia.
Basilea è uno di quei luoghi che si concentrano con la sua ricca cultura. Il Carnevale di Basilea, uno spettacolo spettacolare della cultura gloriosa e piena di sentimento della città, è il più grande carnevale della Svizzera. Il festival inizia con una serie di lanterne lanciate a fluttuare nel cielo, seguite da tre giorni di vigorose feste, processioni, mascherate, vivide esibizioni artistiche e musica.
Una destinazione perfetta è quella che ti offre opzioni per deliziare le tue papille gustative e Basilea ha tutto coperto. Trova la deliziosa fonduta, i rosti e il vino svizzero forniti nella loro straordinaria catena di ristoranti e caffè.
L'atmosfera vibrante della città è evidente nell'arte, nelle gallerie, nei musei, nei teatri d'opera e nel teatro che ha da offrire. Dall'estetica sbalorditiva di Papiermühle alle combinazioni di colori contrastanti del Kunstmuseum Basel, la città ha il talento di regalarti un'esperienza indimenticabile.
Click by Olivier Bruchez from Flickr
Basel Minster
Basel Minster is one of the most recognizable landmarks in Basel and is a must-visit for basel sightseeing. This 14th-century Gothic cathedral stands tall over the Rhine River and offers stunning views of the city from its towers, which makes it one of the best basel tourist spots. Visitors can take a guided tour to learn more about the cathedral's history and architecture. The Basel Minster is a popular one of the popular basel tourist attractions and a top spot for Basel sightseeing tours.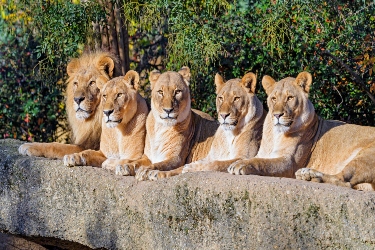 Click by Tambako The Jaguar from Flickr
Basel Zoo
Basel Zoo is one of the most popular Basel tourist attractions and a great place to visit for animal lovers. The zoo is home to over 600 species of animals and is spread across 27 acres of land. Visitors can take a leisurely stroll through the zoo and admire the various animals, including lions, tigers, monkeys, and many others. Basel Zoo also offers several events and activities, including animal feedings and a petting zoo for children, making it a perfect place to spend an entire day with the family. A visit to Basel Zoo is an excellent way to get up close and personal with some of the world's most amazing creatures and learn about their natural habitats, which makes it one of the best basel tourist spots and a must basel sightseeing place.
Click by Patrik Tschudin from Flickr
Spalentor
Spalentor is a beautiful landmark and an iconic symbol of Basel's rich history. This beautiful gate was built in the 14th century and is one of the best-preserved gates in the city. It is an excellent example of medieval architecture and is a must-visit spot for tourists. Spalentor is a part of the city's fortifications and is surrounded by beautiful parks and gardens, making it an excellent place for a leisurely stroll, which makes it one of the best basel tourist spots and basel sightseeing places. Visitors can admire the stunning architecture and learn about the history of the gate while enjoying the picturesque surroundings.
The gothic old city with a touch of contemporary patterns is the home to rich culture, heritage, art, and cuisine. Basel has a dense combination of its plethora of architectural treats and scenic greenery that makes your trip unforgettable. Some of the places you can visit to make the most out of your trip are
Click by Werner Sidler from Pixabay
Lucerne
Explore the traditional culture, medieval architecture and mountains with white peaks in this amazing city of Lucerne. Plan a trip to the city when in Zurich as it lies at the proximity of 52.6 km.
Click by photosforyou from Pixabay
Black Forest
The Black Forest is a beautiful wooded mountain range located just across the border in Germany, about an hour's drive from Basel, which makes this place great for sightseeing in Basel. Visitors can explore charming villages, hike through the forest, and sample the famous Black Forest cake.
Click by Taraz Kanti-Paul from Flickr
Colmar
Colmar is one of the best tourist places in Basel which is a quaint French town known for its colorful half-timbered houses, canals, and charming Old Town. It's located about an hour's drive from Basel and is a great place to stroll around and take in the sights.
Click by kBandara from Flickr
Montreux
Lying on the shoreline of Lake Geneva, Montreux is situated at proximity of just 94.3 km from Geneva. The unparalleled beauty of beautiful Alps and crisp blue Swiss sky makes this place the perfect weekend getaway.
Click by Kitty Terwolbeck from Flickr
Rhine Falls
The Rhine Falls are the largest waterfall in Europe, located just over an hour's drive from Basel in the town of Schaffhausen. Visitors can take a boat ride to the base of the falls, hike around the surrounding area, or simply enjoy the impressive view of one of the must see places in Basel.