Home
Cities
Es Vedra, Ibiza

|

Click by

Mario Vogelsteller

from

Pixabay
Sightseeing Transfer In Ibiza
If you're planning a visit to this beautiful city, you may want to consider booking a Ibiza airport taxi for an Ibiza sightseeing transfer. With an Ibiza airport transfer, you'll get to tour from historic landmarks to stunning natural vistas, there's plenty to see and explore in this beautiful part of the world. To help you make the most of your trip, consider booking a sightseeing transfer in Ibiza.
There are numerous Ibiza sightseeing tours available from Ibiza international airport that provide private taxi, airport transfer, private transfer, airport taxi which caters to different interests and preferences. One of the best ways to take in all of the sights and sounds of Ibiza is by booking a sightseeing tour. With so many different tours to choose from, you're sure to find one that suits your interests and preferences. Some of the most popular Ibiza sightseeing tours include visits to local museums, historic landmarks, and cultural centers.
Atlantis, Ibiza |
Click by
vallis-clausa
from
Flickr
If you're looking for the best tourist places in Ibiza, you won't be disappointed. From the stunning beaches and crystal-clear waters to the charming Old Town, there's no shortage of must-see places in Ibiza. Some of the top Ibiza tourist spots include the Dalt Vila, which is the walled old town of Ibiza, and the Sant Antoni de Portmany, which is a beautiful seaside town known for its stunning sunsets.
Another popular way to experience the beauty of Ibiza is by taking a boat tour. There are many different boat tours available, including tours of the island's many coves and bays, as well as sunset tours and private charters. Whether you're looking for a romantic evening on the water or an adventure-filled day of exploring the island's hidden gems, a boat tour is a great option.
Click by Sergi Coll from Flickr
Dalt Vila
Some of the must-see places in Ibiza include the Dalt Vila, the island's historic quarter that is home to a stunning 14th-century cathedral, and the Es Vedra, a small island located off the coast of Ibiza that is said to be the third most magnetic place on earth. Additionally, there are various beaches, such as Cala Comte and Cala Llonga, that offer breathtaking views and crystal-clear waters.
Click by Ivo Schwalbe from Flickr
Sant Antoni De Portmany
Other Ibiza tourist attractions include the Sant Antoni de Portmany, a popular resort town with a bustling nightlife scene, and the Hippy Market in Es Canar, where visitors can shop for unique souvenirs and enjoy live music.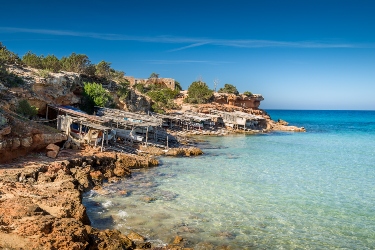 Click by Travelbusy.com from Flickr
Formentera
One of the must-visit Ibiza sightseeing tour attractions is Formentera, a nearby island that is easily accessible by ferry. Formentera is famous for its stunning beaches, turquoise waters, and laid-back vibe. Visitors can spend their days lounging on the pristine sands, taking a dip in the crystal-clear waters, or exploring the island's quaint villages and charming cafés.
Click by Jordi nll from Flickr
Ses Salines
Ses Salines Natural Park is another one of the best Ibiza tourist spots that is worth exploring. This protected natural park spans both Ibiza and Formentera and is home to a diverse range of wildlife and flora. Visitors can explore the park's salt flats, admire the stunning pink flamingos that call the area home, or take a dip in the crystal-clear waters of the park's beaches.
Click by Vitor Oliveira from Flickr
Santa Eulalia
Santa Eulalia is another charming town on the eastern coast of Ibiza that is well worth a visit. This laid-back town is known for its tranquil atmosphere, beautiful beaches, and excellent restaurants. Visitors can stroll along the waterfront promenade, shop in the local boutiques, or relax on the sandy shores of Santa Eulalia's beaches.