Home
Cities
Heraklion Airport Transfers & Private Transportation
Transfers from Heraklion Airport are extremely easy and convenient. Your journey begins at the airport itself and a lot depends on the method of airport transfers chosen. The airport is located just 5 kms from the city centre and can be reached in a drive of 10 minutes.
Heraklion Airport
|
Image by
herr.g
from flickr
Bus
Heraklion's public transportation system is exceptional. With an extremely organized system of buses and trams one is subjected to a completely different point of view of the city and easy transfers from the airports are provided. The city is covered with an extensive bus system operated by the public transport company KTEL. Different colors are allotted to different buses, the city buses are blue and the local regional buses are green. Numerous blue buses operate from the airport frequently and they run in the direction of the centre of Heraklion. Tickets can be bought from the bus driver itself only by cash, costing € 1.20 per person. Located just outside the airport, buses arrive every 10 minutes to the bus station and run to the Heraklion KTEL terminal. Buses operate daily from 6 am to 11 pm from the airport. The whole trip to the city centre takes around 20 minutes. Despite the affordable price, taking a bus is usually not recommended since it is certainly not the most comfortable choice of airport transfers. There isn't a bus station inside the airport so luggage has to be carried all the way to the central ring road to board a bus. It is also a problem if arrivals are scheduled after 11:15 pm, since there won't be any bus available.
Taxi
Taxis are a convenient choice from travelling from the airport especially at night when there is no public transportation and you have a lot of luggage. It costs a flat rate of €1.20 per km. There might be an increase in prices during holidays. It is advised to avoid scams and book taxis online. Be sure not to pay cash in advance and check the fares and meter. Don't forget to make sure the tariff on the taximeter is correct and ask the driver for a receipt that includes the taxi operator's information and the taxi number. Rydeu provides an easy solution for all your travel woes with easy airport transfers. They are cheap, affordable and leave you hassle-free to enjoy the journey to your destination.
Why Book Rydeu For Airport Transfer In Heraklion
When you arrive at Heraklion Airport N. Kazantzakis from a long and tiring journey, the last thing you need is a worrisome ride to your hotel. At nights when there is no public transportation, when you have a lot of luggage, and when you want to avoid the hustle and bustle of public taxis, here is where Rydeu steps in. It is advised not to take any rides from unlicensed and illegal taxis.
Rydeu provides a one-step solution to all your problems with its easy and hassle-free experience. A diverse fleet of options varying to your budget, Rydeu offers safety and comfort from all your transfers out of the airport.
Understanding the time sensitivity which comes with all trips, Rydeu provides a feasible 24 hour cancellation policy. An intra city trip can be cancelled up to 3 hours before a ride whereas an intercity trip can be cancelled 24 hours before.
With fixed prices and no hidden costs, transparency between the customer and Rydeu is maintained. As customer satisfaction is paramount, a 24/7 customer service is also available to solve any problem which arises. Rydeu looks forward to seeing you in Heraklion.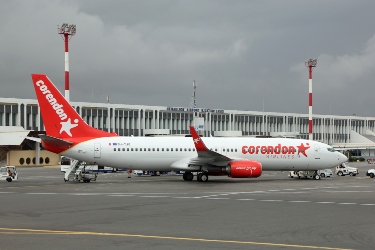 Heraklion Airport N. Kazantzakis
Heraklion Airport, officially known as the Heraklion Nikos Kazantzakis International Airport, is Crete's Island main gateway to the world. It is Greece's second busiest airport and is located a mere 5 km from the city centre.