Travelling is not as easy as it sounds, the excitement and the happiness comes along with a price, now that you have finally reached the airport, you would want to just reach your accomodation without getting involved in any kind of hassle.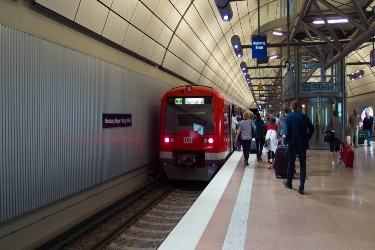 U-bahn, Hamburg Airport
|
Image by
interbeat
from flickr
Although Hamburg Airport provides an array of options to drop the traveller right in the heart of the city without making the journey too troublesome, however, it is very important to choose your transportation according to the luggage that you're carrying. S-Bahn is one option if you're running short on time, and well, patience. The line S1 will take you directly from the airport to the city centre station merely in 25 minutes. You can reach the S-Bahn station from Terminal1, Terminal 2 through elevators, escalators or stairs.
Busses are a safe option if you do not wish to grind on your wallet. Various bus lines go back and forth from the airport such as 114, 23, 292 and 34. You can grab a seat on the busses directly from Terminal 1 and Level 0. The journey takes approximately 20-25 minutes and a single ticket can be bought at a price as cheap as 3 EUR and the busses run at an interval of 5 minutes.
Hamburg Taxis
Hamburg Taxi Airport is the safest option if you are looking to reach your hotel without going through the trouble of getting smashed in the crowd or standing through your entire journey in the S-Bahn. Make sure to book a Hamburg airport to city taxi with Rydeu to avail the best offers and have a seamless experience. You can call your private taxi right at the gate of your terminal and do not have to worry about the luggage as we have got it all covered. Hassle-free payment can be completed through various options for the convenience of international visitors.