Home
Cities
Hamburg City Guide And Private Taxi Services
Known to be the second-largest city in Germany, Hamburg is the second most famous city in the country after Berlin and the seventh-largest in European Union. The speciality of the beautiful city is reflected in the form of international law and world economics which includes consular and diplomatic missions as the international Tribunal for the law of the Sea. UNESCO Institute for lifelong learning is included as well. Hamburg is known to be a dream city for history lovers, the Speicherstadt and Kontorhausviertel were declared to be a World Heritage Site by UNESCO.
Speicherstadt, Hamburg |
Image by
Free-Photos
from
Pixabay
The city boasts rivers and canals that are crossed by approximately 2500 bridges which is why Hamburg is known to be the city with the highest number of bridges in the entire city. Apart from the rich architectural beauty that the city is home to, it also attracts visitors from all around the world due to its notable cultural venues a perfect example of which is Elbphilharmonie. Home to the renowned band, The Beatles, the city gives its visitors numerous chances to witness the rocking concerts of the band.
Port, Hamburg |
Image by
Kookay
from
Pixabay
Best known for its famous harbour area, Hamburg has always been a major transportation hub due to entertaining a huge number of tourists every year. After surviving a lot of fires and war the slim curving Deichstrasse gives a peek of the glorious past of Hamburg. A city that has everything to offer will not fail you when it comes to offering the rich gastronomy which will satisfy your taste buds at its best. From the ancient seaman's fair to the haute cuisine the foodies just can't get enough of everything that the city has to offer. Dating back to the traditional times, Hamburg has always focused on pot cooking. It isn't shocking to know that one can get a taste of every cuisine while in the city. Some of the must try dishes are Franzbrötchen, Currywurst and Rote Grütze.
Book Your Airport Transfers in Hamburg
Getting around the city is very easy as it simply has a lot to offer, whether you're a fitness fanatic or a cosy lover who likes to find a private transportation in handy, you can get it all while in Hamburg. The public transport of the city is not only effective but is also very efficient, connecting one part of the city to the other one.
U-Bahn, Hamburg

|
Image by
hemkes
from flickr
U-Bahn is a considerable option if you want to travel in the city without spending too much. There are four lines in the town marked in four different colours which are teal, red, blue and yellow. The service takes place at the interval of every 5 minutes and a single ticket would cost somewhere around 3.30 EUR for the zones A and B. Luckily, the U-Bahn runs from Monday to Saturday for 24 hours.
Ferrry, Hamburg
|
Image by
mjaschy
from flickr
S-Bahn is pretty much like the U-Bahn apart from the only difference that it covers a wider region and it operates above the ground. Make sure to keep the tickets in hand while travelling in a S-Bahn as it is very crowded. Line S1 connects the city's airport to the city centre.
Bus
Busses are also an option if you want to take a sneak peek of the city while travelling around, the busses operate from Monday to Friday and the tickets can be bought from the driver himself.
Taxi
If you want to kick in some fun, you can take the ferry to roam around in the city, there are approximately 6 harbour, line number 62 makes a great one for sightseeing starting from Altona, going through Fischereihafen and Neumühlen, the trip will end at Landungsbrücken. With flat roads and wide lanes, Hamburg makes a great place if you want to rent a bike and go explore the city. Numerous hotels and accommodations offer their own bikes, however you can always opt for Stadtrad bikes if you're in need for something safer.
Taxi in Hamburg are the best option if you want utter comfort and your vehicle at your door and needs. Cheap taxi in Hamburg can be found while running through the online options, Rydeu provides the best taxi service in Hamburg for sightseeing transfers.
Hamburg Airport Transfers And Private Taxi Service
Travelling is not as easy as it sounds, the excitement and the happiness comes along with a price, now that you have finally reached the airport, you would want to just reach your accomodation without getting involved in any kind of hassle.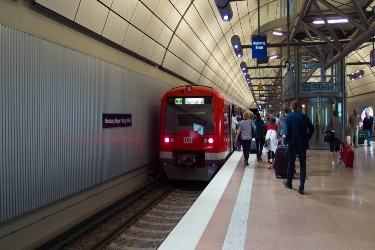 U-bahn, Hamburg Airport
|
Image by
interbeat
from flickr
Although Hamburg Airport provides an array of options to drop the traveller right in the heart of the city without making the journey too troublesome, however, it is very important to choose your transportation according to the luggage that you're carrying. S-Bahn is one option if you're running short on time, and well, patience. The line S1 will take you directly from the airport to the city centre station merely in 25 minutes. You can reach the S-Bahn station from Terminal1, Terminal 2 through elevators, escalators or stairs.
Bus
Busses are a safe option if you do not wish to grind on your wallet. Various bus lines go back and forth from the airport such as 114, 23, 292 and 34. You can grab a seat on the busses directly from Terminal 1 and Level 0. The journey takes approximately 20-25 minutes and a single ticket can be bought at a price as cheap as 3 EUR and the busses run at an interval of 5 minutes.
Taxi
Hamburg Taxi Airport is the safest option if you are looking to reach your hotel without going through the trouble of getting smashed in the crowd or standing through your entire journey in the S-Bahn. Make sure to book a Hamburg airport to city taxi with Rydeu to avail the best offers and have a seamless experience. You can call your private taxi right at the gate of your terminal and do not have to worry about the luggage as we have got it all covered. Hassle-free payment can be completed through various options for the convenience of international visitors.
Know More
Must-See Attractions in Hamburg
Hamburg is a city that is hard to sum up in words, the beautiful canals are an exemplary example of striking blend of 19th century architecture and the rich culture that helps the city in regaining its glory. Surrounded by rich cafes, high-end brands and places with cultural importance, make sure to refer your loved ones through this list to help them save their efforts in itinerary planning. Some of the best places to visit in Hamburg are-
Port of Hamburg & Speicherstadt
Port of Hamburg |
Image by
Kookay
from
Pixabay
Also referred to as Hafencity, Hamburg's Hafen consists of 100 kms of tidal harbour and is known to be the gateway for Germany. It is one of the places in the city that boasts some of the best and the most visited places by the tourists. An ideal summer evening would look like a soothing spot with a lot of visitors enjoying the atmosphere with their loved ones. Port of Hamburg features a lot of landmarks, one of which includes Köhlbrandbrücke which is a 3 km bridge, spanning the harbour. Elbphilharmonie is the most cultural venue of the harbour.
Miniatur Wunderland |
Image by
Ashwin Kuma from flickr
Miniatur Wunderland
If you're thinking that this is a kid's place, we have to break it to you that you're very wrong, this is much more than a simple toy train. This world's largest model railway is situated in Speicherstadt warehouse district and is a must-visit for all you keen observers of manual beauty. The place boasts more than 15,400 metres of track along with 1,040 trains so make sure to keep plenty of time in your hands especially when you are travelling with your little ones. Built on a land that covers 2300 square metres, the highlights of the area specially covers areas that are specifically dedicated to Germany, the USA and Scandinavia.
Know More