Home
Cities
One of the best kept secrets of Europe, with an unmistakably cosmopolitan atmosphere, Graz retains a distinctive magnificence and flair, accentuated by its rustic architecture. Known to be the second largest city in the country, Graz is the capital of Bundesland and lies at the foot of Mur River amidst the Styrian Alps and a broad fertile basin, the Grazerfeld. The word Graz is derived from gradec, which means "tiny fortress". The best preserved city of Central Europe boasts a population of 633,168 and was known to be the one of the most populous cities in Europe.
Graz has been an inspiration for the residents of Croatia, Slovenia and Ljubljana due to its breath-taking architecture and awe-inspiring history. In the year 1999 the historic centres of the city were declared to be the World Heritage Site by UNESCO which later expanded and covered the whole city thereby adding wings to the glory of this place. The year 2003 marked to be a significant sight when Graz was declared to be the cultural capital of the country and a city of culinary delight in the year 2008.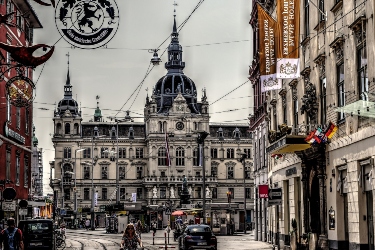 The slow and epicurean lifestyle that the city provides is all about pampering yourself with the best, now that you have finally made it to the city of numerous shops, make sure to pack empty bags as you have the option to stroll through the high end shops to the low-end ones which is situated on the streets where the renaissance art amalgamated with the baroque architecture and dazzle every eye that witnesses the ultimate beauty of the city. However, as compared to several other cities in Austria, Graz has always been a bit off radar when compared to the most visited places in the country, so if you want to explore an underrated yet the most beautiful city, you already know your destination.
Best Time To Visit Graz
Graz is a city which entertains favourite atmosphere to meander around and stroll through the streets and enjoy the cold wind gushing by almost all around the year, however, if you are looking to visit when the various culture unite to the city in form of tourists, make sure to book your tickets during April to September. The accommodation rates are usually budget-friendly, the temperature gets a bit warm during the summer months which makes moving around the city a bit hard. Every month has some surprise for you to unwind so make sure to plan your journey and book the tickets in advance.