Home
Cities
Gothenburg Airport Transfers and Private Transportation
When it comes to traveling to Gothenburg, one of the crucial aspects to plan is your airport transfer. Fortunately, there are several options available for airport transfers in Gothenburg, ensuring a hassle-free and comfortable start to your journey.
Airport Bus, Airport Transfer

|

Click by

heatheronhertravels

from

Flickr
Private Transportation Services
Gothenburg airport transfers can be seamlessly arranged in advance, with your driver ready to greet you upon your arrival at the airport. These private transportation services offer a personalized and convenient experience, with a diverse selection of vehicles at your disposal, including luxury cars, limousines, and SUVs.
Airport Taxi Services
Airport taxis in Gothenburg are readily available 24/7. You have the flexibility to book them in advance or arrange for a taxi upon your arrival at the airport. Gothenburg airport taxis provide a comfortable and convenient mode of transportation, and the knowledgeable drivers can even offer recommendations on local attractions.
Book Taxi Services
For travelers who prefer planning ahead, book taxi services are a great option. These services allow you to reserve your airport transfer online, ensuring that your driver will be waiting for you at the airport upon your arrival. It's a stress-free and reliable way to get to and from the airport in Gothenburg.
Shuttle Services
If you're mindful of your budget, shuttle services are a cost-effective choice for airport transfers in Gothenburg. You can share the shuttle with fellow passengers, which helps split the cost and makes it an ideal option for budget-conscious travelers.
In summary, organizing your airport transfer in advance is essential when traveling to Gothenburg. Whether you prefer the personalized experience of a private transfer, the ease of booking online, the convenience of airport taxis, or the affordability of shuttle services, Gothenburg offers a range of choices to suit your needs and ensure a smooth start to your visit.
Why Book Rydeu for Airport Transfers in Gothenburg
If you're seeking a dependable and cost-effective Gothenburg airport transfer service, your search ends here with Rydeu! We offer a variety of options for airport transfer to Gothenburg, providing an excellent alternative to often expensive and subpar airport taxi services.
We understand that airport transfers can be a source of stress, which is why we offer competitive pricing for private transfers to and from Gothenburg airport. Our services are readily available at Gothenburg airport, eliminating the need to navigate the city with your luggage.
At Rydeu, we provide a wide selection of vehicles, including SUVs, minivans, and premium vehicles, allowing you to choose the option that best suits your requirements. Our experienced and knowledgeable drivers ensure your safe and punctual arrival at your destination.
Booking a transfer with Rydeu is a hassle-free process. Our private transfer service is ideal for those who prioritize comfort and style. Additionally, we offer sightseeing tours of Gothenburg, enabling you to explore the city and Gothenburg tourist attractions.
At Rydeu, we take pride in delivering top-notch taxi services in Gothenburg. Our ultimate goal is to make your airport transfer as stress-free as possible, allowing you to relax while we handle the logistics. Reserve your Gothenburg airport transfer with Rydeu today and experience the difference!
Whether you require a private taxi service or an airport transfer service in Gothenburg, Rydeu is your go-to choice. Our Gothenburg airport transfer services are unmatched, ensuring a comfortable and worry-free journey. Don't hesitate; book your Gothenburg transfer with Rydeu today and discover excellence in service!
If you're wondering how to secure a taxi in Gothenburg, look no further than Rydeu. We provide straightforward and convenient booking services for your Gothenburg transfers, including airport transfer Gothenburg. Our airport taxi transfer service is the ideal solution for those seeking a quick and effortless way to travel to and from the airport.
In summary, when in need of a private taxi or airport transfer service in Gothenburg, Rydeu is your trusted partner. With competitive pricing, a wide array of vehicle options, and experienced and knowledgeable drivers, we set the standard for excellence in service. Waste no time; book your airport transfer to Gothenburg with Rydeu today and experience the difference!
Understanding the time sensitivity which comes with all trips, Rydeu provides a feasible 24 hour cancellation policy. An intra city trip can be cancelled up to 3 hours before a ride whereas an intercity trip can be cancelled 24 hours before.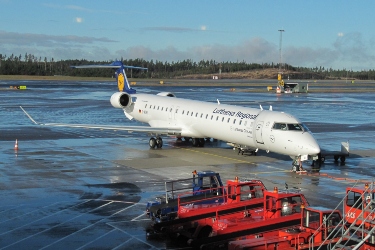 Click by kitmasterbloke from Flickr
Gothenburg-Landvetter Airport
Gothenburg Landvetter Airport is a prominent gateway in Sweden, situated 25 kilometers southeast of Gothenburg. It offers easy accessibility via public transit, shuttles, and private transfer services. With three terminals, Terminal 2 is the largest, offering modern amenities like Wi-Fi, ATMs, currency exchange, and duty-free shopping. For Gothenburg transfer from the airport, various options abound, including taxis, airport transfers, private taxis, and transfers. Private transfers are a preferred choice, boasting luxury car and limousine options. Reserving in advance ensures a seamless journey. As a significant hub, Gothenburg Landvetter Airport connects passengers to global destinations, particularly thriving during the summer tourist influx. It also provides diverse shopping and dining experiences, catering to all tastes.
Gothenburg Transfer Queries