Home
Cities
Transfers from Göteborg Landvetter Airport are extremely easy and convenient. Your journey begins at the airport itself and a lot depends on the method of airport transfers chosen
Airport transfers are extremely easy due to the shuttle bus service Flygbussarna. The bus stop is right outside the terminal and the journey time is between 25 and 30 minutes. The Flygbussarna's first drop-off point is a tram and bus hub which connects all areas of the city. The final stop on the bus route is the main bus station Nils Ericssonterminalen in central Gothenburg. A single bus journey costs around 100 SEK and that tickets can be bought only at the app Västtrafik ToGo, vending machine on the tram and from shops displaying the Västtrafik logo, such as Pressbyrån or 7-Eleven. You can't buy tickets from drivers on buses, boats, or trams and it is difficult to pay in cash. Children up to 7 years can travel free of charge if accompanied by an adult, with a maximum of two children per adult. The Flygbussarna ticket can be used for 90 minutes on public transportation in the city, which is managed by the public transport company Västtrafik. Another cheaper option is the Flix Bus which provides easy and convenient airport transfers to the Gothenburg city centre three times a day for just 9 SEK.
The distance between the airport and city centre is 25 kilometres and you can reach the centre in 25 minutes by car.
Taxis are a convenient choice from travelling from the airport especially at night when there is no public transportation and you have a lot of luggage. The city taxis offer a set price, 'Fastpris', for journeys into the city. It is always recommended to use the services of well-known firms. Rydeu provides an easy solution for all your travel woes with easy airport transfers. They are cheap, affordable and leave you hassle-free to enjoy the journey to your destination.
Book Rydeu Transfer's 24x7 Door To Door Airport Transfer In Gothenburg
When you arrive at Göteborg Landvetter Airport from a long and tiring journey, the last thing you need is a worrisome ride to your hotel. At nights when there is no public transportation, when you have a lot of luggage, and when you want to avoid the hustle and bustle of public taxis, here is where Rydeu steps in. It is advised not to take any rides from unlicensed and illegal taxis.
Rydeu provides a one-step solution to all your problems with its easy and hassle-free experience. A diverse fleet of options varying to your budget, Rydeu offers safety and comfort from all your transfers out of the airport.
Understanding the time sensitivity which comes with all trips, Rydeu provides a feasible 24 hour cancellation policy. An intra city trip can be cancelled up to 3 hours before a ride whereas an intercity trip can be cancelled 24 hours before.
With fixed prices and no hidden costs, transparency between the customer and Rydeu is maintained. As customer satisfaction is paramount, a 24/7 customer service is also available to solve any problem which arises. Rydeu looks forward to seeing you in Gothenburg.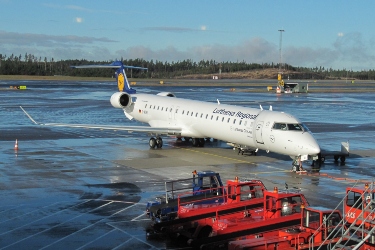 Göteborg Landvetter Airport
Gothenburg Landvetter Airport is Sweden's second largest airport and serves the Gothenburg region. Located 23 km from the city centre and 40km west of Borås, the airport is a significant international passenger as well as cargo airport.