Domicile
Villes
Dans le comté de Funnark en Norvège, entre Narvik et Hammerfest, se trouve une petite municipalité de Tromso connue pour son architecture impeccable, sa riche histoire et sa culture passionnante. Squattée dans la partie nord du pays, la commune est connue pour être la 12e plus grande du pays. Ce qui rend la ville unique, c'est le fait qu'elle est située juste au-dessus de l'île deTroms & oslash; ya, entouré par les sommets montagneux les plus actifs tels queTromsdalstinden dans l'est. La Norvège a toujours été au sommet de l'itinéraire de tout voyageur qui souhaite découvrir la beauté brute de la nature. Personnellement, nous ne trouvons pas de meilleur endroit que Tromso pour passer nos journées sereines.
Pendant les hivers, lorsque la ville est couverte de magnifiques flocons de neige, les couleurs de la rue éclairent l'humeur de chaque voyageur qui en est témoin. Si vous êtes fan de laAurore boréale,vous pouvez en faire l'expérience à Tromso pendant les mois d'hiver. La ville n'a peut-être pas autant de projecteurs que d'autres villes d'Europe telles que Londres, Rome et Paris, mais Tromso s'est révélée être un véritable piège lorsqu'il s'agit d'attirer les vrais amoureux de la nature. Une journée idéale peut vous divertir dans leurs ports de pêche.
Parmi les nombreuses autres choses qui vous éblouiront, la plus suprême d'entre elles reste toujours la cuisine norvégienne, même si la nourriture est diversifiée et vaut la peine de baver, il n'est pas surprenant que les restaurants soient assez chers dans le pays en raison de la main-d'œuvre exagérée. Coût. Les fruits de mer sont la principale attraction ici, du thon fumé garni d'herbes auxla morue, nous vous recommandons tout. Les amateurs de sushis peuvent essayer Ra Sushi, connu pour servir les meilleurs et une gamme de sushis à Tromso.
Meilleur moment pour visiter Tromso
Si vous êtes un passionné de musique, chaque année pendant les mois de janvier/février, la ville accueille un festival des aurores boréales qui attire des orchestres symphoniques et des artistes du monde entier. Si vous souhaitez profiter du soleil de minuit, le meilleur moment pour visiter la ville est de la mi-mai à la mi-juillet.
De la fin de l'hiver au début du printemps ou en été est le meilleur moment pour visiter Tromso, vous pouvez faire de la randonnée et du trail pendant les mois d'été lorsque le soleil se lève généralement plus longtemps qu'à tout autre moment du mois.
Click by Chris Shervey from Flickr
Arctic Cathedral
One of the top Tromso tourist attractions is the Arctic Cathedral, also known as Tromsdalen Church. This modern cathedral with its distinctive triangular shape and stunning glass mosaic facade is a sight to behold. Visitors can marvel at the intricate stained glass windows and enjoy panoramic views of the surrounding mountains and fjords from the church's hilltop location, making it a must-visit spot for Tromso sightseeing.
Click by David Stanley from Flickr
Tromso Museum
Another must-see place in Tromso is the Tromso Museum, which offers insights into the rich cultural heritage of the region. The museum boasts an extensive collection of exhibits related to the Arctic, including displays on Sami culture, natural history, and the history of Tromso as a hub for Arctic exploration. Visitors can learn about the indigenous Sami people, the flora and fauna of the region, and the fascinating history of Tromso through engaging exhibits and interactive displays, making it a great spot for Tromso sightseeing tours.
Click by Lee Dyer from Flickr
Polaria Aquarium
For those interested in the history of Arctic exploration, the Polaria Aquarium is a must-visit attraction. This unique venue features interactive exhibits on the Arctic environment and its wildlife, including a chance to see seals up close in their natural habitat. The highlight of Polaria is the panoramic cinema, where visitors can experience a thrilling virtual journey through the Arctic wilderness, adding an immersive touch to their Tromso sightseeing experience.
Click by El Coleccionista de Instante from Flickr
Fjellheisen
Tromso is also renowned for its spectacular outdoor sightseeing opportunities. A visit to Tromso's cable car, known as Fjellheisen, is a must-do for panoramic views of the city and surrounding landscapes. Taking the cable car up to the top of Mount Storsteinen offers breathtaking vistas of Tromso, the fjords, and the surrounding mountains, making it a hotspot for sightseeing in Tromso. Photography enthusiasts and nature lovers alike will be captivated by the stunning scenery from the mountaintop.
Click by Gunnar Hildonen from Flickr
Northern Lights or Aurora Borealis
No visit to Tromso would be complete without experiencing the awe-inspiring Northern Lights or Aurora Borealis. Tromso Sightseeing tours to witness this natural phenomenon are highly popular among tourists, and Tromso is considered one of the best places in the world to witness the Northern Lights. These tours take visitors to prime spots away from city lights, where they can witness the dancing colors of the Northern Lights in the night sky, an unforgettable and mesmerizing experience that is a must-see during a visit to Tromso.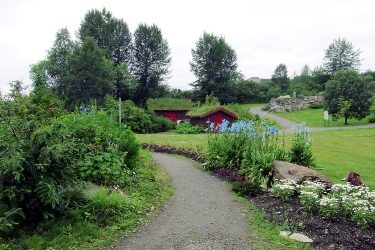 Click by David Stanley from Flickr
Tromso Botaniske Hage (Tromso Botanical Garden)
Nestled in the heart of Tromso, and considered one of the best tourist places in Tromso, this beautiful botanical garden is a haven of tranquility and natural beauty. Spread over several acres, the garden boasts a diverse collection of flora from the Arctic and other regions of the world. Visitors can stroll along meandering pathways, admire colorful flowers, and relax in peaceful surroundings. Tromso Botanical Garden is a perfect spot for nature lovers and those seeking a serene escape, making it one of the top Tromso tourist spots for sightseeing.
Click by Lorie Shaull from Flickr
Polarmuseet (Polar Museum)
Located in a historic wharfside building, the Polarmuseet offers an immersive experience into the history of Arctic expeditions and polar exploration. Visitors can learn about famous explorers like Roald Amundsen and Fridtjof Nansen, see displays on whaling and hunting in the Arctic, and explore the museum's extensive collection of artifacts and photographs. The Polarmuseet provides a unique glimpse into the challenging and adventurous history of Arctic exploration, making it a popular tourist attraction in Tromso.
Click by Fourrure from Flickr
Kvaloya (Whale Island)
A short drive from Tromso, Kvaloya is a picturesque island known for its stunning landscapes, white sandy beaches, and opportunities for outdoor recreation. Visitors can take a scenic drive along the coastline, hike through scenic trails, or relax on pristine beaches while enjoying the breathtaking views of the surrounding fjords and mountains. Kvaloya is also a prime spot for whale watching tours, where visitors can witness these majestic creatures in their natural habitat, adding a thrilling and memorable experience to their Tromso sightseeing adventure, making it one of the top Tromso tourist spots for sightseeing.
Click by David Stanley from Flickr
Tromso Cathedral
Known as the Tromso Domkirke, and considered one of the best tourist places in Tromso, this historic cathedral is the northernmost Protestant cathedral in the world and is a significant landmark in the city. Built in the mid-19th century, the cathedral features a striking neo-Gothic architectural style and impressive stained glass windows. Visitors can admire the ornate interiors, learn about the history of the cathedral, and soak in the serene ambiance during a visit, making it a must-visit spot for Tromso sightseeing.