Domicile
Villes
Capitale de la Suisse, Berne se situe gracieusement au cœur de la Suisse. La charmante ville a un parfum persistant d'histoire, d'art et d'artisanat qui flotte toujours dans l'atmosphère. Sa célèbre vieille ville vous transporte dans l'Europe antique avec une ambiance gothique et des plans médiévaux. Des cathédrales et des musées enchanteurs aux chaînes de montagnes rouillées et aux randonnées exaltantes, cette ville dévoile votre esprit avec ses délices visuels. La ville délicate avec un ciel bleu vif plein de cumulus est la destination idéale pour planifier une excursion d'une journée. Ses sites patrimoniaux et la beauté des Alpes sont les principaux attraits touristiques et la fierté des locaux. La verdure luxuriante, les eaux cristallines de la rivière Aar et les sites patrimoniaux monumentaux font de Berne l'évasion parfaite de votre quotidien quotidien.
Rivière Aar, Berne |
Image par
cs_one
de flickr
La cuisine de la ville est connue pour sa grande variété qui plaît à tous les touristes. Faites plaisir à vos papilles au célèbre bar Bellevue ou au restaurant Schultheiss Stube tandis que les amateurs de bière se rendent au restaurant Max's Beer Garden. Berne est très appréciée pour ses saucisses de haute qualité. Les touristes sont chaleureusement accueillis pour essayer leur viande biologique tandis que les habitants sont fiers du chou fermenté. Rajeunissez votre esprit gourmand dans la ville qui propose le plus grand choix de tendances et de catégories culinaires.
L'aménagement est l'une des meilleures caractéristiques de la ville. Il y a une magie étrange dans les rues gothiques de la vieille ville ainsi que des vues splendides sur les chaînes de montagnes de Gurten. Bien que densément peuplée, elle permet de mettre en valeur l'exceptionnel et pittoresque de la région. Une touche contemporaine associée au patrimoine restauré fait ressortir le contraste et rehausse la grandeur de la ville. L'éclat de Berne réside dans le fait qu'elle est accueillante pour les touristes. Vous pouvez explorer une variété d'hôtels, de lodges et de séjours que la ville a à offrir. Alors planifiez votre week-end romantique parfait ou un long voyage en famille en dévoilant votre âme au cœur de Berne.
Old Town
Riche d'un affichage culturel, d'églises romanes, de rues pierreuses, de coins de style médiéval avec des vues à couper le souffle sur le Rhin, s'avère être l'un des meilleurs endroits de la ville que vous devez explorer. La beauté enchanteresse des églises catholiques et les imperfections de l'art moderne sur les anciennes places valent la peine d'être photographiées. La vieille ville se compose de nombreux endroits tels que le célèbre Basler Münster.
Click by Andrew Bowden from Flickr
The Rose Garden
The Rose Garden is a tranquil Bern sightseeing place located above the Old Town. The park features over 200 varieties of roses and offers stunning views of the city and the surrounding countryside. Visitors can relax and enjoy a picnic in the serene surroundings, making it one of the best Bern tourist spots.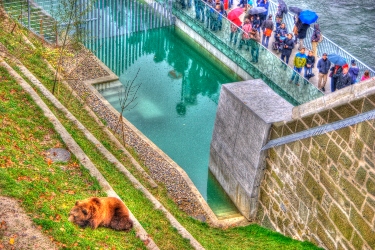 Click by Martin Abegglen from Flickr
Bear Park
The Bear Park is a unique Bern tourist attraction that is home to a family of brown bears, the city's symbol. Visitors can watch the bears play and explore their habitat while enjoying a beautiful view of the Aare River. The park is a popular spot for families and animal lovers and is a great addition to any Bern sightseeing tour. It is one of the best tourist places in Bern for outdoor enthusiasts.
Click by Pedro from Flickr
Zytglogge Clock Tower
The Zytglogge Clock Tower is one of the most iconic Bern tourist spots. The clock features intricate astronomical displays and a puppet show that chimes every hour. The tower's rich history and design make it a must-see Bern sightseeing place. It is often included in Bern sightseeing tours.
Click by Christian Scheidegger from Flickr
Bern Minster
The Bern Bear Park is a popular place known for sightseeing in Bern, where visitors can observe bears in their natural habitat. The Bern Minster is a breathtaking Gothic-style cathedral and one of the most popular Bern tourist attractions. Visitors can climb to the top of the tower for panoramic views of the city and the surrounding mountains. The intricate stonework and stained-glass windows make it a stunning Bern sightseeing place.
Click by Jess & Peter Gardner from Flickr
Gruyeres
Gruyeres is a charming medieval town located near Bern, known for its stunning castle and delicious Gruyere cheese. Visitors can explore the cobblestone streets of the town, visit the castle and museum, and indulge in the local cuisine. It is one of the top Bern sightseeing places for history buffs and foodies alike.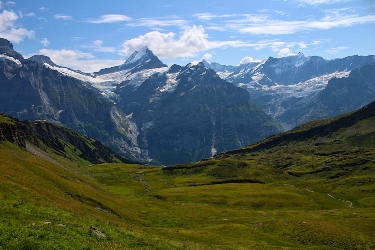 Click by Allyson Sarilho from Pexels
Click by Lukas Bieri from Pixabay
Interlaken
Interlaken is a popular resort town that is considered one of the must see places in bern. It is located between Lake Thun and Lake Brienz, offering breathtaking views of the Swiss Alps. It is one of the best tourist place in Bern for outdoor activities such as paragliding, rafting, and bungee jumping. Visitors can take a scenic train ride to the town or go on Bern sightseeing tours to explore the nearby waterfalls and hiking trails. With its stunning natural beauty and adrenaline-pumping activities, Interlaken is a must-see destination near Bern.
Click by sabamonin from Flickr
Lake Thun
Lake Thun is a popular tourist attraction near Bern international airport and is considered one of the must see places in bern, offering breathtaking views and a wide range of recreational activities. It is one of the must-see places in Bern for nature lovers and adventure seekers alike. Visitors can go sightseeing in Bern's best tourist place by taking a cruise along the lake, rent a paddleboat or enjoy a swim in its crystal-clear waters. With picturesque views of the Alps and charming lakeside towns, Lake Thun is one of the top Bern sightseeing places and is a perfect day trip destination.
Click by Tanidebo from Pixabay
Emmental Valley
Emmental Valley is a stunning region located near Bern that is known for its lush greenery, rolling hills, and traditional Swiss villages. Visitors can explore the region by going on Bern sightseeing tours, where they can admire the picturesque landscapes and learn about the production of the famous Emmental cheese. It is one of the best tourist places in Bern for those seeking a relaxing and tranquil escape from the city.