En casa
ciudades
En el condado de Funnark de Noruega, entre Narvik y Hammerfest, se encuentra el pequeño municipio de Tromso, conocido por su arquitectura impecable, su rica historia y su fascinante cultura. Okupa en la parte norte del país, el municipio es conocido por ser el 12 más grande del país. Lo que hace que la ciudad sea única es el hecho de que está situada justo encima de la isla deTroms y oslash; ya, rodeada por los picos montañosos más activos comoTromsdalstinden en el este. Noruega siempre ha estado en la cima del itinerario de todos los viajeros que quieren descubrir la belleza natural de la naturaleza. Personalmente hablando, no encontramos mejor lugar que Tromso para pasar nuestros días serenos.
Durante los inviernos, cuando la ciudad se cubre con los hermosos copos de nieve, los colores de la calle iluminan el estado de ánimo de cada viajero que la presencia. Si eres fanático de laLuz del norte,puedes experimentarlo en Tromso durante los meses de invierno. Es posible que la ciudad no tenga tanta atención como otras ciudades de Europa, como Londres, Roma y París, pero Tromso ha demostrado ser un gran atractivo cuando se trata de atraer a los verdaderos amantes de la naturaleza. Un día ideal puede entretenerte en sus puertos pesqueros.
Entre las muchas otras cosas que te deslumbrarán, la más suprema sigue siendo la cocina noruega, aunque la comida es diversificada y vale la pena babear por ella, no sorprende que los restaurantes sean bastante caros en el país debido a la mano de obra manivela. costo. El marisco es la principal atracción aquí, desde atún ahumado adornado con hierbas hastabacalao, lo recomendamos todo. Los amantes del sushi pueden probar Ra Sushi, que es conocido por servir lo mejor y una gran variedad de sushi en Tromso.
Mejor época para visitar Tromsø
Si eres un entusiasta de la música, todos los años, durante los meses de enero y febrero, la ciudad alberga un Festival de la aurora boreal que atrae a orquestas sinfónicas y artistas de todo el mundo. Si desea experimentar el sol de medianoche, la mejor época para visitar la ciudad es de mediados de mayo a mediados de julio.
Desde finales del invierno hasta principios de la primavera o el verano es el mejor momento para visitar Tromso, puede hacer caminatas y senderos durante los meses de verano cuando el sol suele estar más tiempo que en cualquier otro momento del mes.
Click by Chris Shervey from Flickr
Arctic Cathedral
One of the top Tromso tourist attractions is the Arctic Cathedral, also known as Tromsdalen Church. This modern cathedral with its distinctive triangular shape and stunning glass mosaic facade is a sight to behold. Visitors can marvel at the intricate stained glass windows and enjoy panoramic views of the surrounding mountains and fjords from the church's hilltop location, making it a must-visit spot for Tromso sightseeing.
Click by David Stanley from Flickr
Tromso Museum
Another must-see place in Tromso is the Tromso Museum, which offers insights into the rich cultural heritage of the region. The museum boasts an extensive collection of exhibits related to the Arctic, including displays on Sami culture, natural history, and the history of Tromso as a hub for Arctic exploration. Visitors can learn about the indigenous Sami people, the flora and fauna of the region, and the fascinating history of Tromso through engaging exhibits and interactive displays, making it a great spot for Tromso sightseeing tours.
Click by Lee Dyer from Flickr
Polaria Aquarium
For those interested in the history of Arctic exploration, the Polaria Aquarium is a must-visit attraction. This unique venue features interactive exhibits on the Arctic environment and its wildlife, including a chance to see seals up close in their natural habitat. The highlight of Polaria is the panoramic cinema, where visitors can experience a thrilling virtual journey through the Arctic wilderness, adding an immersive touch to their Tromso sightseeing experience.
Click by El Coleccionista de Instante from Flickr
Fjellheisen
Tromso is also renowned for its spectacular outdoor sightseeing opportunities. A visit to Tromso's cable car, known as Fjellheisen, is a must-do for panoramic views of the city and surrounding landscapes. Taking the cable car up to the top of Mount Storsteinen offers breathtaking vistas of Tromso, the fjords, and the surrounding mountains, making it a hotspot for sightseeing in Tromso. Photography enthusiasts and nature lovers alike will be captivated by the stunning scenery from the mountaintop.
Click by Gunnar Hildonen from Flickr
Northern Lights or Aurora Borealis
No visit to Tromso would be complete without experiencing the awe-inspiring Northern Lights or Aurora Borealis. Tromso Sightseeing tours to witness this natural phenomenon are highly popular among tourists, and Tromso is considered one of the best places in the world to witness the Northern Lights. These tours take visitors to prime spots away from city lights, where they can witness the dancing colors of the Northern Lights in the night sky, an unforgettable and mesmerizing experience that is a must-see during a visit to Tromso.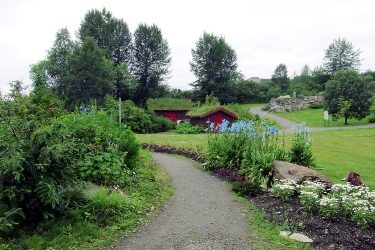 Click by David Stanley from Flickr
Tromso Botaniske Hage (Tromso Botanical Garden)
Nestled in the heart of Tromso, and considered one of the best tourist places in Tromso, this beautiful botanical garden is a haven of tranquility and natural beauty. Spread over several acres, the garden boasts a diverse collection of flora from the Arctic and other regions of the world. Visitors can stroll along meandering pathways, admire colorful flowers, and relax in peaceful surroundings. Tromso Botanical Garden is a perfect spot for nature lovers and those seeking a serene escape, making it one of the top Tromso tourist spots for sightseeing.
Click by Lorie Shaull from Flickr
Polarmuseet (Polar Museum)
Located in a historic wharfside building, the Polarmuseet offers an immersive experience into the history of Arctic expeditions and polar exploration. Visitors can learn about famous explorers like Roald Amundsen and Fridtjof Nansen, see displays on whaling and hunting in the Arctic, and explore the museum's extensive collection of artifacts and photographs. The Polarmuseet provides a unique glimpse into the challenging and adventurous history of Arctic exploration, making it a popular tourist attraction in Tromso.
Click by Fourrure from Flickr
Kvaloya (Whale Island)
A short drive from Tromso, Kvaloya is a picturesque island known for its stunning landscapes, white sandy beaches, and opportunities for outdoor recreation. Visitors can take a scenic drive along the coastline, hike through scenic trails, or relax on pristine beaches while enjoying the breathtaking views of the surrounding fjords and mountains. Kvaloya is also a prime spot for whale watching tours, where visitors can witness these majestic creatures in their natural habitat, adding a thrilling and memorable experience to their Tromso sightseeing adventure, making it one of the top Tromso tourist spots for sightseeing.
Click by David Stanley from Flickr
Tromso Cathedral
Known as the Tromso Domkirke, and considered one of the best tourist places in Tromso, this historic cathedral is the northernmost Protestant cathedral in the world and is a significant landmark in the city. Built in the mid-19th century, the cathedral features a striking neo-Gothic architectural style and impressive stained glass windows. Visitors can admire the ornate interiors, learn about the history of the cathedral, and soak in the serene ambiance during a visit, making it a must-visit spot for Tromso sightseeing.