En casa
ciudades
Cariñosamente llamada la 'ciudad sobre el agua' por sus ciudadanos, Estocolmo es una ciudad dinámica llena de vida y cultura. Una metrópolis moderna, Estocolmo fue construida sobre 14 islas ubicadas de manera asombrosa junto al Mar Báltico. Solo la ciudad capital de Suecia, Estocolmo, es responsable de más de un tercio del PIB del país. Su ambiente urbano contemporáneo complementa su interesante historia y estructuras antiguas. La lista de cosas que hacer en Estocolmo es interminable y ofrece algo para todos.
Se rumoreaba que la ciudad fue fundada por Birger Jarl en 1187 para protegerse de las invasiones marítimas. Saltó a la fama debido al comercio báltico de la Liga Hanseática, que condujo a fuertes vínculos económicos y culturales con las áreas vecinas. Estocolmo creció hasta tener una gran importancia y monopolio en el comercio durante el siglo XVII. Actualmente, la ciudad es tecnológicamente avanzada y una de las áreas de más rápido crecimiento en Europa.
Llena de riquezas culturales, la ciudad parece sacada de un cuento de hadas. Repleta de hermosos palacios reales, edificios dorados y típicas calles empedradas, Estocolmo sigue siendo uno de los centros históricos más encantadores e impecablemente conservados. Desde museos y exhibiciones de fama mundial que lo obligan a la introspección, que contienen de todo, desde arte contemporáneo hasta resplandecientes obras vikingas tesoros, la ciudad es un paraíso para los estudiantes.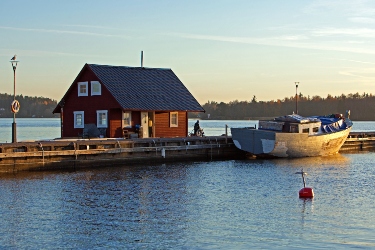 Casa flotante, Vaxholm |
Imagen por
bengt nyman
de flickr
Con un diseño impresionante, desde las cafeterías más pequeñas hasta los castillos trascendentales, el sentido del estilo de Estocolmo es legendario. Explore la diversa gama de tiendas que venden todo lo que su imaginación pueda conjurar, no se olvide de visitar las icónicas tiendas Malmstenbutiken y Svenskt Tenn, amantes del diseño' favorito.
La comida aquí es una pasión seria. Un destino gastronómico internacional con un plato variado, Estocolmo es líder en las tendencias culinarias mundiales. Para comida sueca tradicional, diríjase a Bakfickan en el parque del centro de Kungsträdgärden. Abrió sus puertas en 1787 y es mundialmente famosa por sus albóndigas suecas en salsa de nata con puré de patata, arándanos rojos y pepino en escabeche – un verdadero plato clásico sueco. Pase un momento idílico en un viaje en ferry a la ciudad de Vaxholm, amada por sus casas de madera que datan de finales del siglo XX. Disfruta de interminables paseos entre robles milenarios a lo largo del canal y reconecta con la naturaleza.
Click by Mark Freeth from Flickr
Stockholm Archipelago
Venture beyond the city center and explore the Stockholm Archipelago, an enchanting collection of approximately 30,000 islands, islets, and rocks. Take a boat tour to discover the stunning natural landscapes, charming fishing villages, and secluded beaches. Enjoy activities such as kayaking, sailing, or simply soaking in the tranquility of the archipelago's serene surroundings. These are just a few highlights of the many places to visit in Stockholm. The city's vibrant neighborhoods, such as Södermalm and Östermalm, offer trendy shops, cafes, and a lively atmosphere. Other notable attractions include the modern art museum, Fotografiska, and the renowned National Museum. No matter which sights you choose to explore in Stockholm, you can be assured of a captivating experience that blends history, culture, and natural beauty. Stockholm sightseeing tours and local guides can enhance your journey, providing insights into the city's fascinating stories and hidden gems.
Click by Carles Tomás Martí from Flickr
Djurgården
Djurgården, an island in central Stockholm, is a must-visit destination for both locals and tourists alike. It offers a diverse range of attractions to explore. Marvel at the Vasa Museum, where the impressive 17th-century Vasa warship is on display. Discover the ABBA Museum, dedicated to the iconic Swedish pop group, and explore Skansen, the world's oldest open-air museum. Djurgården is also home to Gröna Lund, an amusement park filled with thrilling rides and entertainment. Enjoy the blend of history, culture, and entertainment that Djurgården has to offer.
Click by NakedSky from Flickr
Gamla Stan (Old Town)
Begin your Stockholm sightseeing adventure in Gamla Stan, the charming and atmospheric Old Town. This well-preserved medieval quarter is a treasure trove of narrow cobblestone streets, colorful buildings, and historic squares. Explore the Royal Palace, stroll along Västerlånggatan street with its quaint shops and cafes, and visit the Stockholm Cathedral. Immerse yourself in the captivating ambiance of Gamla Stan and discover its rich history.
Click by Michael Caven from Flickr
Stockholm City Hall
A visit to Stockholm City Hall is highly recommended. This iconic landmark, known for its remarkable architecture, is situated on the waterfront of Kungsholmen Island. Take a guided tour of the City Hall to admire the magnificent Golden Hall and the stunning views from the City Hall Tower. The venue also hosts the Nobel Banquet, adding to its historical significance.
Click by Erich Westendarp from Pixabay
The Royal Opera House
El lugar histórico para la ópera y el ballet desde 1773, The Royal Opera House deslumbra a todos sus visitantes. Puede tener una experiencia mágica y fascinante en una de las actuaciones o incluso puede optar por una visita guiada. Aprende sobre la fascinante historia de la ópera, visita las habitaciones reales y echa un vistazo a los bastidores.
Click by karlnorling from Flickr
Drottningholm
Enjoy a day trip to a historical milieu of the highest standard. The most famous attraction of the city, the Drottningholm Palace is the country's best-preserved royal palace which was constructed in the 17th century. Visitors from all over the world come to look and admire one of Stockholm's three World Heritage Sites.
Click by Guillén Pérez from Flickr
The Archipelago
Stockholm's archipelago is a collection of over 30,000 islands, islets, and skerries, forming a unique natural landscape just waiting to be discovered. Take a sightseeing tour or hop on a boat from Stockholm to explore this mesmerizing archipelago. Enjoy the tranquility of the secluded islands, indulge in outdoor activities like kayaking or hiking, and experience the charm of the traditional island communities. The archipelago offers a refreshing and picturesque escape from the city.
Click by Erich Westendarp from Pixabay
Gripsholm
A picturesque town on Lake Mälaren, Gripsholm is home of the gorgeous Gripsholm Castle. Spend a full day admiring the romantic grounds of the castle and discover the history of Swedish royalty hidden in the collections of furniture, handicrafts, and interiors from four centuries.
Click by Jens Cederskjold from Flickr
Uppsala
Located north of Stockholm, Uppsala is a vibrant university town with a rich cultural and historical heritage. Visit the Uppsala Cathedral, Sweden's largest church, and pay homage to the ancient kings buried there. Explore Uppsala University, stroll through the botanical gardens, and soak in the vibrant atmosphere of the city's streets and squares. These are just a few examples of the many remarkable places near Stockholm that offer unique sightseeing experiences. Whether you're interested in history, nature, or picturesque towns, these destinations provide a wonderful extension to your Stockholm sightseeing adventures. So, when planning your visit to Stockholm, be sure to allocate time to explore the captivating places nearby. With their historical significance, natural beauty, and cultural charm, these destinations add an extra layer of excitement and discovery to your Stockholm sightseeing tour. Immerse yourself in the rich history, stunning landscapes, and vibrant communities that surround this remarkable city.