En casa
ciudades
Situada sobre las majestuosas aguas del río Rin, en el norte de Suiza, se encuentra la hermosa ciudad de Basilea. La ciudad bilingüe es el hogar de una plétora de delicias visuales y actividades creativas para disfrutar. El encanto de su vegetación natural y toques de imperfecciones medievales en las calles hacen de este lugar un paraíso para los fotógrafos. El clima soleado y alegre es una de las principales razones por las que la ciudad es la escapada de fin de semana perfecta, así como un destino turístico. Basilea reclama 300 días de sol al año. Teniendo en cuenta que el aroma del verano cuelga en el aire casi todo el año. Por lo tanto, obtenga un buen bronceado en el clima templado o relájese a orillas del Rin para latir el corazón. La ciudad ofrece las dos caras de la moneda.
Basilea es uno de esos lugares que se concentran con su rica cultura. El Carnaval de Basilea, una exhibición espectacular de la cultura gloriosa y conmovedora de la ciudad, es el carnaval más grande de Suiza. El festival comienza con una serie de linternas lanzadas para flotar en el cielo seguidas de tres días de vigorosa jolgorio, procesiones, mascaradas, vívida exhibición de arte y música.
Un destino perfecto es aquel que le ofrece opciones para deleitar sus papilas gustativas y Basilea lo tiene todo cubierto. Encuentra la deliciosa fondue, rosti y vino suizo en su increíble cadena de restaurantes y cafeterías.
El estado de ánimo vibrante de la ciudad es evidente en el arte, las galerías, los museos, los teatros de ópera y el teatro que tiene para ofrecer. Desde la estética asombrosa de Papiermühle hasta los esquemas de colores contrastantes en Kunstmuseum Basel, la ciudad tiene la habilidad de brindarte una experiencia inolvidable.
Click by Olivier Bruchez from Flickr
Basel Minster
Basel Minster is one of the most recognizable landmarks in Basel and is a must-visit for basel sightseeing. This 14th-century Gothic cathedral stands tall over the Rhine River and offers stunning views of the city from its towers, which makes it one of the best basel tourist spots. Visitors can take a guided tour to learn more about the cathedral's history and architecture. The Basel Minster is a popular one of the popular basel tourist attractions and a top spot for Basel sightseeing tours.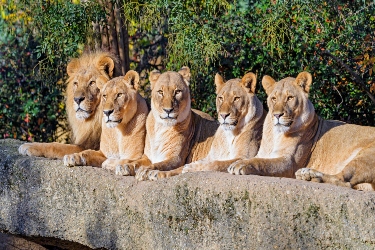 Click by Tambako The Jaguar from Flickr
Basel Zoo
Basel Zoo is one of the most popular Basel tourist attractions and a great place to visit for animal lovers. The zoo is home to over 600 species of animals and is spread across 27 acres of land. Visitors can take a leisurely stroll through the zoo and admire the various animals, including lions, tigers, monkeys, and many others. Basel Zoo also offers several events and activities, including animal feedings and a petting zoo for children, making it a perfect place to spend an entire day with the family. A visit to Basel Zoo is an excellent way to get up close and personal with some of the world's most amazing creatures and learn about their natural habitats, which makes it one of the best basel tourist spots and a must basel sightseeing place.
Click by Patrik Tschudin from Flickr
Spalentor
Spalentor is a beautiful landmark and an iconic symbol of Basel's rich history. This beautiful gate was built in the 14th century and is one of the best-preserved gates in the city. It is an excellent example of medieval architecture and is a must-visit spot for tourists. Spalentor is a part of the city's fortifications and is surrounded by beautiful parks and gardens, making it an excellent place for a leisurely stroll, which makes it one of the best basel tourist spots and basel sightseeing places. Visitors can admire the stunning architecture and learn about the history of the gate while enjoying the picturesque surroundings.
The gothic old city with a touch of contemporary patterns is the home to rich culture, heritage, art, and cuisine. Basel has a dense combination of its plethora of architectural treats and scenic greenery that makes your trip unforgettable. Some of the places you can visit to make the most out of your trip are
Click by Werner Sidler from Pixabay
Lucerne
Explore the traditional culture, medieval architecture and mountains with white peaks in this amazing city of Lucerne. Plan a trip to the city when in Zurich as it lies at the proximity of 52.6 km.
Click by photosforyou from Pixabay
Black Forest
The Black Forest is a beautiful wooded mountain range located just across the border in Germany, about an hour's drive from Basel, which makes this place great for sightseeing in Basel. Visitors can explore charming villages, hike through the forest, and sample the famous Black Forest cake.
Click by Taraz Kanti-Paul from Flickr
Colmar
Colmar is one of the best tourist places in Basel which is a quaint French town known for its colorful half-timbered houses, canals, and charming Old Town. It's located about an hour's drive from Basel and is a great place to stroll around and take in the sights.
Click by kBandara from Flickr
Montreux
Lying on the shoreline of Lake Geneva, Montreux is situated at proximity of just 94.3 km from Geneva. The unparalleled beauty of beautiful Alps and crisp blue Swiss sky makes this place the perfect weekend getaway.
Click by Kitty Terwolbeck from Flickr
Rhine Falls
The Rhine Falls are the largest waterfall in Europe, located just over an hour's drive from Basel in the town of Schaffhausen. Visitors can take a boat ride to the base of the falls, hike around the surrounding area, or simply enjoy the impressive view of one of the must see places in Basel.