Zuhause
Städte
Hocken an den Ufern des Turia über der Ostküste derIberische Halbinsel, Valencia ist eine großartige Stadt, die nach Madrid und Barcelona zur drittgrößten Stadt Spaniens aufsteigt. Bekannt als eine perfekte Verschmelzung von Geschichte mit Tradition, gespickt mit Kultur über die Spitze, machen die verschiedenen Feiern und Festivals diesen Ort zu einem idealen Ort. 1965,Fehler wurde als 'Fiestas von nationalem touristischem Interesse Spaniens' und ein ungreifbares kulturelles Erbe der UNESCO.
Valencia stammt aus dem Jahr 138 v. Chr. und wurde von Decimus Junius Brutus Callaicus als römische Kolonie gegründetValentina Edetanorum von den Eingeborenen. Später passte die Stadt die lokale Kultur, Sprache und die Traditionen der Araber und Mauren an, die das Bewässerungssystem in der Stadt einführten. Gleichzeitig hat der Ort aufgrund des Fußballvereins, den er beheimatet, viele Besucher und Anhänger gewonnen. Nach Real Madrid und Barcelona hat der FC Valencia die größte Fangemeinde und zieht viele Touristen aus der ganzen Welt an.
Valencia gilt als die drittgrößte Stadt Spaniens und macht sowohl Madrid als auch Barcelona eine starke Konkurrenz, wenn es um die Tourismusrate geht. Die pulsierende Kultur, das lebhafte Nachtleben und das blühende Ambiente sind nichts weniger als eine Wonne zu erleben. Die Stadt hob sich von ihren Besuchern durch ihre Innovation ab, indem sie den hochwassergefährdeten Fluss in die prächtigen grünen Parkpaare verwandelte, die sich inmitten der Stadt schlängelten. Die Altstadt, der weiße Sandstrand und die schmalen Gassen mit kopfsteingepflasterten Gebäuden strahlen die Schönheit Valencias aus.
Beste Reisezeit für Val`ncia
Wenn Sie nach der besten Zeit suchen, um die Stadt zu besuchen, sollten Sie Ihre Tickets in den Monaten März bis Juni buchen. Obwohl Valencia für sein warmes Wetter und seine gemütliche Atmosphäre das ganze Jahr über bekannt ist, sollten Sie Ihre Tickets in den Sommermonaten buchen, wenn Sie die Stadt erkunden möchten, wenn das Gefühl, die Reisenden willkommen zu heißen, in der Luft liegt.
Wenn Sie jedoch nicht Ihren Geldbeutel anfassen und das zusätzliche Geld mühelos sparen möchten, empfehlen wir Ihnen, Ihre Tickets in den Monaten September bis November zu buchen, wenn das Wetter schön ist, aber Essen und Unterkunft günstig sind.
Click by 16:9clue from Flickr
Central Market of Valencia
The Central Market is one of the must-see Valencia tourist attractions in Valencia. Located in the heart of the city, the market is a feast for the senses, with vendors selling everything from fresh seafood to exotic spices. Built in the early 20th century, the market boasts an impressive modernist design, with colorful mosaics and intricate ironwork, which makes it one of the best valencia tourist spots and valencia sightseeing places. Visitors can wander the stalls and sample some of the local delicacies, such as paella or horchata. The market is also a great place to pick up souvenirs, such as olive oil or saffron. With its lively atmosphere and delicious offerings, the Central Market of Valencia is a must-visit for any foodie or culture lover.
Click by Ethan Gruber from Flickr
La Lonja de la Seda
La Lonja de la Seda is a beautiful Gothic-style building that was once a silk exchange. Due to this reason, it is considered the best tourist place in Valencia. It is one of the most impressive Valencia tourist spots, and a UNESCO World Heritage Site. The building was constructed in the 15th century and features stunning architecture and intricate details, including stone carvings, arches, and sculptures. The main hall is a beautiful space, with soaring columns and a vaulted ceiling. Visitors can take a guided tour of the building to learn more about its history and architecture. The La Lonja de la Seda is a must-visit for those interested in history and architecture, and a perfect spot for sightseeing in Valencia.
Click by Bas Leenders from Flickr
Turia Gardens
Considered one of the best tourist places in Valencia, the Turia Gardens is a beautiful park in Valencia and a great spot for a leisurely stroll or a bike ride. The park spans over 9 kilometers and is home to several fountains, playgrounds, and sports facilities. The park was created on the former bed of the Turia River, which was diverted after a flood in the 1950s. Today, the park is a peaceful oasis in the middle of the city, with plenty of green space and scenic views. Visitors can rent a bike or a scooter and explore the park at their own pace, or they can join a guided tour for a more informative experience. The Turia Gardens is one of the top Valencia sightseeing tours, and a must-visit for nature lovers.
Click by Jocelyn Kinghorn from Flickr
Mercado Central
Mercado Central is an indoor market and one of the must-visit Valencia tourist attractions. It is located in a beautiful Art Nouveau building and is the perfect place to explore the city's food culture. With over 1,000 vendors selling fresh produce, meats, cheeses, and other local specialties, visitors can sample some of the best food Valencia has to offer. The market is a feast for the senses, with vibrant colors, delicious smells, and lively energy. Visitors can grab a coffee, a pastry, or a traditional Valencian dish and enjoy the lively atmosphere of the market. The market is open every day, except for Sundays and public holidays, making it easy to fit into your itinerary for sightseeing in Valencia.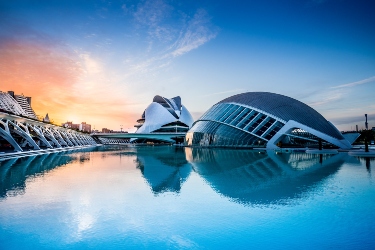 Click by William Warby from Flickr
City of Arts and Sciences
The City of Arts and Sciences is an architectural marvel and the best tourist place in Valencia. The complex houses a planetarium, an opera house, an IMAX cinema, an interactive science museum, and an aquarium. The architecture of the complex is futuristic and unique, making it a must-visit for those interested in modern design. The Hemisfèric is an eye-catching building shaped like a giant eye, and inside, visitors can enjoy IMAX films and planetarium shows. The Oceanogràfic is one of the largest aquariums in Europe, featuring a variety of marine life and habitats. Visitors can even take a dolphin show or a shark diving experience. Overall, the City of Arts and Sciences is a perfect spot for sightseeing in Valencia.
Click by María Pascual from Pixabay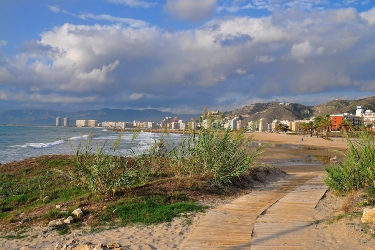 Click by Frayle from Flickr
Cullera
Situated south of Valencia, Cullera is a popular beach destination that offers a variety of water sports and activities. Take a stroll along the promenade and explore the town's historic castle and lighthouse. Cullera is a great option for those looking to escape the city and enjoy some fun in the sun.
Click by Zoi Koraki from Flickr
Peñíscola
Located about two hours north of Valencia, Peñíscola is a charming seaside town that is famous for its beautiful beaches and medieval castle. Walk along the narrow streets of the old town, enjoy the local seafood cuisine, and take in the stunning views of the Mediterranean sea.
Click by Juan Enrique Gilardi from Flickr
Albufera Natural Park
Located just south of Valencia, Albufera Natural Park is a stunning wetland area that is home to a variety of bird and fish species. Take a boat ride on the lagoon to enjoy the breathtaking views, or simply relax on the beach and soak up the sun. Albufera is a must-see place in Valencia for nature lovers and photographers alike. Many people consider the natural park to be one of the must see places in Valencia.
Click by Roxy from Flickr
Xàtiva
About an hour's drive from Valencia and considered one of the must see places in Valencia, Xàtiva is a hidden gem that is worth the trip. This picturesque town is dominated by a medieval castle perched on a hill, offering stunning panoramic views of the surrounding countryside. Visit the historic center to see the ornate churches and ancient walls.